Office and Outdoor Furniture Brochure
Our Office and Outdoor Furniture framework agreement brings together an extensive range from 23 suppliers, including the market leaders.
Our framework agreement has been designed to support trusts who are looking for:
A compliant route to market for all their office, outdoor and children's furniture items.
Advice on installations including mobile and fixed shelving.
Workspace solutions to support new ways of working due to the coronavirus pandemic.
Sustainable furniture options.
Sustainability Vlog – Office and Outdoor Furniture Framework
Sustainability Manager Steph Gibney sat down in front of the cameras with Suzi Richards our Category Manager to talk all things office and outdoor furniture and the links between recycling, sustainability and a circular economy. Watch the full vlog here.
Customers can contact us to learn more about what services are available through the framework and to ask us to consult with suppliers on their behalf. From this, customers are able to request we manage their projects.
Our Category Manager can also come along to talk about the opportunities this framework offers at various events and forums at trust or ICS level meetings. Please contact Suzi directly.
Susan Richards
Category Manager
See our Useful Links section to read a case study from Black Country Health Care NHS Foundation Trust, which recently used the framework and achieved 43 tonnes of carbon, waste reduction and cost avoidance.
General office furniture and metal storage including:
Bariatric and petite seating options
Canteen and dining furniture
Desking
Desk and floor screens
Tables
Wooden storage
Modular pods and breakout furniture
Homeworking furniture
Metal storage items
Conference, lecture, and meeting room furniture.
Lockers including:
Nested lockers
Clothing lockers
Standalone lockers
COSHH lockers.
Racking and shelving:
Laundry storage
Mobile shelving
Racking
Static shelving
Ward and pharmacy storage
X-ray storage.
Outdoor furniture:
External seating
Picnic tables
Wheelchair accessible tables
Planters
External signage and wayfinding
Static external bins.
Specialised sustainability lot which allows for:
Refurbishment of existing products
Reuse – Usable furniture can be offered back to the market or to charitable institutions
Repurposing or existing products
Detailed sustainability reports provided back to the customer for their records
Furniture hire and leasing
Project work assistance with fully integrated sustainability and social values focus.
Children's and play furniture – covering early years to primary:
Seating
Tables
Wooden storage and bookcases
Metal drawer units
Children's indoor activity furniture
Children's outdoor activity furniture.
There is an extensive range of specialist suppliers available on all these lots, covering more than just those items listed on the core range. For more information on any of these lots, please contact the Office Solutions team for more information.
Office Solutions Team
1
Choose
Select the products you want to purchase.
2
Contact
Contact the NHS Supply Chain Office Solutions Team.
3
Quote
Quote the framework Reference number: 2020/S 046-109639.
4
Delivery
Products are then delivered in accordance with agreed lead times directly to your trust.
Social Values and Sustainability
When out to tender, we weighted our framework evaluation to have at least 30% of the awarding score based on the supplier's social value and sustainability responses.
Services
Our suppliers can help you work towards reducing your waste, making the most of your budgets and helping achieve your sustainability targets. We will work with you on:
Performance measurement reporting
Social value and local community benefits
Space planning and design
Sustainability net zero targets.
Benefits
Diverts waste from landfill
Procurement savings
Reduces CO2 emissions.
Specialised Sustainability Lot… More Than Just Buying Furniture
We are proud to offer trusts a dedicated design to allow customers access to a wide range of suppliers specialising in sustainability and social value.

Furniture is the biggest source of carbon emissions in a non-domestic building. With 46% of the carbon emissions over a building's entire life from furnishings, a fundamental rethink of how we design and fit-out interiors are necessary to address the climate emergency.
The Lot focuses primarily on promoting re-use and recycling options rather than procuring new products. Specialist suppliers with extensive product ranges and years of knowledge are available through the framework and are keen to provide insight and assistance on how to make the most of existing products in the workplace.

Our suppliers can work to get your existing furniture to as-new condition and bring new life back into furniture using recycled materials. Suppliers not only focus on renovation and repairs but there are awarded suppliers within this Lot who work to support local trades, SMEs and social enterprises.
Whether you are looking for a supplier who is offering to present free seminars to help NHS trusts understand how to create beautiful, affordable, low carbon interiors – or just a supplier that can help you redesign, rewrap or resize existing products; there are a wealth of sustainability options available that can meet the needs of any activity, budget or purchase.
What Makes a Seat Comfortable?
Generally, seats should allow your body to be comfortable and not restricted. The seat design is critical for this.
Seat height
The seat height should never be so high that your legs are left dangling. This can result in pressure on the soft tissues underneath your thighs. This pressure interferes with the return of blood from the lower limbs, which may cause tingling and numbness in the thighs, due to pressure on blood vessels and nerves.
Seat depth
The seat depth should allow clearance at the back of your knees, to prevent pressure on the network of blood vessels and nerves.
Seat back
The seat back and angle should support the natural curves of your spine – in particular your lower back. The main weight-bearing should be taken by your upper legs and the top half of the thighs. In addition, a chair should enable you to change your posture at intervals, ensuring that different groups of muscles can be used for support – and that no particular group of muscles gets tired. The consequences of poor seating are discomfort, fatigue, and inefficiency in what you are doing.
Choosing the right seat height for you
We understand that everyone is unique. To ensure you get the right chair for your needs, we offer
a wide choice of task seating options allowing you to create your own ideal task chair. A range of uplift options enables you to specify individual parts of the chair, providing you with a tailored solution to your needs.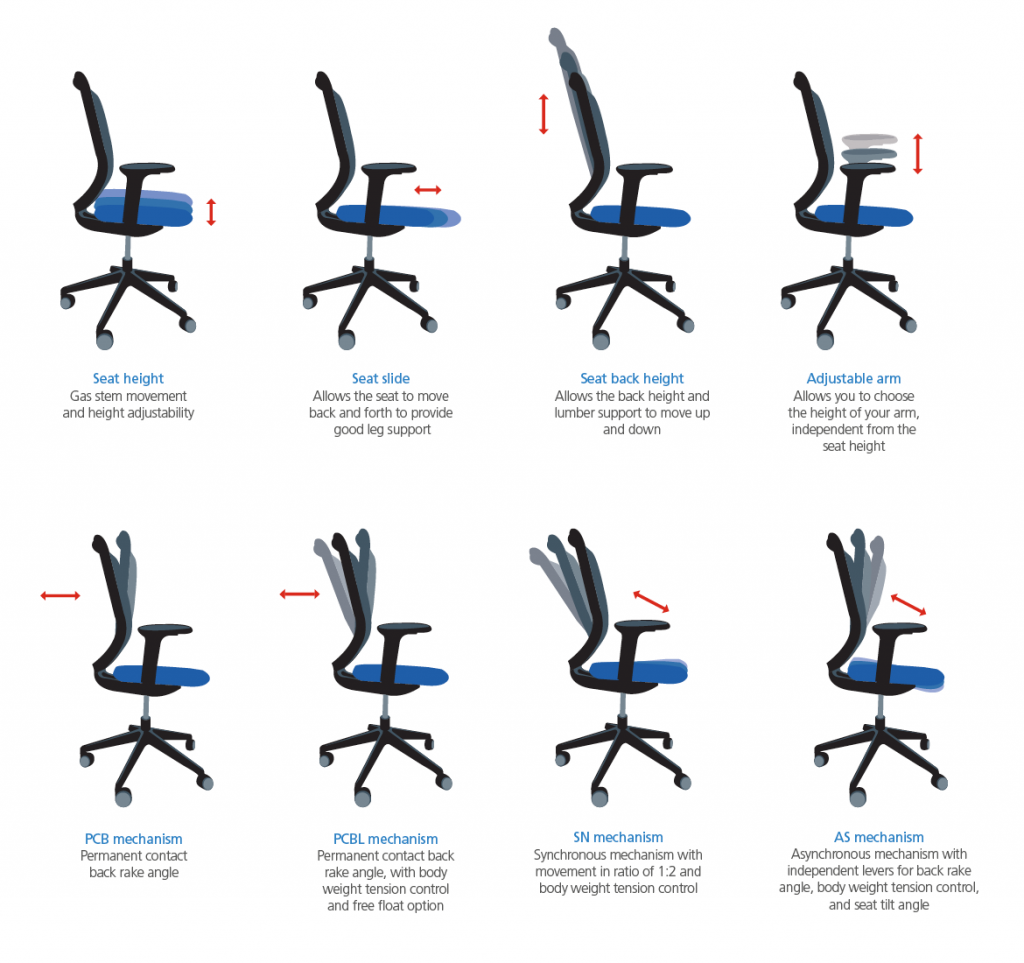 Benefits of Ordering Through Us