A Day in the Life of Fay and Michaela
What's your name and job title?
Fay Allen and Michaela Russell, Innovation Specialists.
What team do you work in at NHS Supply Chain?
We work within the NHS Supply Chain Supplier Relationship Team (SRM).
What does your typical working day entail?
A typical working day can vary from having strategic calls with NHS England (NHSE), The National Institute for Health and Care Excellence (NICE), lots of engagement with stakeholders across NHSE, NHS Supply Chain, Suppliers and Trusts, to more operational work. This helps us to continually develop our future roadmap and improve our innovation pathways.
We will always look to see if we have had any new innovation ideas submitted to the NHS innovation portal, this is a web-based platform hosted by NHSE Accelerated Access Collaborative (AAC) with the aim being to get innovations to clinicians and patients faster.
We would review the innovative product record and create a document on OEC with the required information and then assign this to one of our innovation leads within our category teams for further information. The category team chosen would highlight which category and framework this sit closest with and then they would assess the innovation for its uniqueness whilst reviewing patient outcomes and benefits.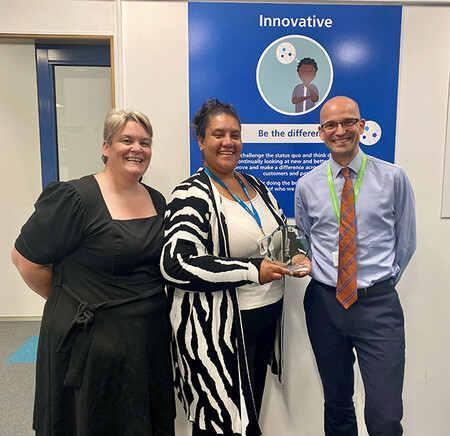 As a key stakeholder within NHS Supply Chain, it is our role to ensure the innovation community and category teams are informed of MedTech Funding Mandate (MTFM) updates, as well as ensuring our external website and Pulse pages are updated as required to support our teams communications strategy.
We may get a notification that we have a novel innovation to review for a compliant procurement route, in which case we would ask for a clinical expert opinion to ensure this product is needed within the NHS, or review our own innovation portal for our own customer innovation needs.
Then we have the exciting part of our day! Category Management Service Provider (CMSP) performance slides and the usual audits and reports! Whilst it's not the most fun part of the day, it's so essential for our reputation that we ensure the data is correct and so we can respond to our innovators in a timely manner, but ultimately that something doesn't slip through the net that could make a difference to a patient's life.
For me, my motivation is the people at the end of these products. I have always been proud of the NHS, we deliver a first class health service and NHS Supply Chain is an integral and important part of that.
Please give an example of a successful project you have recently been involved in and what was the value for the customer?
Fay:- For me, it would be the completion of our first direct award with VEAT for a product called UroShield™. As a Urology Nurse in my past life, this was something close to my heart.
Uroshield is a breakthrough disposable ultrasound device developed to prevent catheter blockages and biofilm formation, resulting in a reduction in Catheter associated Urinary Tract Infections (CAUTI) and therefore reduces the need for antibiotics, improving patient outcomes and lowering healthcare costs. It utilises low-frequency surface acoustic waves to prevent bacterial attachment and is the only technology currently available on the market to use this approach.
We have two trusts (Manchester and Stockport) lined up for VBP pilots. Manchester has enrolled six patients with conservative estimated cost savings of £25,000, this is a combination of bed capacity, reduction in infection/antibiotic usage, reduction of consumables (washouts, catheter changes) and ICS costs including ambulance transfers and cost avoidance of emergency admissions – moving the patient pathways to community care and Outpatient visits with specialist nurse team, in addition to patient benefits of reduced pain and spasms.
The product only has a small patient population across the country but delivers real tangible differences to peoples lives. See our Useful Links section for a video which shows the impact on a few of this demographic.
Michaela:- We wouldn't be in our roles now if it wasn't for the Operational Excellence Project I lead as a Lean Six Sigma Green Belt. The cross functional project implemented the innovation ways of working within NHS Supply Chain, including designing the new process and timelines for reviewing potential novel innovations. This was our first project after completing my training and, working collaboratively with Fay, we successfully resolved the initial problem statement including winning project of the year.
The project led to the process which supported the Direct Award – VEAT that Fay detailed which brings novel innovation to trusts and customers.
By working collaboratively, we can continue to compliantly bring novel innovations to market enabling new technologies to be easily available to trusts and patients.
What motivates you?
Fay:- For me, my motivation is the people at the end of these products. I have always been proud of the NHS, we deliver a first class health service and NHS Supply Chain is an integral and important part of that. However, we know the NHS is under insurmountable pressure at the moment, so if we have innovative products that can change and help with that  in any small way I want to be able to stand up tall and say I'm part of that and working collaboratively together so we can make a difference.  We can't change the whole service, but if we can help improve one person's life then I've made a difference.  Sometimes our work feels small and insignificant, but a small ripple can gain momentum and build a current that is insurmountable.
Michaela:- Change or continuous improvements. My dad was diagnosed in the early 1980s with a disease the medical profession knew very little about, he often volunteered to help them learn more by undertaking bloods, attending sessions/appointments that were more about the medical profession's education rather than his own requirements. Unfortunately, the disease led to him dying in 2006, but he would be proud to know that Nottingham now have a dedicated multi-disciplinary team dedicated to helping patients with this disease. He inspires me to want to be that change and continually help the NHS gain access to novel products and innovations which can support patients and provide new options in their care pathway.
What job did you do prior to joining NHS Supply Chain? Or Which previous role did you enjoy the most and why?
Fay :- I started my Nursing Carer training in Derby (by the University of Nottingham). My first position was in Queens Medical Centre Nottingham within ear, nose and throat speciality. My career moved to Leeds and then to Dublin in Haematology diseases and bone marrow transplants, this is where I was given an opportunity to open an Oncology/Haematology clinical trials unit within the Midlands (Republic of Ireland). This brought me back home to Nottingham where I worked in Haematology and clinical trials before gaining a Ward Manager position in Urology and then on to a Lead Nurse position for Shared Governance before starting at NHS Supply Chain as a Product Assurance Specialist in CaPA.
I first met Michaela during a leadership course 'Mary Seacole' through the NHS Leadership Academy and then our paths crossed again when we both progressed to the Elizabeth Garret Anderson Healthcare Leadership Masters and once again at NHS Supply Chain.
Our team works so well together as we compliment each other in ideas and views, we see things from the opposite perspective and together this ensures we do the right thing for everyone.
Michaela:- Prior to Joining NHS Supply Chain, I was a Senior Category Manager within procurement at Nottingham University Hospitals. I have worked in various categories and roles across NHS procurement including Pharmaceutical, estates and clinical.
However, the role I enjoyed most was the 3 weeks I spent in Lapland at Christmas helping elves bring the magic that is Santa to families and charities!
Finally… Tell us about yourself!
Fay:- I'm a mother to two wonderful children (both want to work within medicine as a Dentist and Doctor) and Wife to Ultan (Advanced Clinical Practitioner). We have three dogs, I enjoy open water swimming and you can often find me in the local lake. I love experiences in life and am willing to give anything a go, the year ahead will be full of stress as the two children will be doing A levels and GCSEs respectively, so if you see me around, I would love a black tea and a chat to de-stress! We can talk Innovation or even what my cheeky Labrador has stolen and eaten now (he denies veterinary medicine with his antics so I can always lighten the day with a tale or two!).
Michaela:- I'm a mum, wife, sister, aunt and friend. I have a large and unique family which I adore. I spend many weekends and evenings at the side of a football pitch supporting my sons under 8s team which my husband coaches. When I'm not wrapped up outside, I enjoy baking and creating new seasonal door decorations (which has my neighbours loving or occasionally loathing!).
Useful Links
Product Innovation

An overview of how we are supporting the process of bringing innovation to the NHS.

Uroshield Video

Watch this video to see the impact of Uroshield.