Changes to the NHS Supply Chain Executive Structure
A key requirement of our target operating model is to ensure we have the necessary capabilities, capacity, and breadth to realise our vision and strategy.
We also need to ensure we continue to effectively manage the current challenges across our supply chain and operations needing focus now, including inflationary pressures and supplier resilience issues.
Based on the direction of our future model, the next step in the transition to our Target Operating Model (TOM) has been to review our executive structure – to ensure it has the appropriate scope, focus, and accountability to deliver our objectives.
This has led to a rebalancing of executive portfolios and the development of a new Executive Team structure, which will take effect from 1 August 2022.
What does the new Executive Team structure look like?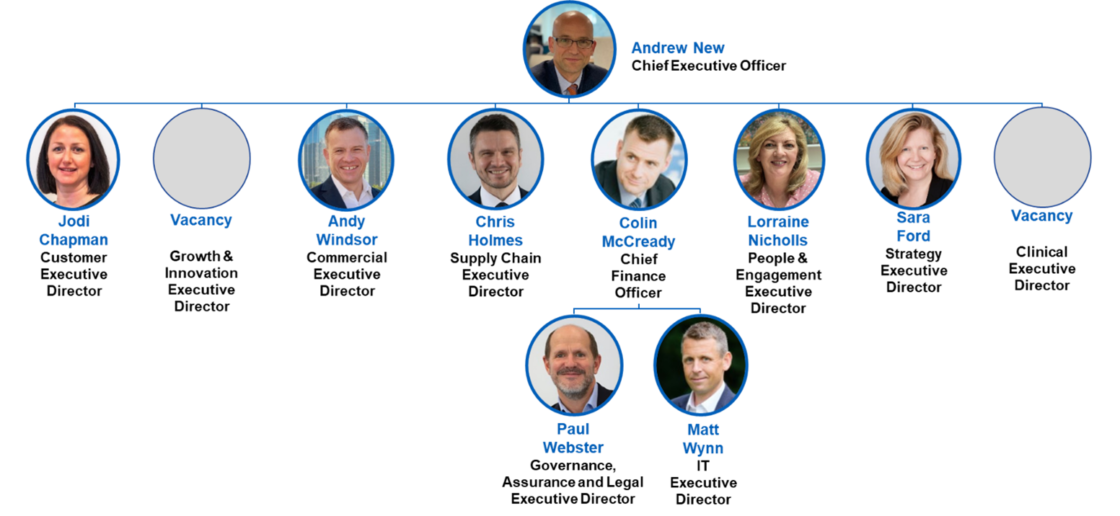 What are the key changes?
The new Executive Team structure retains the expertise and strengths of our core procurement and supply chain capabilities and enabling functions but reflects our planned transition towards a matrix structure to embed agility and collaboration, customer focus, and accountabilities for growth and innovation across our organisation.
It will also ensure our Executive Team has the leadership capacity and focus to deliver our current needs and long-term plan to make it easier for the NHS to put patients first.
Supply Chain
Global supply chains have never been so challenging, including the impact of supplier resilience issues on a dynamic and ever-changing marketplace.
It demands our absolute focus, commitment, and strong leadership as an organisation to ensure we are doing everything we can to respond to these challenges effectively.
In addition, the scope of planned change across the supply chain and operations is significant, including building capacity through our long-term infrastructure strategy, introducing new technology to support efficiency and enable growth, substituting our warehouse management system, and implementing sustainability and new environmental capabilities.
There is also the highly complicated process of redesigning, reprocuring, and approving logistics successor arrangements and delivering a logistics strategy to support the NHS Long Term Plan, including the transition to Integrated Care Systems.
We have therefore assigned specific responsibility for the supply chain to Chris Holmes. Chris is a committed, highly professional, and experienced supply chain director with over 25 years of experience working across the NHS.
His specialist knowledge and extensive relationships with key stakeholders make him the ideal person to lead this significant portfolio of change across our supply chain operations while continuing to effectively meet the challenges of the day.
Delivering this significant and challenging portfolio requires capacity and focus. Responsibility for leading commercial activities will therefore transition to the newly formed commercial directorate led by Andy Windsor.
Commercial
We remain highly focused on doing more to contribute to our category management and procurement offering, in addition to driving a greater emphasis on total landed cost, utilisation, and sustainability. There is also a need to remain focused on effectively managing the impact of inflationary pressures on product pricing.
Andy Windsor is appointed to lead our category management and procurement offering, continuing to engage with the supply base through our existing category management capabilities while driving the realisation of our long-term commercial strategy.
It will include the leadership of strategic supplier relationship development and ongoing contract management of our category tower service providers.
Andy was recently appointed Commercial Executive Director and brings vast experience in developing excellence across procurement, category leadership, strategic supplier relationship and general management.
Growth and Innovation
We will create a new directorate for growth and innovation. It will have a remit for providing the focus, investment, and leadership to nurture and grow some of our critically important smaller operations into scaled organisations of their standing. We will then add them to our core competencies, capabilities, and value proposition alongside our ability to deliver products.
The new directorate will be agile and wholly focused on supporting customer needs in the healthcare settings.
Clinical
As we progress our plans towards a service provider model in the Medical Capital and Medically Complex groups, we need to review some of the tasks we perform today that will change in nature once they transition.
It includes our approach to clinical innovation, assurance, and safety management – to ensure that clinical innovation, change, and engagement remains a fundamental capability in the organisation. This will become embedded in our supply chain and commercial directorates.
We are recruiting a new Clinical Director, whose remit will be to influence key clinical stakeholders at national, regional, and local levels, and to align/drive professional clinical standards and development throughout NHS Supply Chain.
Trading
As an enabler of the planned matrix model, we are recognising the need for a new trading platform for our core financial processes that will form the base of our trading capabilities, including accounts payable/receivable, forecasting demand, pricing, and savings.
This entity will report to Colin McCready and reflects its importance to our future objectives and ways of working.
Information Technology
We will bring together all elements of Information Technology and strategy together under a new IT Directorate, led by Matt Wynn, reporting to Colin McCready. This includes IT strategic development, cyber security, IT architecture and operations, IT change management, and the operational oversight of our IT support partner.
Business Transformation
Business transformation will move from a functional capability to become embedded across customer, supply chain and commercial – transferring accountability for defining and delivering change to the directorates.
Responsibility for our overall organisational transformation strategy, the project management office, and change management approach will be aligned under Strategy led by Sara Ford.
When will these changes come into effect?
The new NHS Supply Chain Executive Team structure will become effective on 1 August 2022, with a period of transition planned through to the end of the year.
The rebalancing of our executive portfolios reflects our commitment to focussing our resources on our long-term objective to make it easier for the NHS to put patients first but also lead supply chain and procurement through the current short-term challenges we face.
We will complete the design of our target operating model towards the end of the summer and will continue to provide updates when we are in a position to do so.