Clinical Nurse Advisors Adapt to Suit Needs of NHS
The pandemic has shifted usual ways of working across the NHS, and NHS Supply Chain's team of Clinical Nurse Advisors have continually adapted to support trusts.
With clinical backgrounds they understand the needs of health and care professionals and their role is to facilitate the partnership between NHS trust procurement teams and clinicians, working alongside them. They engage with clinicians working within trusts and help ensure product usability, clinical suitability and share best practice.
With their wealth of experience the team also assist and support on a variety of projects including standardisation, rationalisation, clinical evaluations, switching opportunities and sustainability.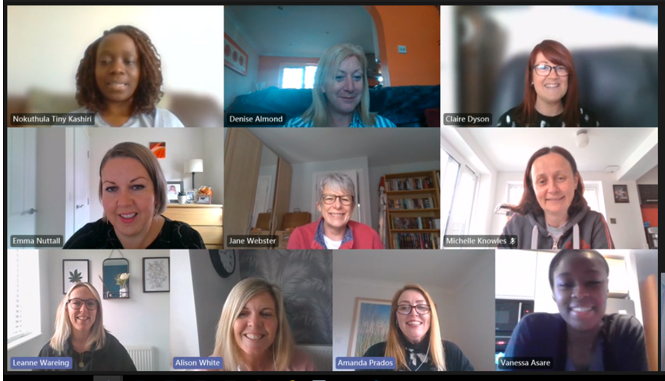 We caught up with some of the team to discuss how they prioritised the shifting needs of the NHS and to hear about what they have learnt over the last 18 months.
Resourcefulness
The last year has utilised some of the key strengths we have as clinicians in problem solving and handling difficult scenarios and situations. For example, thinking back to the work we did on the initial Nightingale ICU consumables set up – this included cross functional working, coming together to try and anticipate possible scope and scale of potential product demand as well as sourcing, upscaling and resourcing to meet the needs of the NHS.

Emma Nuttall
Virtual Meetings with Trusts
With the cancellation of face to face meetings during the pandemic, the Clinical Nurse Advisors have really embraced Microsoft Teams meetings. I have found these a great way to support the trusts I work with and also to remain updated on the current COVID-19 status that the trust are dealing with. These meetings have also allowed me to continue to develop the relationships within the trust teams I work with and communicate with them effectively whilst working remotely. Moving forwards, these virtual meetings are great way to communicate and plan for the return to business as usual as appropriate."

Amanda Prados
Virtual Engagement
Due to not being able to examine and test products in person, I developed a helpful document to support clinicians with reviewing procedure packs. I made it visual so it was easy to identify the differences between the products. It could easily be shared and discussed virtually, with accompanying samples sent to health and care professionals to use alongside the document.

Leanne Waring
Changing Priorities to Suit the Needs of the NHS
During the pandemic, like all of our NHS colleagues, some business as usual work reduced to make way for COVID-19 priorities. I found the most useful support I could offer to trusts was working with the Customer Relationship Management team in aiding pandemic stock. Trusts were given a daily allocation which needed to be discussed each morning to ensure adequate supply for clinicians. I took on this role to cover for colleagues where required and rather than having clinician-led discussions, the calls were purely procurement teams. Just a small opportunity to use my knowledge in a different way."

Carrie Short
Claire Dyson, Lead Clinical Nurse Advisor at NHS Supply Chain, summed up how the team have adapted to suit the changing needs of the NHS.
I'm incredibly proud of how our team has adapted to support NHS trusts during coronavirus. The pandemic has shown we can work in an agile way, adapting our roles to support the needs of both procurement teams and clinicians providing care on the frontline, listening and responding to their needs and providing our clinical expertise.

Claire Dyson
The efforts of our Clinical Nurse Advisor team have been recognised across our organisation.
I couldn't be prouder of how our business has supported customers through the pandemic. Our Clinical Nurse Advisors have provided critical clinical guidance and insight to colleagues and customers, whilst supporting activities outside their normal scope. The team has maintained a customer centric focus throughout a hugely challenging time and deserve all the recognition they have received. I'd like to thank our Clinical Nurse Advisor team for their commitment and efforts over the last 18 months

Hamish Makanji, Head of Customer Relationship Management