Embedding Social Value in NHS Supply Chain
There is a fundamental need to ensure organisations are always doing the right thing by both their people and the planet.
Social value has a variety of definitions for organisations depending on the sector they operate in. What's universally recognised are the huge benefits that come from public service contracts that improve the economic, social and environmental wellbeing of people and communities, on a local, national and international level.
The pandemic has raised the importance of health systems and the positive impact they can bring to our society.
To drive better health outcomes and create economic, social and environmental value for its stakeholders, NHS Supply Chain is committed to leveraging the strength of its people and operations to deliver health sustainably.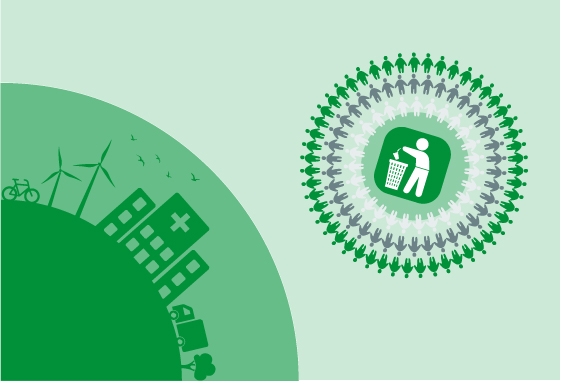 It has a unique role in supporting the NHS deliver its goal of becoming carbon neutral by 2045. The organisation has set out in its business plan how it will deliver its contribution of a net zero supply chain through the four pillars of its sustainability strategy:
Tackle climate change
Reduce single use plastics
Support the circular economy
Tackle modern slavery and uphold labour standards.
NHS Supply Chain is committed to tackling modern slavery and upholding labour standards. Following extensive work last year to identify the most vulnerable product categories at risk of poor labour standards, it will require a further 500 suppliers operating in those markets to complete a Modern Slavery Assessment, and an additional 500 suppliers to complete a Labour Standards Assessment.
In addition, NHS Supply Chain is implementing the Boardman Review recommendation to map global supply chains by mapping 60 products based on our risk assessment methodology, down to category level. This will help identify any risks posed to labour standards or environmental impacts, allowing it to take mitigative action where required.
Social value and Net Zero are an important part of our strategic plans. As set out in NHS Supply Chain's business plan, in 2022 / 2023 it will implement a minimum of 10% or more net zero and social value weighting across all its future tenders, adopting the Government's Social Value Model from 1 April 2022, in line with guidance from NHS England.
Part of our broader social value and in recognition of the important role small and medium sized businesses have in local communities, NHS Supply Chain will continue to ensure 33% of its spend remains with them.
In addition, NHS Supply Chain colleagues can take up to three days paid leave to volunteer at an organisation of their choice to support their local communities, and NHS Supply Chain set a target of 20% of colleagues undertaking at least one day volunteering before the end of March 2023.
Our impact is global in terms of carbon and social value. We recognise the huge impact our suppliers, whether they are UK-based or global, have on our behalf. We are engaging with them on sustainability, so we can positively contribute to the overall wellbeing of the environment, through alignment to NHS England's roadmap.

Martin Toomey, Sustainability Manager, NHS Supply Chain
The biggest opportunity to reduce NHS Supply Chain's impact on the environment comes from understanding the scope three emissions of its suppliers and products. In 2022 / 2023, NHS Supply Chain aims to work with NHS England on the development of the Supplier Evergreen Assessment and the adoption of PPN 06/21 carbon reduction plans.
Mapping scope three emissions to identify its total carbon footprint, and then working with the highest carbon emitting suppliers to reduce their impact.
Ensuring existing suppliers with spend over £5 million produce a carbon reduction plan and regularly report progress. It will also require future suppliers with this level of spend to do the same.
Continuing to work with its logistics provider to introduce more environmentally friendly fleet solutions as part of its fleet refresh programme, along with new technologies in its warehousing to reduce its gas consumption, install LED lighting.
By March 2023 NHS Supply Chain aims to remove 190 tonnes of single use plastics from its supply chain in addition to the 350 tonnes already identified. Examples of how this will be delivered include reducing the amount of plastic in high content plastic containers, introducing sustainable alternatives across the catering consumables product range and introducing a new framework to deliver clinical waste containers as a service.
Real successes have already been achieved in the NHS, including working to reduce single use plastics with a number of alternatives being trialled, such as board based containers and alternatives to plastic cutlery. There is also a range of medical devices being trialled which can be remanufactured rather than disposed of, reducing cost, CO2 emissions and environmental waste. This includes diagnostic catheters and a range of surgical and orthopaedic instruments.
Circular economy initiatives, which include utilising re-manufactured and recycled products, present an opportunity to further deliver against the long-term net zero target. Over the next 12 months opportunities will be identified to introduce recycled or re-manufactured products onto the product catalogue that contribute to carbon footprint target.
NHS Supply Chain's team actively networks with trusts and regularly engages with stakeholders and suppliers to communicate about its sustainability, social value and net zero priorities. It supports NHS England's procurement forum and the NHS Supplier Forum at a national level and regionally attends Integrated Care System (ICS) sustainability and procurements groups. NHS Supply Chain is working with NHS England to deliver the supplier roadmap, social value and net zero commitments as well as modern slavery and labour standards.