Five minute interview with our Value Based Procurement project lead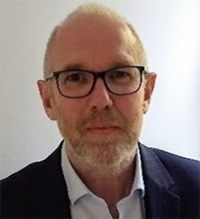 We recently caught up with Brian Mangan, our new Value Based Procurement project lead at the NHS Supply Chain to understand a little more about the work he is doing and why he joined.
Brian joined the organisation in April 2019 and brings with him a wealth of expertise, including over 15 years in NHS Procurement.
See our Useful Links ? section for further information about Value Based Procurement.
What work are you doing at the NHS Supply Chain?
I'm passionate about the role healthcare procurement has to offer in meeting the global challenges of delivering better outcomes set against diminishing financial resources. I'm trying to get procurement to do things differently which can be summed up in three words: Value Based Procurement.
NHS Supply Chain knew about the work I undertook with NHS North West Procurement Development and the University of Liverpool back in 2014 and were keen to look at how Value Based Procurement can be embedded into the new model.
So what is Value Based Procurement?
It's all about looking at procurement from a different angle, to maximise savings opportunities across the patient pathway, and improve patient outcomes.
Value Based Procurement is all about whole life costing. This involves facilitating a paradigm shift from traditional buyer supplier relationships, to a position where healthcare and industry operate in an environment based on trust, aligned objectives, mutual benefits and success.
To give a generic example of the type of savings that could be achieved with Value Based Procurement let's look at a knee implant.
If we assume that the current price of a knee implant is £1,000, if procurement saves 10% that's a saving of £100.
However, if they save 10% on the pathway costs, through improved theatre efficiency or reduced length of stay for example, and this equates to 10% of the pathway cost (perhaps £5,000) then procurement have the potential to quadruple the savings opportunity to £500.
One of the core messages is that we need to consider the full patient pathway and look at whole life costs when making purchasing decisions.
Does this mean that engagement with suppliers is no longer important?
Not at all, on the contrary, it's even more important!
In a value-based model, engagement with suppliers starts at the beginning, involving engagement with clinicians and different stakeholders to discuss how products are used, clinical assurance and what benefits the product can bring. Of course, price remains important but if ultimately the length of hospital stay can be reduced, due to a lessened risk of infection, through dialogue with suppliers and clinicians, then we can make savings with pathway costs.
Finally, how is the role going?
I joined NHS Supply Chain at the end of April and have been kept very busy. I'm currently engaging with a number of NHS suppliers and NHS Clinical, Financial, Commercial and Industry stakeholders on about a dozen projects. We're looking at overall system benefits which will ultimately lead to sustainable procurement and savings efficiencies. The pilots are focused in areas where we can quickly demonstrate a one-to-one relationship between the adoption of the product and the tangible and measurable benefits that can be achieved across the pathway.
Small scale pilots will generate, test and refine the method of delivery and capture the tangible results delivered. If successful, this will provide an additional methodology and processes which can be adopted by Category Tower Service Providers, as a means of driving sustainable increased savings and improved patient outcomes across the NHS in England.