Search: Improvements to Searching for Important Customer Notices
In response to customer feedback, we have made it easier to find ICNs that relate to a 'Field Safety Notice' or a 'Temporary Supply Issue'.
You can now quickly display these types of ICNs by using the new Filter options
The filtered display will show the 50 most recent ICNs, with the latest showing first (10 per page).
Filters will only show ICNs relating to products in clinical use.
If you prefer to view all ICNs, ensure that a Filter is not selected.
ICN page: Before the change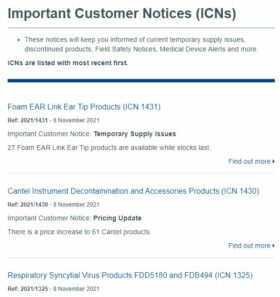 ICN page: After the change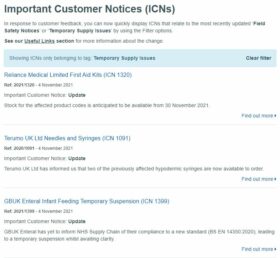 Alternative Recommendation: Using Search
You can find specific content including ICNs by using our website's Search.
In the example shown, the word 'catheters' was our chosen search term.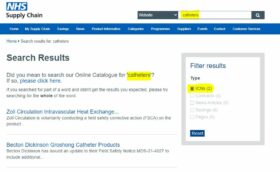 In response to customer feedback and as part of our continuous improvement programme of website changes, the Important Customer Notice (ICN) number now shows at the end of the ICN title.
This change will enable you to find ICNs easier, and quicker. Making the ICN number more visible on the Important Customer Notices home page will help you to identify updates to ICNs that you may already be aware of, without the need to click through to the individual page.
Our search function is improving continuously and a recent update means that you can now search for Important Customer Notices (ICNs) via the product code (NPC) in addition to the ICN number, name of ICN and keywords.
This update applies to all ICNs published as of 18 November 2019. This means that you can now search for an NPC on this information website to check if there are any Important Customer Notices before proceeding to the online catalogue to view or order the product.