International Women's Day 2023
To mark International Women's Day today, which celebrates women's achievements, we interviewed one of our senior leadership team, People and Engagement Executive Director Lorraine Nicholls, about her role and career to date.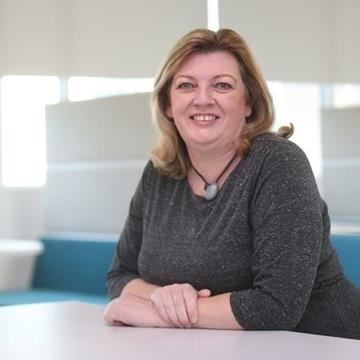 Where did you work prior to joining NHS Supply Chain?
I worked in a range of FTSE250 and private equity businesses in both HR and general management roles.
I was at Healthcare at Home (HaH) for five years prior to joining NHS Supply Chain, initially as Group HR Director. During my time at HaH, I led the clinical transformation programme as Clinical Operations Director which included restructuring the model to drive efficiencies through implementation of scheduling technology and regionally focussed teams to provide clinical care in patients homes. My last role before leaving was Performance Director, working closely with the CEO to enhance performance delivery through increased revenue growth and operational efficiencies whilst maintaining excellent patient care and customer and colleague satisfaction.
My early career started in manufacturing as a trainee. I have worked for some fabulous customer centric organisations include Lex, RAC and Homeserve.
What is your day-to-day role within NHS Supply Chain?
I am responsible for Partnering at all levels of the organisation to develop, implement, and execute our people strategy ensuring we enable the best people experience at all stages of our employee life cycle. I also have responsibility for performance management and operational excellence. 
What are your biggest challenges?
I don't see challenges, I see opportunities to develop and enhance the experience for our people to be the best they can be. As we bring together the Category Towers with colleagues in our management function, Supply Chain Coordination Ltd, it's important that we create a common understanding of our strategic ambitions, and ways of working to build ONE NHS Supply Chain. There will undoubtedly be issues and opportunities along the way, and we must stay connected and listen to feedback and act to help make it easier for the NHS to improve health and save lives.
How do you encourage more diversity in the workforce?
We strive for an inclusive work environment built on fairness, equality and wellbeing in which performance and long-term employability can be nurtured.
The introduction of our Equality, Diversity, and Inclusion (EDI) strategy in 2022 builds upon what we have already achieved and continues to leverage on our commitment to equality, diversity, and inclusion. Our focus on EDI recognises and values the differences in each of our colleagues. We believe that everyone has the right to be treated with dignity and respect. We want to create an inclusive culture that nurtures talent and provides every individual, regardless of any characteristic, the opportunity to flourish and reach their potential. 
As an integral part of our people plan, the introduction of our EDI strategy outlines our strategic priorities and commitment to creating an authentically inclusive place to work. Whilst the Executive and senior leadership teams are key to this, we must all work together to achieve our aim of being authentically inclusive. 
What does International Women's Day (IWD) mean to you?
It's an opportunity to celebrate the diverse range of women we have in our organisation and lives and to recognise their achievements, whether professional or personal.
It is also an opportunity to thank the female role models that have impacted my life, career, and development and to give back and be a role model to the next generation of women.
What advice would you give to other women who want to work in our sector?
Be the best you can be and believe in yourself.
Proactively push yourself out of your comfort zone and take risks as that is where you really learn.
Ask for feedback and advice along the way.
Follow your dream and don't give up until you achieve it.