Information Website – Access Additional Content With a Website Login
Knowledge Base: Creating a website account
Did you know that having a website login enables you to access additional content on our information website? (https://www.supplychain.nhs.uk)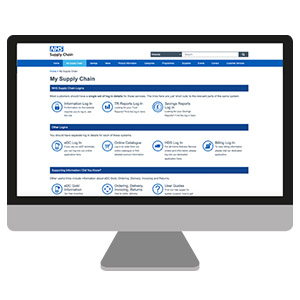 Once logged in, some of the enhanced resources that you can access include:
Important Customer Notices (ICNs) – access product and pricing information for products affected by supply issues, product recalls, Field Safety Notices and much more.
Contracts (Framework Agreements) – view and download Excel spreadsheets showing the products available on the framework, as well as details of the delisted products and the alternatives you can order.
TR Reports (Trust and Savings Reports) – a comprehensive suite of up to date management information to help you and your trust manage costs.
Price Ranking Sheets – review supplier prices with ease and see if you could make savings.
How to apply for an account
Applying for a website account is a simple and straightforward process. See our Useful Links section
Please note that a website information login does not allow you to place orders on our Online Catalogue or access our other eCommerce applications such as eDC, eDC Gold, Home Delivery Service (HDS) or Billing. Separate logins are required for these. See our Useful Links section
Please note that all account applications are vetted and subject to an approvals process, and you are not necessarily guaranteed access depending on how you do business with us.
If you require any assistance with applying for any of our accounts, please contact our IT Helpdesk.

Client Services Helpdesk
0800 086 8670