NHS Supply Chain 2021 GO Award Winners
We are proud to announce that NHS Supply Chain is the winner of a UK National Government Opportunities (GO) Excellence in Public Procurement Award. The award for 'Best Procurement Delivery Health and Social Care Organisation' was given for our clinical council project across percutaneous coronary intervention (PCI) devices.
In 2019, NHS Supply Chain: Cardio-vascular, Radiology, Endoscopy, Audiology and Pain Management (Tower 6) and the South London Cardiac Provider Collaborative, an existing Operational Delivery Network (ODN), partnered on a clinician led, collective approach, to identify the best PCI devices to deliver safe patient care and provide the best value.
PCI is a technique for treating narrowing of the coronary arteries leading to the heart.
As the South London Cardiac ODN was established in 2018, the five-NHS trusts involved had already committed to a collaborative approach to procurement. This provided NHS Supply Chain with access to an existing network of clinicians to enable the establishment of a clinical council to assess these products. Their objectives were to remove unwarranted variation across several PCI devices, understand the best clinical choice of product for safe patient care and create a saving for the trusts.
The five trusts included Guy's and St Thomas' NHS Foundation Trust, King's College Hospital NHS Foundation Trust, St George's University Hospitals NHS Foundation Trust, Lewisham and Greenwich NHS Trust and Croydon University Hospital.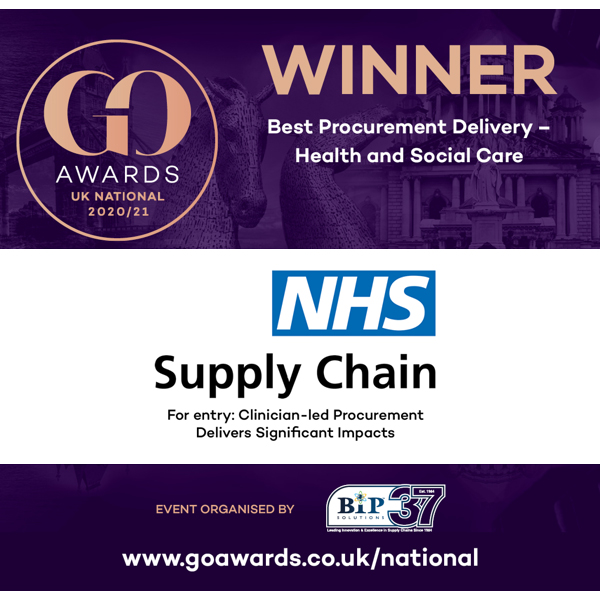 This clinically led compliant procurement process delivered 30% savings (£1.3 million annual savings) but also unlocked significant 'value' for the NHS and qualitative benefits for the trusts.
I would like to thank all the teams involved with this project for their hard work and dedication. This is an excellent example of clinical input being placed at the heart of the procurement process to deliver products that are fit for purpose, value for money and represent the needs of health and care professionals.

Rob Young, Head of Category Towers, NHS Supply Chain
As a team we are hugely proud, and see the GO Awards as a prestigious event and real recognition of the steps being taken to drive positive change within the acute provider sector of the NHS. Clinically, we are delighted with the many clinicians we have met linked to providers covered by the South London Cardiac ODN, and their approach to change for improved 'value based' outcomes in an aligned and committed way, has truly inspired us. This way of working within our clinical council structure is a key foundation for the tower, and an approach that we are now looking to accelerate adoption through the acute provider network.

Mark Hart, Tower Director, NHS Supply Chain: Tower 6
See our Useful Links section for further information about NHS Supply Chain: Cardio-vascular, Radiology, Endoscopy, Audiology and Pain Management.