NHS Supply Chain Online Catalogue Update for Office and Stationery Products
Following consultation with several trusts including the Lead Reference Trust, about the Groups and Sections within the online catalogue, there will be changes made to the Office and Stationery products to make them more user friendly and up to date.
This will mainly impact those customers that use the masking option within the NHS Supply Chain online catalogue. Customers that use a third-party online catalogue system will not be affected when ordering products. However, they will see the benefits of the revised structure when producing Trust Reports (TR) reports.
This will make our lives so much easier.

Lead Reference Trust, Manchester University Hospital NHS Foundation Trust
Changes to the Catalogue Hierarchy
When using 'Browse Catalogue' non-medical section, the five current sections, will be combined into one section for 'Office'.
14 product groups will be displayed in the sub section of the online catalogue.
See our Downloads section for further details on the catalogue section changes.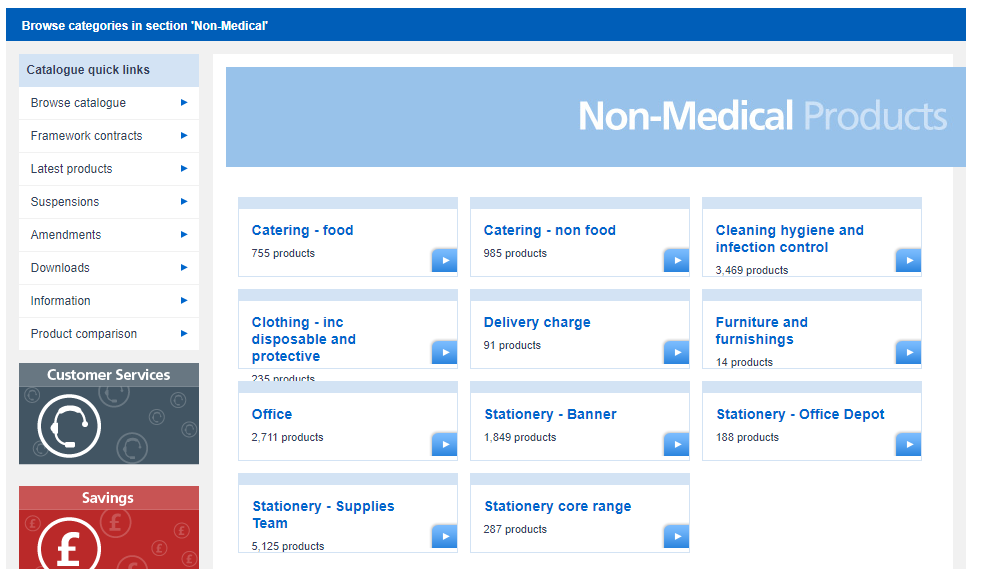 Benefits of the New Hierarchy Structure
Easier to search, select and order products, as all like products will be grouped under the same section.
It will be quicker and easier to run reports.
Improve the accuracy of Trust Reports (TR) reporting for your trust.
Review your usage and categories of spend in a more robust way.
There will be no changes to the availability of products. NPCs, pricing and any standing orders are unaffected. The sales data by NPC will still be available under the new category so Year to Date (YTD) reports will continue to show the historical information.
The changes proposed to the groups and sections means that unless a product has been masked at NPC level, products will be unmasked in the Office and Stationery catalogue. As there are over 10,000 products in the office supply range, this potentially means many products could be unmasked across all trusts. However, there is a process for re-masking these products.
See our Downloads section for information on masking products in our Online Catalogue Guidance Notes, which includes the 'Quick Mask' function on page 69. With this guidance, up to 500 NPC codes can be copied from an excel document and then masked or unmasked all at the same time.
However, if you experience any issues whilst making the masking changes, your Customer Service Advisor will be available to support and guide you through the process. If you are unsure who has the 'masking' function in your organisation, please contact either the Client Services Helpdesk or your Customer Service Advisor.
It is anticipated that these changes will be implemented on 13 December 2021 to avoid the periods when many customers run reports at the beginning or end of the month.
See our Useful Links section for details on our Customer Service Team members, or contact our helpdesk for assistance:
Downloads ▼
Online Catalogue Guidance Notes User Guide

A document with providing information about how to use our catalogue.