One Year On From the Net Zero Report
October 2021 marked one year on from the NHS becoming the world's first national health system committing to become 'carbon net zero' by 2045. At NHS Supply Chain we realise our unique role in supporting the NHS to deliver a more sustainable healthcare system.
In addition, with COP26 taking place from 31 October, we are working with all our stakeholders to raise awareness between health and climate change, the NHS Net Zero ambition, and its alignment with core-purpose activity – the improvement of health now and for future generations.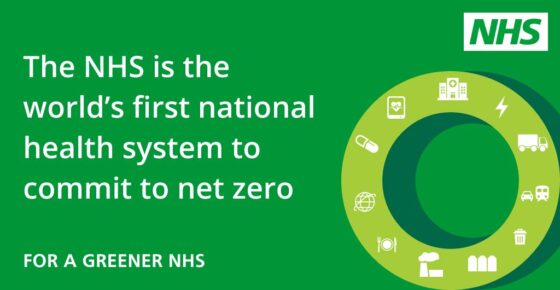 Working alongside all our NHS partners, we are keen to build understanding among the workforce of how greener measures are improving patient care today and saving money, as well as reducing carbon emissions – and therefore improving heath now and in the future.
Andrew New, NHS Supply Chain CEO, says: "As NHS Supply Chain, we are trusted by our stakeholders to deliver clinically assured, value for money products that meet the needs of our NHS colleagues and patients. We deliver a critical service every day to the NHS and we have a responsibility to deliver this sustainably and with the upmost consideration to the impact on the environment. In line with the wider NHS mission to be carbon neutral by 2040, we are working with our suppliers, service providers and trusts to optimise our impact both today and for the future."
During the recent Net Zero Health and Care Committee in October 2021, NHS Supply Chain committed to specific actions that we will take to deliver Net Zero. This pledge to achieving Net Zero showcases our collective support and action across the health and care sector.
Our commitments are as follows:
NHS Supply chain will promote and champion hybrid working, using technology as our standard solution for working with all stakeholders
NHS Supply chain will reduce our direct CO2 emissions, eliminate single use plastics (where possible) and reduce all packaging used in our operations.
NHS Supply chain will champion the supply of environmentally sustainable products and services to the NHS, including these requirements in all future tenders.
Our Sustainable Development Strategy
Our Sustainable Development Strategy – 'Delivering health sustainably' – not only captures our commitment to operating as a compliant and responsible business, but our ambition to arm trusts with sustainable initiatives aligned with the targets set out in the Net Zero Report.
At the heart of our strategy are four strategic pillars:
Human Rights and Labour Standards
Waste and the Circular Economy
Plastic Products and Packaging
Climate Change, Energy and Greenhouse Gas Emissions in our own Operations.
Our Sustainable priority ensures we support NHS sustainability goals. NHS Supply Chain has a unique role in supporting the NHS's objective of becoming the world's first net carbon zero health system. By delivering wholesale sustainability initiatives, we can deliver on behalf of all NHS trusts across the country that work with us.
Our sustainability strategy reflects our ongoing support for sustainability, and focusses on four pillars of activity:
Reducing single-use plastics
Supporting the circular economy
Reducing our greenhouse gas emissions
Improving human rights and labour standards including our commitment to social responsibility