Partnership working with Northern Devon Healthcare NHS Trust delivers £437,000 of savings via the Capital Equipment Managed Procurement Programme (MPP)
By utilising the capital project team, we were able to work to clear timelines and replace our old radiology capital equipment in the most cost effective and time efficient way. With their continued support and communication, we have created a longer term capital replacement plan, which will provide a safer and speedier diagnosis for our patients.

Harj Nijjar, Directorate Buyer, Northern Devon Healthcare NHS Trust
Northern Devon Healthcare NHS Trust (NDHT) provides integrated acute and community health and care services across northern Devon together with a range of specialist community services across Devon and Cornwall.
With over 3,000 staff delivering services across a wide geographical and physical location, including in people's homes, clinics, our five community hospitals and its acute district general hospital – North Devon District Hospital (NDDH).
About the Managed Procurement Programme
NHS Supply Chain's Managed Procurement Programme (MPP) is designed to help the NHS plan and finance the replacement of any large diagnostic capital medical equipment.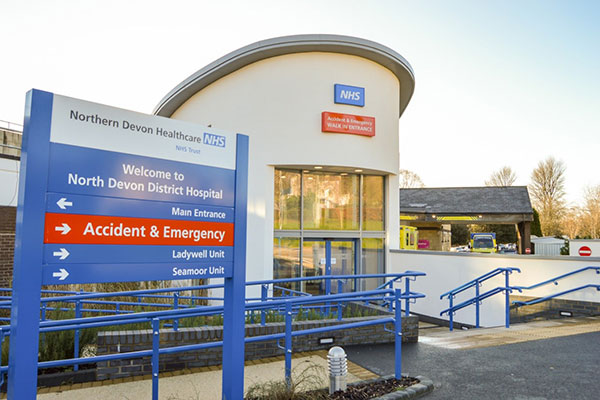 It is a data driven, systematic approach that enables trusts to establish credible, long term medical equipment replacement plans and financing strategies.
The aim is to improve financial planning, support the delivery of savings and align equipment replacement with clinical needs, by organising supplier presentations days where the capital equipment outlined to be replaced can be scored, to ensure the best fit equipment for the clinicians.
The programme provides a dedicated project management team to support the whole end to end process, approaching framework approved suppliers for quotations and supporting specifications and has a range of savings opportunities available to provide the best prices possible by aggregation of spend.
Northern Devon Healthcare NHS Trust utilised the MPP service in order to strengthen its case for investment and produce a long term equipment plan. This was achieved by allowing NHS Supply Chain to offer an independent perspective of its Radiology install base. The information gathered was used collaboratively, to plan and forecast the funding needs over a long term. Indicative capital and lease equipment costs were provided to support the trust in its decision making for future requirements.
Northern Devon Healthcare outlined its key requirements to scope a five-year, capital equipment replacement plan, focusing on aged radiology equipment in year one. The trust utilised the MPP service in order to strengthen its case for investment and produce a long term equipment plan.
The trust's objectives were delivered collaboratively through the MPP programme by our Solutions Manager; Leon Holleboom and Southwest Region Business Development Manager; Pedro Silva, the Southwest Region Capital Planner; Miguel Silva and our Trading teams, alongside the trust leads; Colin Dart (Deputy Director of Finance), Darren Procter (Head of Procurement), Jane Martin (Principle Radiographer) and Harj Nijjar (Directorate Buyer).
The trust and NHS Supply Chain project team met on a regular basis to work through the overarching project plan and timelines, looking at which of the equipment to focus on and the overall associated risks and replacement costs. From here, NHS Supply Chain created an action log and a Risks, Assumptions, Issues and Dependencies (RAID) log, to outline clear timescales and actions, to hit the trust's key deadlines, summarised below:
From the trust's Capital Equipment asset list, analysis was carried out on the impact of the aged equipment – risk of injury to patient, image quality, business interruption and the subsequent increase to patient waiting times. An overall 'risk score' for each asset was created.
The higher scoring equipment areas created the overarching priority plan for year one, within the trust's outlined budget.
The Project Manager then created a risk assessment report to submit to the trust, to form a business case for trust approval and funding.
Year one outcomes:
Risk Reduction: The equipment replacement plan prioritised the reduction of risk within the trust. The 11 assets which were rated highest within the risk workshops, were replaced within year one of the plan. This has led to a large reduction in the overall risk carrier by the radiology department.
£437,000 savings were made in year one from the replacement of radiology equipment, reducing overall spend in this area by 29%.
The five year plan has been scoped currently to include: Radiology, CT, MRI, Xray, Cardiology, Dental, Ultrasound and Mammography assets and any additional requirements for maintenance and financing and will be re-assessed year on year in accordance to the trust's requirements.

29% Overall Cost Reduction

£437,000 Savings

11 Major Assets Purchased
By replacing aged equipment within the trust, the risk of injury to patient was reduced – for example new imaging equipment provides better imaging and improved diagnosis. In addition, the trust has developed a flexible, long term replacement plan which allows the clinical, service and finance leads to rationalise equipment replacement and proactively engage with all relevant stakeholders. MPP has helped the trust to plan and take advantage of additional central funding allocations, thanks to its flexibility, which is key in the ever-changing landscape and demands within the NHS.
If you would like to understand more on working with our dedicated Managed Procurement Project team, please contact one of our Regional Business Development Managers.