Presenting at the HSJ Patient Safety Awards 2022
We were delighted to present the award for 'Harnessing a Human Factors Approach to Improve Patient Safety' at this year's HSJ Patient Safety Awards on 24 October at Manchester Central.
The HSJ Patient Safety Awards help drive improvements in culture and quality across the NHS. These awards recognise and reward the hard-working teams and individuals who are striving to deliver improved patient care.
It was a privilege to see all the entries and interview those shortlisted along with the other panel members. There are excellent examples of innovative work around human factors and patient safety from across the country. The winners demonstrated enduring positive change at a national scale.

We are proud to have been involved and had a great evening celebrating the wonderful achievements of NHS staff who are totally focussed on the delivery of high quality safe care.

Heather Tierney-Moore, Chair, NHS Supply Chain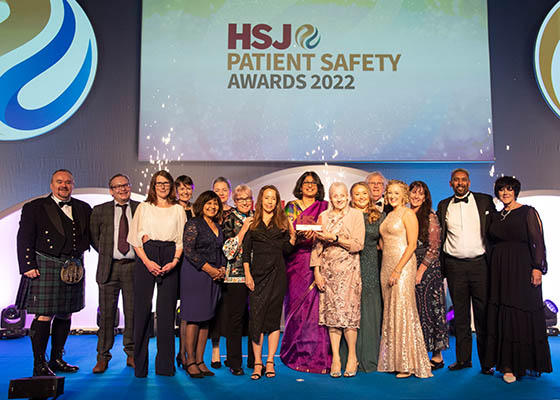 The winners, Serious Hazards of Transfusion (SHOT) were given the award for their work on improving transfusion safety by applying human factors principles in the UK.
SHOT is the UK's independent, professionally led haemovigilance scheme. Since 1996 SHOT has been collecting and analysing anonymised information on adverse events and reactions in blood transfusion from all healthcare organisations that are involved in the transfusion of blood and blood components in the United Kingdom.
The award nomination was based on the work SHOT has done over the last decade to embed human factors in transfusion safety. Educational materials were developed to support understanding and application of human factors and ergonomics (HFE) and enable UK-wide transfusion staff to implement HFE into local practices.
A bespoke tool in the reporting portal prompts reporters to examine HFE elements, complemented by a distance-learning package. A variety of platforms for learning and continuous feedback increase the knowledge and skills needed to embed HFE in local practice and contribute to the ongoing aim to improve transfusion safety.
West London NHS Trust were also Highly Commended for their work on improving the patient experience through storytelling and creation of bespoke audio visual educational tools for staff development.
Practice Development Nurse, Melville Jimmy Garber, was the driving force behind the project which includes 10 short powerful films based on real life inpatient experiences and critical incidents on acute mental health wards.
The films 'bring the patient journey to life' and after each group viewing, discussions take place on the patient experience, staff role, empathy, trauma, safe wards and other subjects which encourage group learning and reflection.
The videos are now being used with student, newly qualified and International Educated Nurses (IENs) as well as in multi-disciplinary spaces with fantastic feedback and reviews.