Pulse Oximeter initiative provides home treatment opportunities for COVID-19 patients, alongside delivering £5m in savings.
In September 2020, NHS Supply Chain were approached by NHS England and NHS Improvement (NHSEI) to facilitate the procurement of 500,000 pulse oximetry finger devices to enable high-risk COVID-19 patients, in England to monitor their oxygen levels from home. This volume was in addition to 200,000 monitors procured via NHS Supply Chain in Spring 2020. Alongside securing product delivery within a matter of weeks, £1.2m in savings have been delivered back to the NHS.
In November 2021, a further purchase of 500,000 monitors were requested by NHSEI, which were delivered across January and February 2022, these will deliver a further £3.8m savings. The COVID Oximetry @home programme was launched by NHSEI in response to the COVID-19 pandemic. The programme has enabled patients who have COVID-19, or are at a higher risk of it, to use a pulse oximeter from home and measure the oxygen levels in their blood. The devices, allocated to patients via healthcare professionals, allow patients and carers to see if there is a drop in the readings. This helps them by prompting further follow up, enabling them to get the NHS treatment that they need quickly.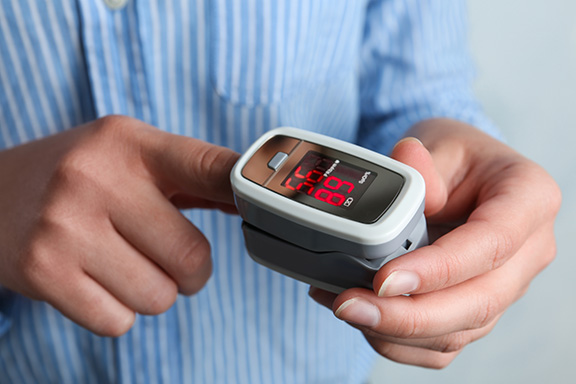 The speed and scale of the challenge from COVID-19 meant that the NHS needed to act quickly to secure a large volume of pulse oximeters. This was made possible by the excellent support from NHS Supply Chain. COVID Oximetry @home has saved lives and reduced the length of stay in hospital, for patients with COVID-19, by providing safe and effective monitoring at home with fast access to NHS treatment when needed.

David Bramley, Deputy Director, NHS @home, Strategy and Policy – Personalised Care Group, NHS England and NHS Improvement
Following engagement with NHSEI to define requirements, NHS Supply Chain worked closely with suppliers listed on the Pulse Oximetry Framework, see our Useful Links section for the Contract Information Page, who could meet the product criteria, to secure competitive pricing based on the large volume commitment. Storage and delivery to CCG locations throughout the country were then secured, by working alongside NHS Supply Chain's logistics partner, Unipart.
Collaboration was a key aspect in enabling us to support the COVID Oximetry @home programme. Without the established relationships that we have with our framework suppliers, and our colleagues at Unipart, we would not have been able to make the high volume of stock available to patients so quickly.

Cheryl Wilson, Pulse Oximetry Buyer – NHS Supply Chain
For further information regarding the COVID Oximetry @home programme, please email England.home@nhs.net.