Reusable Clinical Waste Containers Framework Launch
As part of NHS Supply Chain's commitment to sustainability, supplying trusts with the right tools to reduce waste is a significant priority.
We are excited to announce the launch of a brand new Reusable Clinical Waste Containers framework, available for trusts from 17 January 2022. This framework is for the provision of the full end-to-end service, which can be amended to suit trust requirements, on a direct basis agreed upon between supplier and customer.
The aim of this sustainable initiative is to:
Offer a new framework for the provision of a reusable sharps and clinical waste containers' service as an alternative for customers to consider to the established single-use sharps and clinical waste container consumable products.
Support the NHS net zero plan to eliminate all single-use plastic within the next 10 years.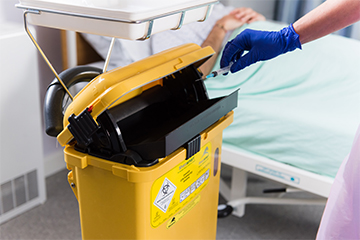 The supplier for this framework is Sharpsmart, who have stated that customers could make a saving of up to 20% in comparison to the single-use framework.
Giving trusts the option to make a sustainable choice that is better for the environment and could reduce SUP and CO2 emissions.
Financial savings that may be achieved when switching to the reusable service.
We are confident that customers using the framework will see a significant reduction in single use plastic and CO2 emissions, helping them towards their sustainability targets, as well as seeing potential for financial savings across the entire waste management service. This framework also means that there will be a wider variety of options for customers to choose from for their waste management products and services.

Martin Toomey, Sustainability Manager, NHS Supply Chain