An Update on Using Search
Up to a third of our website's Home page visitors immediately use the Search box to quickly locate the information that they're looking for.
In December 2022, the most searched for words included tourniquet, gloves and login. If you search for login the top result shown is our 'My Supply Chain' page, where you can find the entry points for a number of different services.
When people search for individual product codes, if an Important Customer Notice (ICN) is not appearing in the results, the next step is usually to click through to our Online Catalogue.
At the moment the most searched for product codes relate to couch rolls, packs of printer paper and boxes of disinfectant wipes.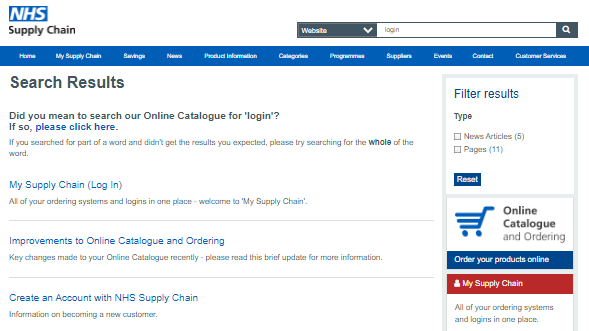 The search results that we provide within our information website always offer an alternative link direct to the search results available in the Online Catalogue.
Previous update – Search: How to Search for Both Products and Information
A good way to find the information that you need quickly is to follow these two simple steps:
Step one: type something into the search box and click on the search button
Step two: find the results you need, filter the results shown, or click through to the Online Catalogue.
We're always looking for ways to make our service easier to use.
In this video (less than 40 seconds long) we hope to demonstrate clearly how a basic search on the website should be done.
Please note: there is no sound on this video. Some older browsers or older NHS networks may not be able to display video content or may block it from displaying on your screen. If the video doesn't appear or play, please contact us and we'll do our best to help.
If you have any comments or questions, please let us know as soon as possible.
Please send your feedback to:
Web Team General Enquiries
Website Feedback and Technical Support