Shaping the Future of Healthcare Menus – Chef's Academy Round Two Launches
Following the success of the first round of Chef's Academies between March and July 2021, the team are pleased to announce the second round of events.
These are launching across the UK from this September, with four dates so far confirmed:
27 October 2021 – Chef's Academy Cumbria: Kendal College, Milnthorpe Rd, Kendal LA9 5AY.
28 October 2021 – Chef's Academy Cumbria: Kendal College, Milnthorpe Rd, Kendal LA9 5AY.
23 November – Chef's Academy Hertfordshire: West Herts College, Watford Campus, Hempstead Rd, Watford WD17 3EZ.
NHS Supply Chain: Food is hoping to announce more dates soon. Spaces are limited to 10 attendees per event.
Looking back on the first round of events
In October 2020 the first NHS Supply Chain Chef's Academy event was held in Bristol.
Six NHS chefs attended the inaugural, socially distanced training session.
Each chef received bespoke training from NHS Supply Chain's in-house chefs Nick Vadis and Stephen England.
This initiative supports the development of naturally more innovative kitchens and an improved food offer for NHS hospital staff, visitors and patients.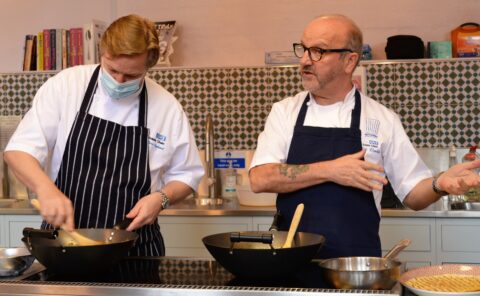 Attendees were asked to rate five key aspects of the event with a score out of 10.
Feedback was very positive with average scores collected from all 94 participants.
Following the success of the first Chef's Academy, plans were in place to host 10 more events across England from the end of 2020 to early 2021.
Sadly as the UK entered another national lockdown, events were postponed. However, cancelling the academies completely was not an option because of the great benefits they could bring to the NHS.
Chef's Academy Overall Rating
Presenter's Culinary Knowledge
Likelihood of Recommending Chef's Academy
Upskilling NHS chefs was a key recommendation of the 'Independent Review of NHS Hospital Food 2020'.
Prior to the NHS Supply Chain Chef's Academy events, there was little in the way of an external forum to improve NHS chefs' knowledge and craft skills.
Improving NHS skillsets is not the only benefit to chefs that attend the events – attendees can network with other chefs and spread ideas and best practices from kitchen to kitchen.
Attendees get to hear from a member of the NHS Supply Chain in-house nutrition and dietetics team to better understand the science involved in designing meals.
Feedback from the NHS chefs that attended has also allowed NHS Supply Chain: Food to go on to provide a better overall service.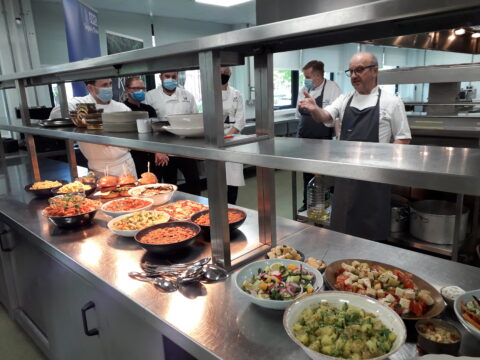 Rolling out Chef's Academy
Fortunately, as COVID-19 restrictions eased, the Chef's Academies were able to recommence. The second event took place in Birmingham, with attendees from hospital kitchens across the midlands it was another success, with an average feedback score of 9.4 out of 10.
The Academies travelled from London to Leeds and back again, stopping in Manchester, Birmingham and the South Downs along the way. This first round of Chef's Academies saw Nick and Steve host 11 events in total, teaching 94 NHS chefs invaluable craft skills and innovative recipe ideas.
Feedback across all the events has been extremely positive, with the 94 attendees awarding our Chef's Academies an overall average score of 9.7 out of 10.
The Chef's Academy Programme has given much needed support in our industry in such challenging times. Shaping the future of healthcare menus is an essential aim of the NHS Food Review 2020, the academy model encourages attendees to feel at ease while Nick and Steve lead with a calm authority that increases the potential for positive change – I'm looking forward to future sessions.

Phillip Shelley, chairman of the 'Independent Review of NHS Hospital Food 2020