Tracking Your eDirect Orders
In response to customer feedback about delivery communications and improved visibility of your orders, we've introduced the ability for you to track eDirect deliveries from suppliers.
After you have placed your order, you will now start receiving order update emails which include the name of the courier the supplier is using and a tracking number, where the supplier has provided this information. Clicking on the tracking number will redirect you to the courier's website where you can view additional information and track the progress of your delivery.
If your order contains eDirect products from multiple suppliers, then you will receive individual order update emails for each supplier with the relevant tracking information.
Please note NHS Supply Chain is not responsible for the tracking information provided by the supplier or the courier.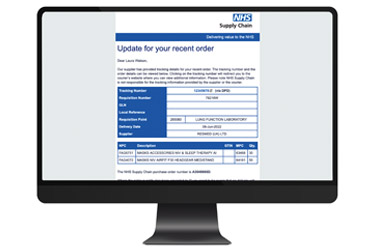 Who will the emails be sent to?
For customers who order through our eCommerce platforms (Online Catalogue and eDC) we will send the order update notification emails to the Requisitioner. However if your order will be split due to variances in lead time or supplier, then the Appointed Requisition Point contact will be sent the email.
For customers who use third party systems we introduced new functionality in September 2021 to enable customers to maintain order contact details through the NHS Supply Chain Online Catalogue via their Trust Administrator. We will send order communications to the identified User contact. See our Useful Links section for further information about this change.
Please ensure your contact details are kept up to date so you receive order communications.
Should you have any queries about your eDirect order, please contact your NHS Supply Chain Customer Services Advisor.