Value Based Procurement Project Update
The NHS Supply Chain Value Based Procurement (VBP) project commenced in 2019 and a report highlighting the outcomes from phase one of the project was issued and positively received in February 2021.
Building on the lessons learned from the work to date, NHS Supply Chain are now focusing on the following areas of development to progress the project further: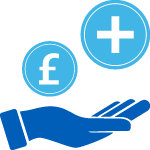 Delivery of system benefits – working in conjunction with Category Tower Service Providers (CTSPs), NHS customers and ICS's to create an evidence base of VBP projects.
Delivering value – developing a mechanism for contracting for value.
Standardising a methodology – establishing a standardised method to recognise efficiency and value benefits.
Consistency of approach – in conjunction with NICE and other relevant stakeholders, working to ensure a consistent approach to the procurement of value through innovation.
More details on the current areas of focus for VBP and contact details in each CTSP are provided in this article.
See our Downloads ▼ section to discover the initial project findings in the full report.