CAD4COVID CXR Artificial Intelligence Solution
CAD4COVID is a free to use, CE Certified AI software, developed to triage suspected COVID-19 patients and diagnose COVID-19 symptoms using chest X-rays.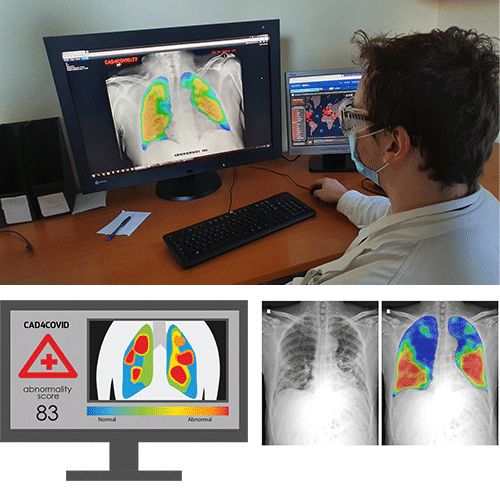 Product features:
Free for healthcare providers to use
CE certified
Fully automated zero click workflow
CAD4COVID works on both AP and PA chest X-rays.
CAD4COVID software in combination with the Vitrea automation platform delivers a fully automated zero click workflow. The AI algorithm runs automatically in the background on every chest X-ray acquired. The CAD4COVID AI result is delivered to the PACS in less than a minute and is ready to be accessed by authorised PACS users.
Benefits include:
Is the first AI software that is proven to perform at the same level as human expert readers to detect COVID-19 related abnormalities on chest X-ray images.*
Early detection – CAD4COVID fully analyses a chest X-ray for COVID-19 indications in under one minute.
Routine screening of all new chest X-rays for COVID-19, thus protecting other patients and clinicians from the risk of cross-infection.
Pre-surgical screening – CAD4COVID provides increased diagnostic confidence when screening patients for surgical intervention, thus influencing the timing and approach to surgery.
COVID-19 triage tool for the A&E Department.
Track/quantify disease progress and recovery – CAD4COVID can be used to track the recovery of affected lung tissue for COVID-19 patients admitted to ICU.
Increased diagnostic capacity – a CXR in combination with CAD4COVID provides additional diagnostic capacity in settings where RT-PCR tests are in short supply.
Fully GDPR compliant – patient data is processed entirely within the hospital's own network.
*Source: https://pubs.rsna.org/doi/10.1148/radiol.2020201874
Learn more
This product is available on a direct purchase agreement. Please contact our Medical IT team to find out more about this solution.