Centricity High Acuity (CHA) Ready Care Solution
Capture data and quickly access COVID-19 clinical insights from an out of the box software solution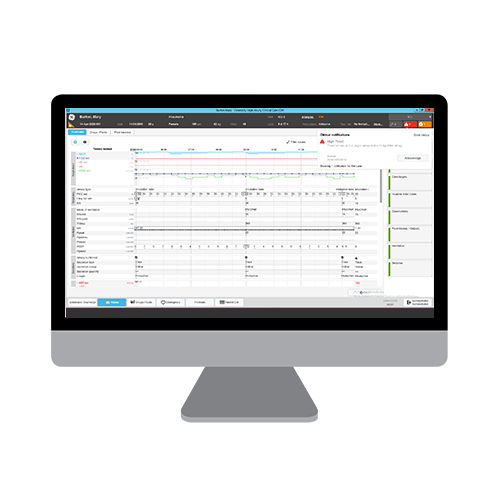 Product features:
Shapes and executes recovery plans
Manages high numbers of patients with symptoms
Prioritises people safety and infection control
Supports staff with varying abilities
Helps manage time
Standardises treatment processes
Collects data to support the COVID-19 response.
The Ready Care Solution is designed to support organisations with the digital management of patients within an ICU.
It is based on the proven Centricity High Acuity (CHA) Critical Care Information Solution and does not require clinical configuration support from your organisation. It supports the increased demand for an electronic record solution that can be implemented safely, at scale and speed, with implementation possible within weeks.
GE Healthcare has capacity to handle device interfacing from multiple vendors/models, and will provide online training and support for all users to ensure fast learning.
Benefits include:
Automatic Trends and Tailored Worklist
Data from monitors and ventilators is automatically captured and displayed in trends. Colour coded work lists provide a COVID-19 tailored structure for preconfigured admission, discharge and care documentation.
Multi-Patient Overview
Medical experts can access patient records at the bedside or via remote workstations in the network.
Lung Protective Clinical Expertise
Users will be notified when a tidal volume, plateau pressure or driving pressure (PS) is measured outside of the safe ranges set for the patient, based on their calculated ideal body weight.
Notifications
Bedside staff are notified for timely medication administration and execution of planned care tasks. Clinical notifications are triggered by the rules engine when the patient is deteriorating over time.
Medication Management
Medication order sets tailored for COVID-19 patients provide standardised care, supporting bedside staff with variable medical experience levels.
Complete Medical Record
The CHA Ready Care Solution provides a legally compliant medical record solution including an automatically generated, standard discharge document. Any automatically captured and manually entered structured dat,a is available for research.
Learn more
This product is available on a direct purchase agreement. Please contact our Medical IT team to find out more about this solution.