HiPRES™ Clinical Testing Workflow Solution
Leverage the power of mobile to digitise your clinical testing workflows using BridgeHead's HiPRES™ solution and save 10%.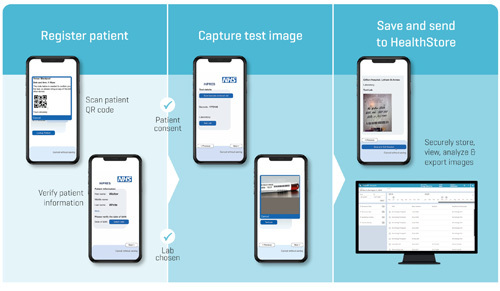 Product features:
Easy to use mobile app
Streamlines patient's verification and captures consent
Protects patient data
Improves lab utilisation and access to test results
Tracks and audits test samples
Provide better continuity of care
Configurable process workflows for multiple testing pathways
Securely store, view, analyse and export images
Automatically connect image and test data to patient's record
Media capture via Smartphone: images, video, audio, text data.
The BridgeHead HiPRES™ architecture provides us with a one stop, end to end, digital solution for clinical testing workflow and data management that can be easily adapted for multiple clinical pathways.

Kira Pennington, HiPRES Project Lead and Diagnostic Digital Integration Project Manager, Lancashire and South Cumbria Integrated Care System
During this global pandemic, clinical testing for COVID-19 has placed unprecedented demands on the testing ecosystem that it was never prepared for. As a result, for many healthcare organisations there is an urgent requirement to move away from manual processing to a more scalable, automated, digitised process.
This product is available on a direct purchase agreement. Please contact our Medical IT team to purchase or to find out more about this solution after reading the information on this page.
BridgeHead's HiPRES™ is an innovative clinical testing workflow and data management solution that enables healthcare organisations to carry out COVID-19 tests (LAMP, PCR, antigen, antibody) at the point of care. Utilising best-of-breed mobile capture technology and an award-winning centralised data repository, HealthStore®; HiPRES enables NHS, private health and other care providers to streamline and scale their end-to-end testing processes to deliver paper free, digitalised workflows.
Benefits include:
Collect and validate patient consent and demographic information
Route all tests to the correct facility for analysis, with a full audit trail
Link all of this data automatically to the patient record.
No more time-consuming paperwork and a significant increase in efficiency and throughput of clinical tests.