Vitrea Advanced Lung Analysis and Lung Density Applications
A suite of three applications to support the imaging of patients' lungs with COVID-19.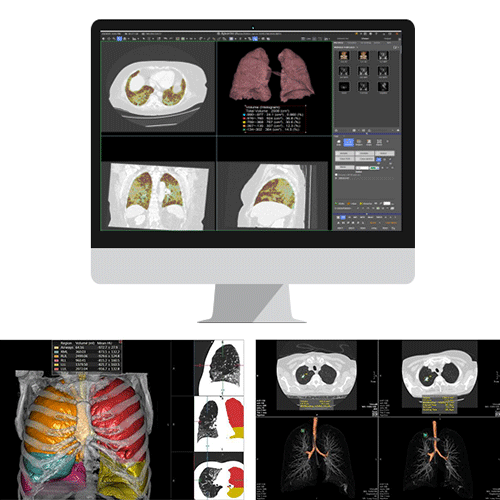 Product features: Vitrea Image Denoising
Structure Preserving Diffusion denoising algorithm (SPD) improves signal to noise ratio
Predefined image filter presets may be modified and saved for future use
Interactive denoising preview capability
Real time toggle between original and denoised volumes.
Product features: CT Lung Analysis
Automated segmentation of lung and airways with expert presets for visualization
Single-click lung nodule segmentation tools to include solid nodules and ground glass opacity (GGO) nodules
Automatic nodule tracking of all measurements
Dictation table with Lung-RADS®, Fleischner Criteria.
Product features: Lung Density Analysis
Aids in characterisation of areas of low attenuation within the lungs and provides quantifiable controls and renderings for communication with referring clinicians
Lung density result quantification with HU density range, volume measurements, lung density index and the PD15% measurement
Density graph/histogram of the classified lung voxels' relative frequencies
Adjustable density thresholds for refining and optimising HU ranges.
Due to COVID-19 there is now an increased need for lung imaging. Vitrea offer a suite of applications that include CT Lung analysis, CT Lung Density Analysis and Image Denoising.
These applications aid patient lung imaging in three key ways:
Lung volume quantification; indexed quantification of lung density and automatic visualisation of Hounsfield Unit ranges in both 3D and MPR.
Segmentation and detailed measurement of pulmonary structures and abnormalities including airways, solid nodules and ground glass opacities.
Software improves the appearance of low signal-noise ratio of images.
Learn more
These applications are available on a direct purchase agreement. Please contact our Medical IT team to find out more about these solutions.