Air Sterilisation Units
Protect your staff and your patients with a patented technology which neutralises all airborne pathogens and viruses.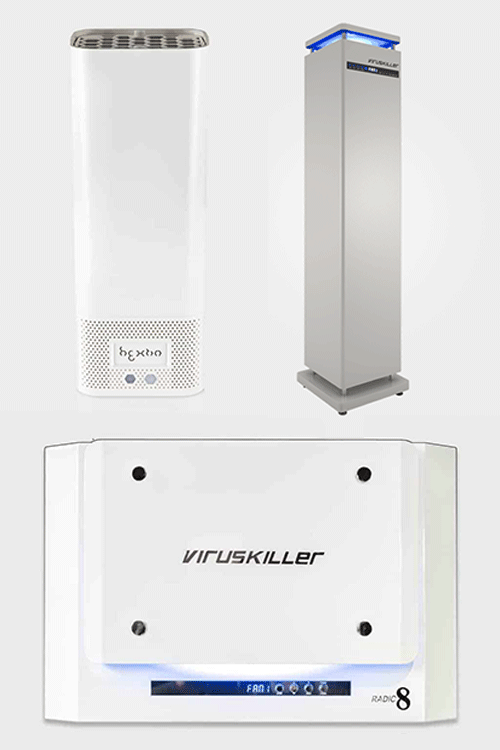 Product features:
Combined air purifier and steriliser
Controlled airflow
99.9999% kill rate in a single air pass
Wall mounted and free standing units available
Suitable for use in a wide range of settings.
This range of air sterilisation units offer combined air purification and sterilisation through pre-filter, HEPA filter, activated carbon and a reactor cell with super UVC lamps with TiO2 hexagon filters.
Benefits include:
Patented, core technology that has been tested against Coronavirus DF2, Adenovirus, Influenzavirus and Poliovirus. The results show a 99.9999% kill rate in a single air pass.
How these products can support new ways of working in response to COVID-19
Controlled airflow – VK401 and VK103 take the danger away from the breathing zone and replaces it with clean air. Where possible, they create a laminar airflow.
Single air pass – VK401 and VK103 use technology that can give a 99.9999% virus kill rate. Kill rates can only be given by tests conducted on a single air exchange, which other brands do not offer.
VK 401 is the ideal unit for smaller commercial spaces such as medical and dental surgeries, offices, care homes, classrooms, government buildings, single patient rooms, waiting rooms, care facilities, leisure facilities etc.
The VK 103 model is a great choice for installing in large rooms, communal areas, hospital wards, offices, hotel lobbies, waiting rooms, restaurants, commercial spaces, childcare facilities, government buildings and leisure facilities.
The Hextio unit is ideal for personal use at home, in a small office or on reception desks. This unit is a plug and play, portable unit and does not require specialised installation.
Learn more
These products are offered on a direct purchase agreement through our Dental framework. Please contact our Dental team to find out more about these solutions.