Antimicrobic Booths
Antiviral, antimicrobial, clean air pods for healthcare.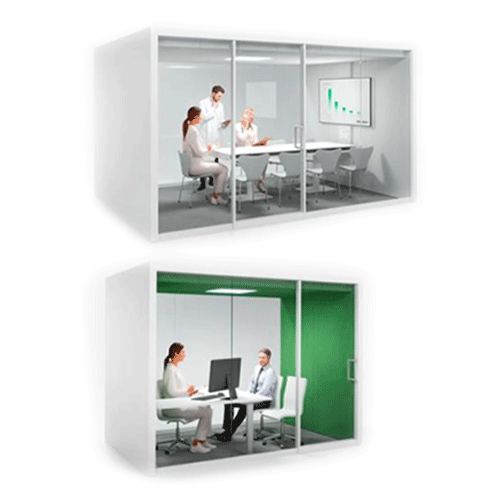 Product features:
Up to 99.9% of harmful particles removed from the air once you have entered the space
Soundproofing to ensure privacy
Different construction layout options available
Maintenance free.
A range of Antimicrobic Booths are available in a variety of sizes depending on your available space and how you plan to use them. Sizes available are:
Phone Space (1m x 1m)
Small (2m x 1m)
Medium (2m x 2m)
Large (3m x 2m)
X Large (3m x 3m)
XX Large (4m x 3m).
For each type of booth you can choose from a range of options, which sides are solid construction and which are glass.
How these products can help support new ways of working in response to COVID-19
Due to COVID-19, having a clean and sterile work environment for staff to use, meet or conduct patient consultations is vital to protect from cross contamination.
This range of Antimicrobic Booths have a catalytic coating which is activated by a blue light. This creates a reaction that will continually reduce the total amount of surface microbes by photon disinfection while the room is occupied.
Learn More
These products and more are offered on a direct purchase agreement. Please contact our Office Solutions team quoting reference number NWOW-OS along with your specific requirements.