York's Acomb Health Centre Achieves 25% Saving by Switching their Wound Care Products to NHS Supply Chain
I've worked on a lot of projects over my 30 years in the NHS and this has been a fabulous collaborative partnership. It's felt that we are all pulling in the same direction and trying to achieve the best outcome for our staff and patients. We wouldn't have made it this far without NHS Supply Chain's support.

Louise Parker
Project and Improvement Manager, Community Services – York and Scarborough Teaching Hospitals NHS Foundation Trust
Changes in the economic landscape prompted Acomb Health Centre (AHC), part of York and Scarborough Teaching Hospitals NHS Foundation Trust (YSTHFT), to review the purchasing route of their wound care products in favour of a simpler, more cost-effective solution.
Following a cost-comparison exercise, the centre reached out to their NHS Supply Chain Customer Relationship Manager (CRM) to further explore the benefits of using NHS Supply Chain's recently updated online catalogue.
A thorough review of their purchasing activity revealed that they would achieve a 25% saving by purchasing their wound care products via NHS Supply Chain.
Deliver cash releasing savings
To move to a single, simplified ordering route.
Matching the centre's products, with old Manufacturers Product Codes (MPC's), to those on NHS Supply Chain's catalogue, and then sourcing suitable alternatives for those where the incumbent product wasn't available.
Moving the centre away from a next-day delivery model whilst providing the assurance that all products would still be delivered on time and in full.
Ensuring that the centres' employees adapted to the new ways of working, which included new ordering platforms and support channels.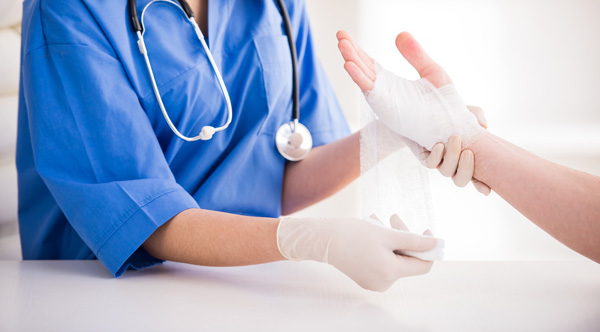 NHS Supply Chain's CRM worked with the centres' Lead Tissue Viability Nurse (TVN) to make sure that any alternative products sourced were able to meet the requirements outlined in the Wound Care Formulary.
NHS Supply Chain added a second delivery day to the system, ensuring that the centre received deliveries every Monday and Friday.
One requisition point was decided on and renamed specifically for Acomb Health Centre orders so they could run reports on spend and saving efficiencies.
Online catalogue training was provided to the centre's administrators so that they were able to place orders and access reports. Having a centralised email address that they could all access was extremely beneficial, particularly for eDirect products, managed by suppliers, as they had full visibility of product delivery dates and quantities.
The support from our CRM was invaluable to the Project Group. Without his expert knowledge, stakeholder engagement and time taken to understand our systems and processes, the whole project would have taken much longer. The savings achieved have also been an added bonus.

Steve Dodsworth
Improvement Facilitator – York and Scarborough Teaching Hospitals NHS Foundation Trust
Working in partnership with NHS Supply Chain enabled the trust to achieve the following:
A smooth transition to NHS Supply Chain's ordering system, over a period of seven months.
Cost-effective alternative products sourced that meet the needs of the centre.
25% saving delivered on £205,000 trust spend.
Refreshed formulary that captures full list of wound care requirements.
Not only has the outcome of this project demonstrated the benefits of a truly collaborative approach between YSTHFT and NHS Supply Chain; the process itself reflects the commitment and dedication shown by all involved. It provides a blueprint for success that the trust will use to explore further opportunities for rolling out NHS Supply Chain's ordering system within their network of community health centres, with continued support from their CRM, Bert Jackson.
If you are looking to review your purchasing activity, or would like further information on this project, please contact your dedicated Customer Relationship Manager. See our Useful Links section for contact details.