NHS England Specialised Commissioning National Supply System for HCTED
NHS England Specialised Commissioning has a nationwide purchase and supply system for specific categories of high-cost tariff-excluded medical devices and implants used in specialised services.
The Specialised Commissioning HCTED programme aims to reduce pricing variation and drive transparency, whilst providing value for money, accelerating the adoption of effective new technologies and delivering savings for the NHS from procurement opportunities via NHS Supply Chain.
NHS England Specialised Commissioning and NHS Supply Chain are working with NHS Providers to support migration to this model and to proactively resolve any issues during implementation. The system should see improved clinical practice and device optimisation, as clinicians will be able to choose the best device for the patient from a clinically-evaluated, evidence-based catalogue.
For implementation and technical matters please email:
NHS Supply Chain: Cardio-vascular, Radiology, Endoscopy, Audiology and Pain Management Team:
NHS Supply Chain: Orthopaedics, Trauma and Spine, and Ophthalmology Support Team:
Category Customer Services (CPP)
Please copy in your account manager when contacting us.
See our Useful Links section for information on the NHS England website.
Designing a Bespoke Trust Work Plan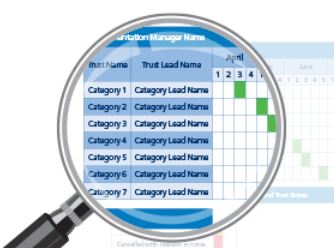 Created in collaboration with the Trust Champion to ensure a realistic and robust approach, this will provide over-arching visibility and timing for the migration of all categories that are in scope for each trust.
See our Downloads ▼ section on this page for an example PDF file showing a work plan.
Bespoke Transactional Reporting
Transactional Report (TR33) is available to trusts to self-serve through our website in support of the NHS England High-Cost Tariff-Excluded Devices (HCTEDs) programme.
This report will give you information about your transactions on HCTEDs through the central supply route. Updated on a weekly basis, you can access the report by logging on to our website and selecting TR Reports.
If you require any further information about the report, then please contact us:
NHS Supply Chain: Orthopaedics, Trauma and Spine, and Ophthalmology Support Team
NHS Supply Chain: Cardio-vascular, Radiology, Audiology and Pain Management Team
The following HCTED categories are currently within scope of the programme:
Bone anchored hearing aids – Now referred to as Bone Conducting Hearing Implants (BCHIs)
Deep brain, vagal, sacral, spinal cord and occipital nerve stimulators
Intrathecal drug delivery pumps
ICD (Implantable Cardioverter-Defibrillator)
ICD with CRT (Cardiac Resynchronisation Therapy) capability
Three-dimensional mapping and linear ablation catheters used for complex cardiac ablation
Radiofrequency, cryotherapy and microwave ablation probes and catheters
Occluder, vascular, appendage and septal devices
Percutaneous valve repair and replacement devices (mitral/pulmonary valve)
Peripheral vascular stents
Carotid, iliac and renal stents
Endovascular stent graft
Aneurysm coils
Flow diverters for intracranial aneurysms
Intracranial stents
Lengthening nails for limb reconstruction and circular external fixator frames
Further categories that include bespoke prostheses used in orthopaedic and maxillofacial practice are currently outside the scope of the programme.