In 2022, we launched our Vision, Purpose and Strategy to demonstrate how NHS Supply Chain will support and contribute to the delivery of the NHS Long Term Plan.
Over the coming year, as we continue to evolve our model, we will focus on building the culture, capabilities and capacity needed to deliver an outstanding service.
We recognise that to achieve our ambition 'To make it easier for the NHS to put patients first', we need to become better connected with our partners, to ensure our service aligns to the expectations and needs of the NHS.
With soaring demand and a finite budget, in the years to come, the NHS faces even bigger obstacles than during the COVID-19 pandemic. We acknowledge that day to day processes have become more complex for all stakeholders – due in part to global challenges, such as raw material shortages and disruptions to manufacturing and transport.
Guided by our strategy, NHS Supply Chain will play its part in responding to these challenges by accelerating the value we provide to frontline care, further strengthening the resilience of our supply chain, ensuring we are fully aligned to the needs of the NHS.
Over the past six months we have been focused on improving our ways of working in four specific areas. We believe that the improvements and investments we are making in these areas will have the biggest impact on our NHS partners and in helping us work collectively towards our ambitions.
The four key areas of focus are:
Strategic approach
Inventory management
Communications
Processes and systems.
Our 2023 – 2024 Business Plan
We are pleased to share our Business Plan with you and our ongoing commitment to playing our part in supporting the NHS to deliver safe and excellent patient care.
Buy Smart
Embed commercial excellence to drive innovation and savings.
Supply Right
Strengthen resilience through connected supply chains.
Partner Expertly
Collaborate with the NHS to create healthcare value.
Make it easier for the NHS to partner with us.
Drive better decision making through our data strategy.
Enabling the Strategy
Build the future by evolving our supply chain.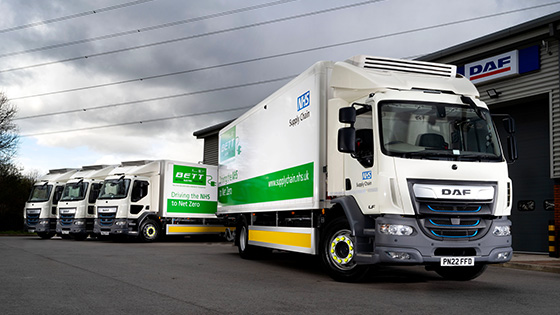 Our healthcare providers remain at the centre of everything we do. The corporate objectives identified will ensure that we continue to deliver the products and services needed by the NHS, both now and in the future.
See our Downloads ▼ section to download our full business plan for this year.
We recognise the need to have a clear and defined approach that closely aligns to the objectives of the NHS Long Term Plan.
Our strategy is clear; we will use our core skills to support the NHS to deliver outstanding and safe patient care. We will be informed by data, make our organisation easy to work with for all stakeholders, and be collaborative in delivery with our NHS partners across the entire range of care settings.
To ensure that our service capabilities are advanced and robust, we are developing a procurement centre of excellence alongside a customer service academy. Both programmes of work will help us to ensure that our processes and people have the proficiencies and insight required to have a positive impact on customers.
To successfully deliver our strategy and make the changes needed, we must follow through with our commitments and it is significant to reference that the National Advisory Board holds NHS Supply Chain to account on these commitments.
We are leading a project on behalf of NHS England (NHSE) that focuses on driving greater value from the end-to-end supply chain across an Integrated Care System (ICS), and are working closely with a number of ICSs to gain insight and recommendations to create a best practice way of working. These insights will be used to support ICSs as they continue to mature.
Logistics and infrastructure
At NHS Supply Chain, we are committed to modernising our logistics infrastructure and systems as well as increasing additional capability and capacity. This is critical to ensure we continue to provide current services and to enable increased flexibility to meet the changing needs of our NHS.
In 2020, NHS Supply Chain opened a new Regional Distribution Centre (RDC) in Bury St Edmunds, increasing the warehouse capacity in the region by over 75%.
The next phase is the delivery of our new site at Gorsey Point in the north west. This facility is approximately three times larger than any existing RDC and will provide significant additional capacity and capability. This will support the transformation of the logistics systems, starting with the warehouse management system. The site is on target to be ready during Q2 of 2023.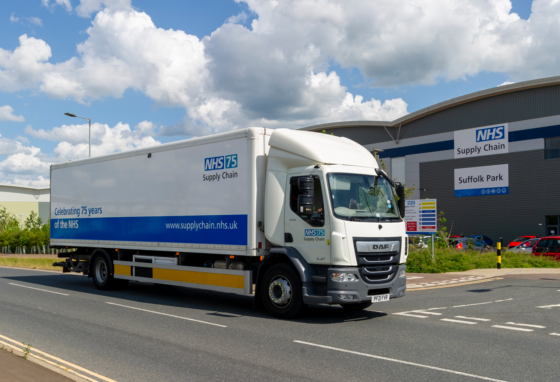 We understand the need to have excellent inventory management processes to enable the efficient operation of trusts and the successful delivery of outcomes to patients.
Our Inventory Management (IMS) and Point of Care Solution is specifically referenced in the 2023 / 2024 Priorities and Operational Planning Guidance document, issued in January 2023. This will be a significant step forward in terms of enabling improved visibility and management of products across the NHS. A leading inventory management and point of care solution will be deployed (initially to a small group of customers), and will deliver significant benefits.
Over the past 12 months we have undertaken considerable work to improve the process of issuing Important Customer Notices (ICNs), which we hope is starting to cascade through trusts. We have improved the clarity and format of ICNs to reduce jargon and highlight the information that is critical. A pilot is also underway to identify how we can shorten lead times to create and release ICNs to ensure vital information is captured, checked and circulated as quickly as possible.
In direct response to feedback from our NHS partners, we are also working on a longer term project to improve demand management processes, which is set to be delivered in Q4 2023. This is a key resilience related activity, and the improvements we implement will have a direct impact on how trusts are able to manage their own resilience activities.
Members of our Resilience Working Group have started attending key forums run by NHSE to provide additional oversight of demand management and our overall approach to disruption in general. Through our NHS Supply Chain Network Stock Management programme we work diligently to respond to global supply challenges by continuously developing our resilience capabilities.
Effective information sharing and informative communications are vital components of a 'patient centred NHS' and something that we are committed to delivering.
As an embedded part of the NHS in England, we are committed to being collaborative, open, and transparent with all of our stakeholders. We are developing our Lead Reference Trust programme to ensure there is a stronger customer voice as we shape our category strategies to ensure they meet the needs of the NHS.
We are developing a new communication strategy with our Advisory Forum (formerly Customer Board) members and will continue to work in partnership with trusts to develop a plan which ensures our messaging and approach resonates with all stakeholders. As well as this, a customer operations panel has been formed recently, to enable us to engage directly with customers to promptly identify and resolve concerns.
A positive example of our collaborative approach has been evident in the PPE Transition Project. Despite consistently evolving and being extremely reactive, we have maintained close communication with all Acute and Non-Acute Trusts to effectively communicate changes and updates.
Our PPE Transition website page has become a go-to reference point for instant access to information, receiving almost 5,500 visitors per month. Our digital platforms allow us to engage with audiences and cascade real-time information, at any time of the day.
NHS Supply Chain currently relies on systems that have been organically developed over the last 20 years. We understand that these legacy systems are outdated and recognise the opportunity we have to update our IT systems and strengthen our foundation for the future.
We maintain a roadmap to complete the replacement of core and operational systems with progress set out in the business plan with associated agreed funding from NHSE annually.
Investment has been planned as part of a long-term strategic vision, and our eCommerce project is already in flight to stabilise and develop our catalogue systems, which will improve the interface functionality and user experience. A pilot group of customers are working alongside us to develop this capability.
Collaboration and engagement
Guided by our strategy, we are determined to maximise our contribution to the delivery of high quality and safe patient care across the NHS, however we cannot do this in isolation.
Committed to transforming how we work with our NHS partners; we actively encourage customer feedback and engagement to ensure specific requirements are built into our everyday activities.
We want to ensure that every customer feels valued and that they have a platform to have their voice heard – as we develop and evolve our strategies this will be critical in the successful delivery of our ambitious plans.
To ensure we are aligned with all stakeholders, we are also engaging with system partners, such as the Central Commercial Function (CCF) to ensure we adopt a joined-up way of working across the organisation.
We hope that by fostering an environment which promotes open, two-way communication, we can gain valuable insight that informs change, builds strong working relationships, and helps us all to deliver our shared ambition, to support the NHS to put patients first.
We look forward to providing regular updates on our key activities throughout the course of this year.