Our 2021 – 2022 Business Plan
We are pleased to share our 2021 – 2022 business plan with you. Within it, we show you how we have committed to playing our part in supporting the NHS to deliver safe and excellent patient care.
Our customers are at the centre of everything we do and the five priorities identified for 2021 – 2022 will ensure we continue to deliver the products and services needed by the NHS, both now and in the future.
Our priorities will focus on the following five areas: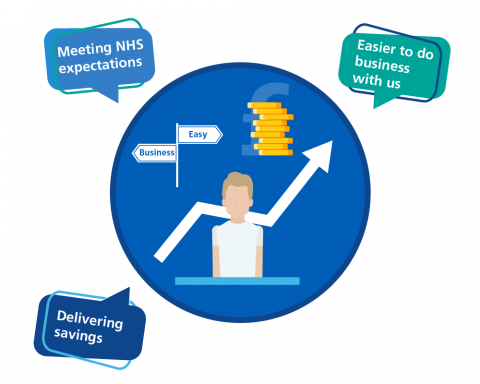 Customer
We will anchor our business on the needs of the NHS by supporting NHS trusts to deliver safe and excellent patient care and through continuing to build the services the NHS needs.
We will do this by:
Making it easier to do business with us
Delivering a balanced value proposition that meets NHS expectations
Delivering savings.
Resilient
We will further strengthen the resilience of our supply chain by continuing to invest in key tools and capacity that build resilience and performance, across the end to end supply chain.
We will do this by:
Investing in our capacity and resilience
Strengthening our category and sourcing strategy standards.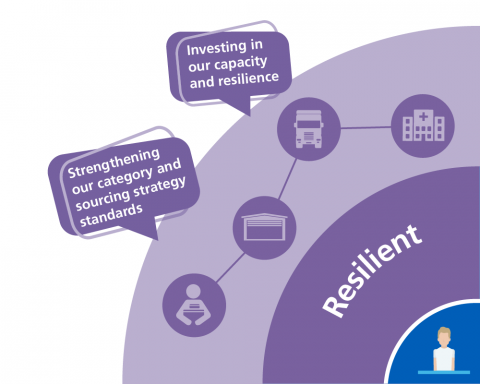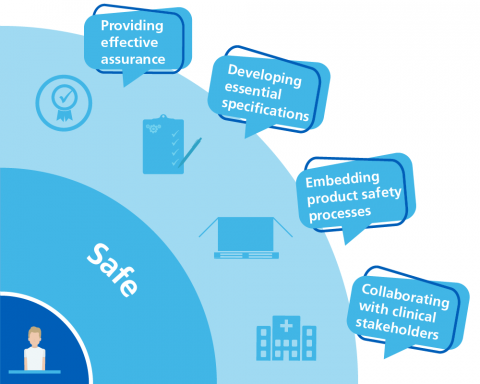 Safe
We will deliver clinically assured, safe products that support improved outcomes for patients and users.
We will do this by:
Providing effective assurance on behalf of NHS trusts
Developing essential specifications
Further embedding our product safety processes to benefit NHS trusts
Collaborating with our clinical stakeholders.
Sustainable
We are committed to supporting the NHS objective of becoming the world's first net carbon zero national health system.
NHS Supply Chain has a unique role to play and our sustainability strategy reflects our ongoing support and focus, using four key strategic pillars of activity:
Reducing single use plastics
Supporting the circular economy
Reducing our greenhouse gas emissions
Improving human rights and labour standards.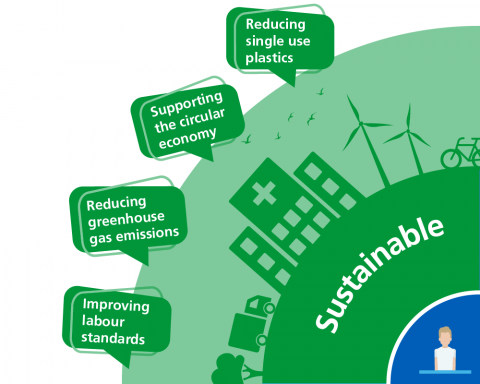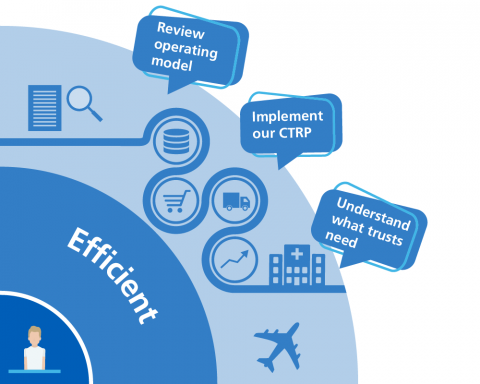 Efficient
We will ensure we have a high performing workforce and highly efficient organisation.
We will do this by:
Reviewing our operating model
Ensuring we have the required capabilities
Implementing our Core Technology Refresh Programme
Understanding what trusts need
Embedding this knowledge across our organisation.
Working in partnership
Delivering transformation cannot be done in isolation, and we look forward to working with NHS trusts, service providers, and all our stakeholders, as we play our part in supporting the NHS to deliver safe and excellent patient care.