Chef's Academy 2022
7 September 2022 - 29 September 2022
Various
We are proud to be continuing with our Chef's Academy events in 2022, which we developed two years ago after recognising a gap in training and resources for NHS chefs. After the Chef's Academy programme being shortlisted twice last year, we are absolutely delighted to announce that we won the Public Sector Catering Awards 2022 for Training & Apprenticeships on 7 April 2022 at London Hilton Metropole.
At each Chef's Academy, our experienced team teach culinary skills through hands-on cooking, inspire through new recipes and analysis (including a look at cost and time efficiency), and provide the opportunity to learn new dishes developed by NHS Supply Chain using our approved products. Attendees are expected to turn up ready to learn and to cook new dishes, mentored by our culinary team. Attendance can also count towards any Chef currently undertaking a NHS Chef Apprenticeship!
After receiving requests for a Chef's Academy in these parts of England, we are pleased to be hosting our next chefs academy at:
Vegetarian Society Cookery School, Altrincham on Wednesday 7 September 2022.
The Orange Kitchen Cookery School, Wythall, Birmingham on Thursday 29 September 2022.
We invite you to join us.
To secure a place please click on the Register Interest Tab in green.
"I'm passionate about food and want to support the growth of the NHS trusts that we work with. We've seen such a success so far with the Chef's Academy and attendees leaving feeling inspired, with new skills and new ideas, as well as a bank of recipes they can take straight back to their kitchen"

Nick Vadis, culinary specialist in the NHS Supply Chain: Food team and leading on the Chef's Academies.
Recipes used on the day have been created by our teams for NHS use and are mapped to our approved ranges of products. To give an idea of possible revenue that can be made in staff and visitor feeding areas, we will send recipe cards to all attendees as a follow-up to the event. The cards will include nutritional analysis and pricing.
As we have limited spaces at each event not everyone will be able to attend, however, we will get back in touch to let you know the outcome of your request. If you can't attend this particular event there may be future opportunities which we will discuss with you.
You can stay up to date with future Chef's Academy dates, or other products and services that we offer, by signing up to our monthly newsletter.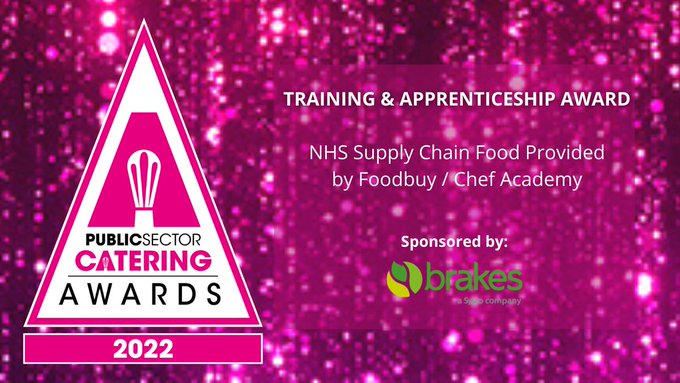 Please get in touch with your local Food Account Manager to discuss, or contact: