Procurement of Lateral Flow Devices
We are pleased to announce the recent transition of Lateral Flow Devices (LFDs) from UK Health Security Agency (UKHSA) to NHS Supply Chain.
LFDs, commonly known as Rapid COVID-19 Lateral Flow Antigen Self-Tests, are available to order through our Foundry system. From April 2024 they will be available to order through our online catalogue.
We have worked with NHS England to develop a solution that best reflects our customers' needs, to ensure a smooth transition and consistency of supply.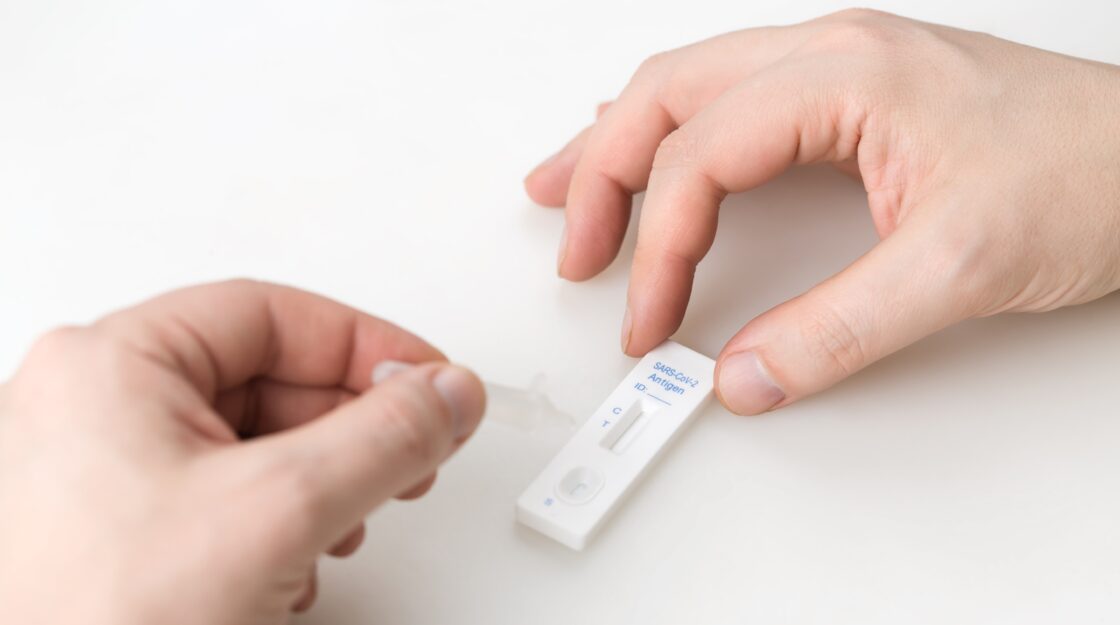 LFDs will remain a centrally funded product until March 2024 and during this period, they will not be chargeable to customers. You can find out more about this and other 'Frequently Asked Questions' in the FAQs section of this page.
LFDs will be packaged individually but available to customers in boxes of 400. LFD tests are a simple to use diagnostic device for confirming the presence or absence of a target analyte in a timely manner.
Lateral Flow antigen tests and rapid antigen tests in recent years have been used to test for COVID-19, Flu A, Flu B, Flu AB and Respiratory syncytial virus (RSV) in UK Healthcare.
The test requires no specialist training to use and includes an easy to follow, visual instruction guide for the end user.
I work at a trust and need to order some Lateral Flow Device (LFD) tests. How can I order these through NHS Supply Chain?
If you're ordering on behalf of your organisation, you can place an order on our NHS Supply Chain Foundry system, which can be accessed here. 
 
If you are an individual staff member requiring tests in line with the guidance published in March 2023: NHS England » COVID-19 testing policy update – changes to NHS use cases, you must contact your procurement team or line manager.  
I have not used NHS Supply Chain Foundry system before; how can I register?
If you are already ordering PPE, it is likely that staff in your organisation are already registered, so we would ask you to check with your procurement / supply team. If you still need to register, you can do so by contacting the Foundry Support team to request user access for LFD ordering, by email at foundry.nationalteam@supplychain.nhs.uk
I work within an Integrated Care System (ICS) / for an Integrated Care Board (ICB), can I order on behalf of trusts?
Yes, you can order in the same way as a trust. Please ensure you notify the relevant personnel within the trust that you are ordering on behalf of them. You should mark-up clearly that the order is for multiple trusts and specify the ICS / ICB. In this instance, the Foundry team can confirm they recognise the order as being for multiple trusts to ensure that correct stock levels can be released.
Do I have other options to order tests?
Currently, there is only one product available free of charge through Foundry. If you have specific requirements for a particular test and wish to pay for these, please contact the Pathology Category team by email at pathology@supplychain.nhs.uk to discuss your requirements further. 
I am looking at winter preparedness and want to bulk order, am I able to raise a larger order than I usually make?
We are currently in discussions with the UK Health Security Agency and NHS England to establish how we can support customers. Further communication on if and how you can raise a bulk order will follow. Regular, smaller ordering according to use cases is encouraged to prevent stock from expiring. Currently, there has been no instruction to increase testing regimes through the winter. Any increased requirement for testing will be communicated via the normal channels.
I work for a healthcare provider delivering NHS services to a detained population (for example a prison), where can I access LFD tests?
UKHSA has pre-supplied LFD tests to detained settings. A further supply will be made directly in December 2023. This should provide enough tests until March 2024.
I work for a healthcare provider delivering services to a detained population, but the tests provided by UKHSA have run out, where can I access more LFD tests?
You can place an order via the Foundry system.
How is the LFD stock delivered to trusts? 
LFDs are being centrally despatched (free of charge) until the end of March 2024 from the new GXO 535 Depot at Crick, Daventry. They will therefore be despatched with Personal Protective Equipment (PPE) consignments and in unbranded or third-party branded trucks / vans.
From April 2024, LFDs will be fully integrated into our network and despatched by NHS Supply Chain on a regional basis as normal. 
Once I've placed an order, how long will it take for me to receive the stock? 
Deliveries will be made two days after orders have been placed in line with your agreed delivery days. For example, orders placed on Monday will be delivered on Wednesday, or on your set delivery day.
I require an emergency supply, which I previously would have received via 119 within 48 hours, how can I do the same via NHS Supply Chain?
Please contact our Hospital Care team or the Foundry team during the working week should you require an emergency supply.
During the festive period will ordering and deliveries be impacted? And if so, what are the order windows?
The schedule of deliveries will be developed by GXO and communicated by the Foundry team in late November / early December.
What do I need to do to ensure that I can access a smooth continuous supply of tests?
Foundry requires a weekly stocktake submission and management of 'max stock levels'. These parameters are used to generate order suggestions. Order volumes are constantly reviewed by the national team to monitor stockpiling.
Do I have to pay for LFD tests ordered through NHS Supply Chain? 
No, you do not have to pay for LFDs whilst they are centrally funded. Working in partnership with the UK Health Security Agency and NHS England, NHS Supply Chain can provide these free of charge until the end of March 2024. Funding arrangements for the financial year 2024 / 2025 will be communicated in due course.
What charges are applicable from 1 April 2024 if I want to continue to purchase LFDs?
We have recently been out to market with further competition to determine what product(s) will be available on our catalogue from 1 April 2024 and at what cost. We will issue further communication to advise the outcome in due course.
Can I order LFDs free of charge if I work outside an acute hospital setting?
Firstly, you should check the up-to-date guidance on testing to confirm whether it is required in line with your role and workplace NHS England » COVID-19 testing policy update – changes to NHS use cases. Having done this, if you believe that you need access to LFDs, your organisation should contact your ICB who, if they are in agreement, will arrange for you to be supplied using stocks ordered through a trust local to you. ICBs have been asked to make specific provisions to provide LFDs to advanced respiratory infection hubs as required.
I have raised a query with NHS Supply Chain. What is the time frame in which I can expect a response?  
During the working week (Monday – Friday), we will endeavour to respond to all emails within 24 hours, with a solution or action plan drafted within 72 hours.
I already report my stock levels to the NHS Staff LFT site, why do I need to report my stock levels in Foundry?
The stock levels entered on Foundry are required to generate the required order volume, the NHS Staff LFT SITREP is required to monitor stock holding and distribution to the approved use cases, and the requirement for the sitrep is under review.
Since Gov.uk is no longer available for the reporting of test results, how do I report a test result for myself or on behalf of my trust?
Following the closure of the gov.uk reporting portal, trusts are to collate and report results centrally through SDCS.
Useful Links
PPE Transition

View our dedicated PPE Transition page.

Hospital Care Team

Contact details for our Hospital Care Team (ICS Managers - previously known as Customer Relationship Managers).