Breakthrough medical device that can prevent indwelling catheter blockages and infections available to NHS trusts
A breakthrough medical device that can prevent catheter blockages and infections in patients with indwelling catheters experiencing recurring problems, is now available for hospital trusts through NHS Supply Chain.
UroShield™ is a disposable ultrasound device developed to prevent biofilm formation resulting in a reduction in catheter blockages, and Catheter Associated Urinary Tract Infections (CAUTIs). This results in an improved patient experience, reduces the need for bladder washouts and/or frequency of catheter changing, and reduces the need for antibiotics, improving patient outcomes and lowering healthcare costs.
The small external device works by clipping onto any indwelling urinary catheter and sending out low frequency sound waves. These sound waves help prevent bacteria from building up on the catheter, therefore preventing encrustations, infections and blockages. It will also offer some relief from catheter-related pain and bladder spasms.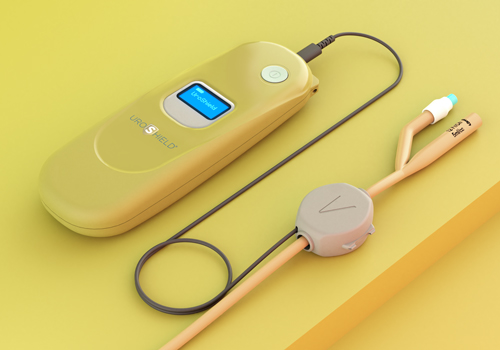 In clinical trials, UroShield™ was able to significantly reduce CAUTIs and antibiotic treatment in patients with indwelling catheters. Importantly, patients experienced a significant reduction in pain by the end of the trial, in addition to a reduction in the number of catheter blockages, unplanned catheter changes and overall increased quality of life."

Fay Allen, NHS Supply Chain Innovation Specialist
The results also highlighted additional benefits for acute hospitals, with reductions in emergency admissions and antibiotic costs, along with transportation costs.
UroShield™ is effective with all catheter types, make, size, length or material, and it also doesn't matter whether a catheter is suprapubic or urethral.
UroShield™ is a completely new product to the NHS and the only technology currently available on the market to use low-frequency surface acoustic waves to prevent bacterial attachment. It is available via our new framework and we'll be working closely with trusts to understand the value added benefits, as well as improving patients' lives who experience recurring infections, by using this product.

Kat Gibula, Category Manager for NHS Supply Chain: Rehabilitation, Disabled Services, Women's Health and Associated Consumables
Notes to editors
All information in this press release is correct at the time of going to press.
See our Useful Links section for more information relating to this press release.
About NHS Supply Chain
NHS Supply Chain manages the sourcing, delivery and supply of healthcare products, services and food for NHS trusts and healthcare organisations across England and Wales.
Managing more than 8 million orders per year, across 94,000 order points and under 17, 500 locations. NHS Supply Chain delivers over 28 million lines of picked goods to the NHS annually and our systems consolidate orders from over 930 suppliers, saving trusts time and money in removing duplication of overlapping contracts. 
NHS Supply Chain aims to deliver savings of £2.4 billion back into the NHS by 2023/2024, leveraging the buying power of the NHS to drive savings and provide a standardised range of clinically assured, quality products at the best value through a range of specialist buying functions. Its aim is to leverage the buying power of the NHS to negotiate the best deals from suppliers and deliver savings back into NHS frontline services.
There are 11 specialist buying functions, known as Category Towers, delivering clinical consumables, capital medical equipment and non-medical products such as food and office solutions. Two enabling services for logistics and supporting technology underpin the model.
Working in partnership with NHS trusts, service providers, and stakeholders, NHS Supply Chain aims to:
Anchor the business on the needs of the NHS by supporting NHS trusts to deliver safe and excellent patient care and through continuing to build the services the NHS needs.
Further strengthen the resilience of the supply chain by continuing to invest in key tools and capacity that build resilience and performance, across the end to end supply chain.
Deliver clinically assured, safe products that support improved outcomes for patients and users.
Support the NHS objective of becoming the world's first net carbon zero national health system.
Ensure a high performing workforce and highly efficient organisation.
Oversight and operational management of NHS Supply Chain is delivered by the management function, Supply Chain Coordination Limited (SCCL). SCCL was incorporated on 25 July 2017 and is a company registered in England and Wales, company number 10881715. NHS Commissioning Board (NHS England) is the sole shareholder of SCCL.
SCCL is a separate organisation to NHS England and part of the NHS family.
Useful Links
Product Innovation

Bringing Innovation to the NHS is critical in improving patient outcomes, meeting the needs of our customers, creating financial benefits along with improving sustainability to meet Net Zero targets.

Urinary Catheter Adhesion Inhibition System

The framework agreement for Urinary Catheter Adhesion Inhibition System.