Catheter pilot scheme sees infections fall by 100%
A pilot scheme to reduce infections following catheter insertions has shown a 100% fall within a hospital trust.
NHS Supply Chain is now encouraging acute trusts in England to take advantage of the scheme which has shown to not only reduce infection rates but shorten patient length of stay and save clinicians' time.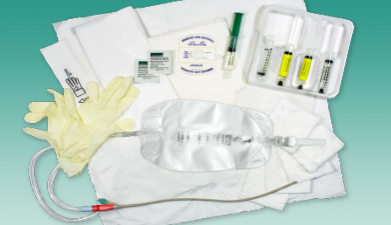 Catheter associated urinary tract infections (CAUTIs) are not uncommon and can cause patients significant pain, discomfort, confusion and anxiety for family and friends. They further impact healthcare with increased antibiotic use, prolonged hospital stays, increased clinical activity and risk of complaints and litigation.
University Hospitals of North Midlands NHS Trust had audited its urethral catheterisation practice, and the way catheterised patients were cared for in clinical areas. The audit highlighted a wide variation in care delivery leading to inconsistent outcomes for patients and staff.
After reviewing the available options, the University Hospitals of North Midlands NHS Trust decided to pilot the BARD® Tray which contains all the essential items to catheterise or re-catheterise a patient in one pack and includes the catheter with a pre-connected urine drainage bag. This unique 'closed system' prevents ingress of bacteria and helps avoid catheter related infection.
NHS Supply Chain: Rehabilitation, Disabled Services, Women's Health and Associated Consumables worked alongside supplier Beckton Dickinson to provide the tray products required by the trust.
During the three-month pilot, catheter related infection rates fell by 100% at the trust which coincided with a reduction in complaints and a reduced length of hospital stay for patients. Clinicians reported that the pack was intuitive and saved around five minutes per catheterisation, which during the pilot process meant saving 83 hours from 1,000 catheterisation procedures.
While the BARD® Tray was more expensive than the individual components that were currently purchased, the pilot study demonstrated the clinical and financial value that was delivered by the tray being implemented across an organisation. The overall cost of components is slightly cheaper, but due to reduced catheterisations, consumables spend fell by 24%.
The initial pilot study shows how we reduced the number of patients who had infections, how we made improvements in our clinical practice and we saved time for all our clinicians involved in catheterising people. We achieved all this and were able to show cost savings too.

It is really advantageous to have everything in one tray including the catheter, the urine meter or leg bag, and everything else that is needed. Even the apron and sterile gloves are provided!

Katie Leek, Lead Nurse for Tissue Viability and Continence, University Hospitals of North Midlands NHS Trust
University Hospitals of North Midlands NHS Trust has now implemented the Bard® Tray across the Trust via NHS Supply Chain.
By working collaboratively with the trust and the supplier, we have identified and evidenced how a change in practice and usage of products can improve patient care and achieve substantial savings for the NHS.

The results from the pilot saw a significant reduction in incidence of CAUTIs and the associated recognised complications. Furthermore, consistency in care delivery improved and treatment time reduced, supporting pressures in healthcare delivery.

Lauren Field, Senior Category Manager, NHS Supply Chain: Rehabilitation, Disabled Services, Women's Health and Associated Consumables
To understand how a reduction in CAUTI rates will impact individual trusts, a benefits calculator has been developed, which includes information on infection rate reduction, consumables savings and length of stay reductions.
Notes to editors
All information in this press release is correct at the time of going to press.
See our Useful Links section for more information relating to this press release.
About NHS Supply Chain
NHS Supply Chain manages the sourcing, delivery and supply of healthcare products, services and food for NHS trusts and healthcare organisations across England and Wales.
Managing more than 8 million orders per year, across 94,000 order points and under 17, 500 locations. NHS Supply Chain delivers over 28 million lines of picked goods to the NHS annually and our systems consolidate orders from over 930 suppliers, saving trusts time and money in removing duplication of overlapping contracts.
NHS Supply Chain aims to deliver savings of £2.4 billion back into the NHS by 2023/2024, leveraging the buying power of the NHS to drive savings and provide a standardised range of clinically assured, quality products at the best value through a range of specialist buying functions. Its aim is to leverage the buying power of the NHS to negotiate the best deals from suppliers and deliver savings back into NHS frontline services.
There are 11 specialist buying functions, known as Category Towers, delivering clinical consumables, capital medical equipment and non-medical products such as food and office solutions. Two enabling services for logistics and supporting technology underpin the model.
Working in partnership with NHS trusts, service providers, and stakeholders, NHS Supply Chain aims to:
Anchor the business on the needs of the NHS by supporting NHS trusts to deliver safe and excellent patient care and through continuing to build the services the NHS needs.
Further strengthen the resilience of the supply chain by continuing to invest in key tools and capacity that build resilience and performance, across the end to end supply chain.
Deliver clinically assured, safe products that support improved outcomes for patients and users.
Support the NHS objective of becoming the world's first net carbon zero national health system.
Ensure a high performing workforce and highly efficient organisation.
Oversight and operational management of NHS Supply Chain is delivered by the management function, Supply Chain Coordination Limited (SCCL). SCCL was incorporated on 25 July 2017 and is a company registered in England and Wales, company number 10881715. NHS Commissioning Board (NHS England) is the sole shareholder of SCCL.
SCCL is a separate organisation to NHS England and part of the NHS family.