Chesterfield Royal Hospital NHS Foundation Trust and North West Vending introduce a great new 24/7 hot meal solution
Key Facts:
2020 Chesterfield Royal Hospital NHS Foundation Trust saw the potential to offer 24/7 hot meals to staff and visitors
2021 an innovative new hot food vending solution was installed
The vending solution is providing a much-needed service to staff and visitors
Additional revenue is being generated for the trust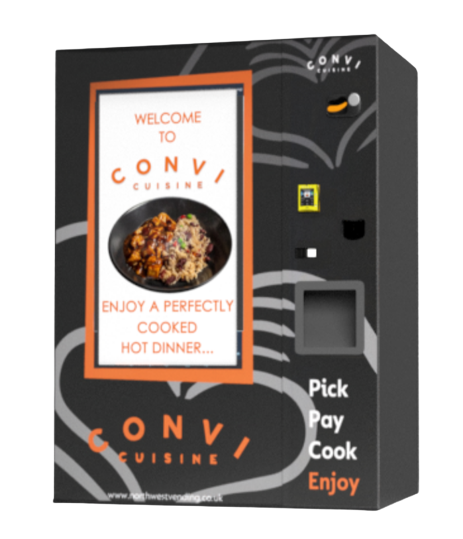 Recognising the gap
Chesterfield Royal Hospital NHS Foundation Trust recognised the gap in their foodservice offering onsite when reviewing the National standards for healthcare food and drink. Having a suitable 24/7 food service provision onsite, is one of the eight standards NHS organisations became required to meet in the standards.
Until now, Chesterfield Royal Hospital NHS Foundation Trust simply had standard vending machines, supplying snacks and hot drinks to staff and visitors. In 2020 they set to work, with the help of NHS Supply Chain: Food, to find a suitable solution for serving hot food as well, to enhance the offer and meet the standard.
NHS Supply Chain: Food are committed to both adding value and creating collaborative, long-term partnerships. They identified an opportunity to do both, by connecting with North West Vending Ltd, a specialist vending machine business who create, innovative, automated food and drink solutions.
A great success for 24/7 dining
In 2020, North West Vending was invited to participate in the NHS Supply Chain: Food open procedure for their Hot Beverage and Vending Solutions framework agreement. The timing could not have been better, as North West Vending had just introduced some ground-breaking additions to their product portfolio, perfectly suited to the needs of the NHS Supply Chain: Food framework agreement, and indeed NHS England.
After a successful completion of the open tender procedure, their products and services became visible on the framework agreement, and available to potential NHS England trusts.
Under the terms of the agreement, a request was made for the proposal of hot food and vending services for Chesterfield Royal Hospital NHS Foundation Trust. The NHS Supply Chain: Food Account Management team distributed requests all suppliers who successfully entered the framework. North West Vending used the opportunity to propose their brand-new 24/7 hot food service.
After being shortlisted, North West Vending and NHS Supply Chain: Food were then invited to visit Chesterfield to conduct extensive sampling. Chesterfield was very impressed with the quality of the food, the simplicity of the operation and consequently the contract was awarded to North West Vending.
In June 2021, the vending solution was installed at Chesterfield, providing staff with hot meals, easily and quickly cooked for them. North West Vending, the supplier, joined NHS Supply Chain: Food's Hot Beverages and Vending Solutions framework, then started to work with trusts to deliver contacts for hot food accordingly.  
The trust was delighted with the outcome and its new facility, providing hot food for staff and visitors. As well as a range of CQUIN* compliant snacks and cold drinks for the vending solution, North West Vending, in partnership with NHS Supply Chain: Food, proposed hot and cold meals sold from their new ConviCuisine branded frozen food vending machine. The machines are equipped to serve anything from an early morning English breakfast to Katsu Curry, and even Sunday dinners.
The thoughtful design of the vending machine made it easy for staff and visitors to use – the product is simply chosen, then scanned by its barcode in front of the inbuilt microwave, and lastly cooked to perfection. The machine is simple to use, as there is no need to read instructions, or program cooking times into the microwave. The steps are as simple as select, pay, scan, cook, enjoy.
Conclusion
Once launched, more and more staff and visitors became aware of the delicious and convenient food on offer onsite and sales increased. The service has gone from strength to strength. It was originally envisaged as a supplementary overnight hot food offering, but it has become so popular that the machine is used during the day and the night, so it has truly become a 24/7 offer as intended. The service has greatly enhanced the hot food provision for staff and provided additional revenue for the trust.