NHS Supply Chain supports innovation in surgical techniques with launch of new robotics framework
NHS Supply Chain has launched a brand new framework to provide a compliant purchasing route for a wide range of robotic surgical equipment for NHS hospital trusts across England in two surgical settings:
Minimally invasive surgery
Spinal and neurological surgery.
The robotic systems within the minimally invasive surgical setting can be used to perform prostate removal, hysterectomies, thyroid cancer removal, gastric bypass and a variety of other surgical procedures.
Benefits for using robotics in surgery include reduced reported postoperative pain, faster recovery time, reduced risk of infection, adhesion formation and postoperative hernias and better cosmetic results for patients, and for customers more effective use of NHS resources and savings for hospitals due to shorter stays. It also provides a safer working position for the surgeon, who controls the movements of multiple robotic arms from a console.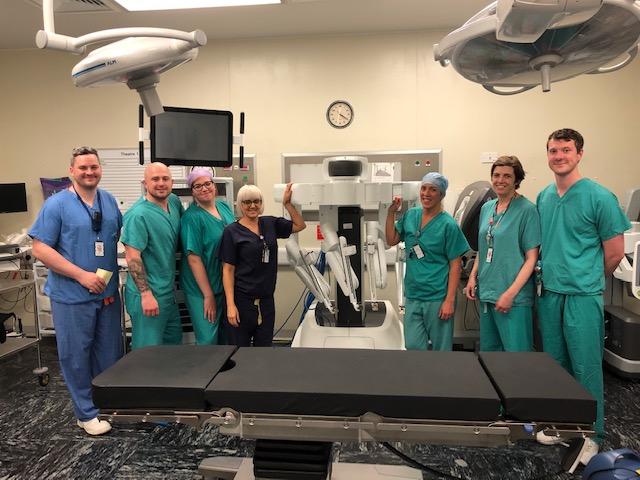 Chris Holmes, Director of Supply Chain said: "This is a first for NHS Supply Chain. The framework is an exciting new development as it encourages the innovative use of technology in surgery in the NHS which has benefits for both patients and hospitals. It also gives trusts more choice of suppliers in a growing market."
Antonia Marks NHS Supply Chain: Large Diagnostic Capital Equipment including Mobile and Service's Procurement Director said: "We're delighted to launch the new robotics framework to our NHS customers, as for the first time it gives a compliant route to market for robots used in surgical procedures saving the NHS precious time and resource. It also provides a wide range of such products at competitive prices, the ability to aggregate spend and maximise savings opportunities for NHS trusts."
The Newcastle Upon Tyne Hospitals NHS Foundation Trust has regularly used robotics in surgery, with the clinical team led by Professor Naeem Soomro, Consultant Urologist, Head of Robotic Surgery working in partnership with their procurement team. Owen O'Reilly, their Procurement Manager said: "Robotics in surgery has enabled our trust to adopt robotic surgery widely across no less than eight surgical specialities including colorectal surgery, urology, gynaecology, thoracic, head and neck, hepatobiliary, upper gastrointestinal and knee arthroplasty.
"The use of robots has meant more patients receiving minimal invasive surgery, resulting in patients getting the best surgical care with reduced lengths of stay in hospital, cutting complications and the number of readmissions. It has also led to overall cost savings. Another benefit is it encourages our trust to focus on training future surgical workforce teams who are competent and confident in delivery of robotic surgery across multiple specialities."
The Robotic Medical Equipment, Associated Accessories and Consumables framework runs for two years with the option to extend for up to a further two years. It is designed to save the NHS time and resource and increase product availability in an innovative and fast-growing market.
The framework includes seven specialist UK, US and Germany-based suppliers which manufacture bespoke robots, with four suppliers producing robots for minimally invasive surgery and another three companies supplying robots for use in spinal and neurological surgery.
Products will usually be purchased on a direct basis with a three to four-month lead in time from order date.
NHS Supply Chain consulted widely with NHS trusts during the development of the tender to ensure it meets customer needs.
See our Useful Links section for the framework information page and Account Manager contacts.
Media Enquiries:
Jo Travis
Corporate Communications Manager
07598 546 070
About NHS Supply Chain's role in the Covid-19 response
The Government has set up new PPE Dedicated Supply Channel which is a parallel supply chain to the normal NHS Supply Chain service. It has been set up by Government to meet the urgent volume requirements for core personal protective equipment (PPE) items, allowing NHS Supply Chain to focus on ensuring the supply of medical devices and clinical consumables to our NHS.
The Government has set up a dedicated unit to focus on securing supplies of PPE led by the government's commercial function. This unit is identifying PPE suppliers from across the globe to meet the increasing demand for a growing list of PPE products. NHS Supply Chain's PPE buying teams have been seconded to the unit which is led by the government.
NHS Supply Chain has expanded its operations to support the stand up of seven NHS Nightingale Hospitals set up across the UK, including NHS Nightingale London, Birmingham, North West (Manchester), Yorkshire and the Humber (Harrogate), Bristol, North East (Washington) and Exeter. Equipment and consumables supplied include ventilators, patient monitors and CT scanners.
About NHS Supply Chain
NHS Supply Chain manages the sourcing, delivery and supply of healthcare products, services and food for NHS trusts and healthcare organisations across England and Wales.
Managing more than 4.5 million orders per year, across 94,000 order points and 15,000 locations, NHS Supply Chain systems consolidate orders from over 800 suppliers, saving trusts time and money and removing duplication of overlapping contracts.
Lord Carter's report into efficiency and productivity in the NHS, published in 2015, identified unwarranted variation in procurement across the NHS, resulting in the need to improve operational efficiencies to transform a fragmented procurement landscape. To undertake this transformation the Department of Health and Social Care established the Procurement Transformation Programme (PTP) to deliver a new NHS Supply Chain.
The new NHS Supply Chain was designed to help the NHS deliver clinically assured, quality products at the best value, through a range of specialist buying functions. Its aim is to leverage the buying power of the NHS to negotiate the best deals from suppliers and deliver savings of £2.4 billion back into NHS frontline services by the end of the financial year 2022/23.
The new model consists of eleven specialist buying functions, known as Category Towers, delivering clinical consumables, capital medical equipment and non-medical products such as food and office solutions. Three enabling services for logistics, supporting technology and transactional services underpin the model.
Key benefits the new NHS Supply Chain will bring NHS trusts and suppliers include:
NHS Trusts
Savings channelled back to frontline services
Releasing more time for core clinical activities
Greater NHS clinical involvement in purchasing decision
More effective introduction of new products.
Suppliers
Lowering sales and marketing costs
Single route into the national market
A joined-up approach across the NHS
Clear route for innovative products.
On 1 April 2018, a new commercially astute management function called Supply Chain Coordination Limited (SCCL) went 'live'. A limited company, wholly owned by the Secretary of State for Health and Social Care, SCCL is part of the NHS family. The management function is responsible for driving commercial objectives, managing the category towers and enabling services whilst overseeing continuous improvement.