Healthy Small Meals or Snack Boxes for NHS Staff
Our dietetics teams have put together some ideas for healthy small meals or snack boxes for NHS staff.
The concept was initially to support catering staff provide healthy, high energy food on the go to front line staff during the COVID-19 pandemic.
However, these healthy small meals or snack boxes can be used by hospital catering staff at any point.
Catering staff can use the ideas to create healthy lunchboxes for NHS staff easily by ordering the items listed below from your usual suppliers, pack them into lunch bags and create a selling price.
We have lunchbox ideas for staff who don't have access to a fridge, staff who want to eat healthy and vegetarian options. All the lunchbox ideas are healthy. We have listed product codes, nutritional and allergen information.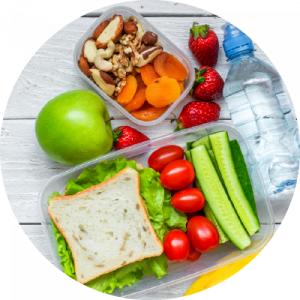 For prices please view NHS Supply Chain's online catalogue or contact your usual food supplier.
See our Useful Links and Downloads ▼ section for further information on initiatives NHS Supply Chain: Food have launched to help customers through these unprecedented times including:
A guide about choosing the right foods for patients who had difficulty swallowing (dysphagia) following ventilation
Ideas and guidance on high protein snacks and drinks for patients recovering from COVID-19
Lunch and snack boxes for NHS Staff.
All products codes are correct at time of publishing. If you require any assistance please contact your Regional Food Account Manager.