Branded, Remanufactured and Compatible Printer Cartridges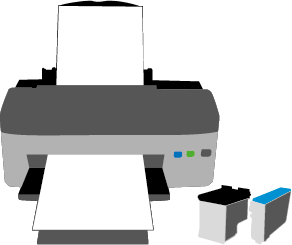 Different types of cartridge
Branded
These cartridges are made by the Original Equipment Manufacturer (OEM) of the relevant printer manufacturer. These cartridges will usually be needed from the beginning of the life cycle of the printer.
Remanufactured
These cartridges are produced from old OEM cartridges which are taken apart, cleaned, rebuilt and refilled by a manufacturer other than the printer manufacturer. Dependent on the quality of the cartridge being recycled these can be recycled 3 to 4 times before the cartridge is retired. This option is environmentally friendly as it is recycling old cartridges. Due to the nature of the process, remanufactured cartridges can take up to 12 months to produce for a new to market printer. This is to allow time for the manufacturers and suppliers to collect enough used cartridges to bring to market and for the OEM Intellectual property (IP). rights to expire.
Compatible
These cartridges are brand new cartridges that are made by a different manufacturer to the printer. The will have some unique design to differentiate them from the OEM cartridge they are based on. They offer the same yield as the cartridge they are based on and will fit the same printers. These cartridges are sometimes referred to as clones, cloned, own brand or aftermarket cartridges.
NHS Supply Chain Cartridges
We have a comprehensive range of branded (OEM) cartridges, remanufactured and compatible cartridges available through our online catalogue. The following is a guide to help you chose the best cartridge for your trust.
You can differentiate which type of cartridge you are purchasing by looking at both the description and the MPC on our online catalogue. Each type of cartridge has a unique code given to it by the OEM, which is adopted by the suppliers of remanufactured and compatible cartridges. For example, for an OEM product the MPC will appear as: CF226X; the same product but remanufactured will appear as: REMCF226X; and for compatible this will appear as: COMCF226X. The description will also state if the product is OEM, remanufactured or compatible.
NHS Supply Chain EOS Printer Consumables Product Range
In addition to the comprehensive range of printer cartridges there are also consumables available that are required to make the printer function. This includes:
Fusers
Imaging Kits
Maintenance Kits
Ribbons
Toner Collection Kits
Toner Waste Packs
Transfer Belts.
If you require something for a printer which you are unable to find. Please contact us at the below email and we will source this for you from one of our suppliers.

Office Solutions Team

Brands covered by our suppliers
Armor
Brother
Canon
Dataproducts
Dell
Envisage
Epson
Hewlett Packard
Hytec
JetTech
Kodak
Kyocera
Lexmark
Lyreco
OKI
OWA By Armor
Panasonic
Q-Connect
Ricoh
Samsung
Tonercare
UKLS
Xerox.
Our suppliers and their recycling schemes
See our Useful Links section for more information on the recycling schemes of our suppliers.
Which is the best cartridge type for you?
Do you print in black only?
If only printing in black, especially only text, then using a compatible cartridge is a cost-effective alternative.
Is the printer for internal communications only?
If the printer isn't used for anything external, then using a remanufactured or compatible cartridge is a cost-effective alternative.
Is the printer used for external communications?
If you are using the printer for external letters or if there will be large amounts of colour printing, then you may want to consider using OEM cartridges. For high quality printing, this type of cartridge has the best colour consistency.
How often do you use the printer?
If the printer is not in regular use, then OEM cartridges will be better to use. If the printer is left for long periods of time between uses the ink may dry and block the printer head. OEM cartridges have a special chemical inside them which helps to prevent this.
Are you printing photo's or coloured printouts that need to last?
If you want a printout to be long lasting (eg, a wall poster) then it is best to use OEM cartridges and where applicable photo paper, as they work together to produce higher quality printed images.
Age of printer?
All cartridges will work well in older printers if the printer is well maintained. Keep in mind the supply level, as older printers are more likely to use a cartridge that will have been discontinued. For newer printers, OEM cartridges may be the only option for up to 12 months as most remanufactured cartridges rely on a steady supply of used cartridges before they can be produced, and most companies will wait a year for the supplier IP to expire.