A Day in the Life of an eCommerce Deployment Lead
We caught up with Louise Turner, one of our eCommerce Deployment Leads, about her role at NHS Supply Chain.
What's your name and job title?
Louise Turner – eCommerce Deployment Lead.
What team do you work in at NHS Supply Chain?
I work in the Customer Engagement team. I have worked at NHS Supply Chain for 33 years.
What does your typical working day entail?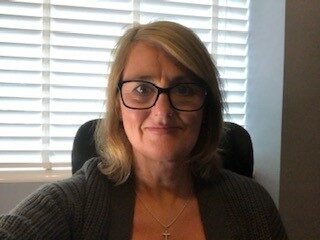 Working in the eCommerce team, every day is different. My team is responsible for implementing eDC and eDC Gold in trusts across the country – an inventory management system which offers smarter stock management for products supplied to NHS trusts across the country.
When a trust implements eDC or eDC gold as their inventory management system, myself or a member of my team will work with them from implementation to everyday use. We could spend up to 22 weeks with the same trust – I really enjoy building relationships with our customers throughout this process. During this period, we will set up the equipment and train the staff until they are confident in using the system.
We continue to work with the trust once the implementation is complete, so we occasionally get an email or call from a trust who might be having issues with their personal digital assistant (PDA) handheld devices. In instances like this, we will always support the trust to fix the issue. Where this can't be done, we will visit the site to solve the problem.
Recently we have been especially busy – replacing around 1,200 personal digital assistants for Android devices around the country. The new technology offers increased speed and ease of use for trusts and is part of our commitment to improve services across the NHS.
How has the pandemic affected your work?
The pandemic has had a huge impact on our work. Previously we would spend up to four days of the working week on-site at various trusts to implement and support staff with eDC and eDC Gold.
Due to government guidelines, we have been unable to visit trusts who are experiencing technical issues with their handheld devices, speaking via email and phone calls instead. I realised that some quick guides for handling PDA issues and updating the software would be beneficial to trusts, who were already facing immense pressure during the pandemic.
I developed a handful of simple instruction booklets for trusts to refer to when necessary. These additional guides proved to be a valued solution and I was pleased that the booklets could save time for those on the frontline.
We have adapted to new ways of working by providing additional support to the NHS where possible, but I am really looking forward to getting back into trusts, working with them face-to-face and providing on-site support.
Please give an example of a successful project you have recently been involved in and what was the value for trusts?
We recently successfully implemented eDC and eDC Gold into the integrated COVID-19 hub in the North East. The hub was the first of its kind in the UK, testing locals for COVID-19, analysing the data for NHS Test and Trace and providing research in a new Lighthouse laboratory at Baltic Park in Gateshead.
The site is open 24/7 and has over 1,000 staff – with around 300 working at any time. They aim to complete 40,000 coronavirus tests a week, for the North East and potentially across the country.
The hub uses eDC for non-consumable products, such as paper and waste bags. eDC Gold is being used to track products with a particularly high value, monitoring their batch numbers and expiry dates to allow the staff to automatically keep track of their stock.
What motivates you?
Helping to see the improvements brought to the NHS through the implementation of eDC and eDC Gold. For example, I implemented eDC into Domestic Services at Sheffield Teaching Hospitals NHS Foundation Trust a few weeks before lockdown began in March last year.
The trust was over-stocked with products worth thousands of pounds and implementing eDC shifted how they work so that they now have complete control of their stock.
Success stories like this one, and those at other NHS trusts across the country, always motivates me and makes me really proud of the job I do.
Useful Links
eDC and eDC Gold

Our free inventory management solution helps with patient safety and unlocking GS1 potential.

eDC Android Devices

How we are improving our eDC and eDC Gold iventory management solution l by transferring to Android handheld devices.