A Day in the Life of Catherine Andrews
What's your name and job title?
Catherine Andrews – Senior Customer Relationship Manager, South West and North Central London.
What team do you work in at NHS Supply Chain?
London Customer Relationship Management Team, Customer Engagement.
What does your typical working day entail?
My current region covers North Central Integrated Care System (ICS) and South West London ICS. I lead a fantastic team of three Customer Relationship Managers (CRMs) supporting our customers within those ICSs and beyond. As a London region we have built a strong team ethos and it is something we are passionate about continuing and strengthening. Team working and a collaborative approach are key tenets of our success. We're fortunate to have a team made up of individuals with such diverse experience, unique approaches and varied skill sets and are currently reviewing how we best utilise this to maximise the value we can add.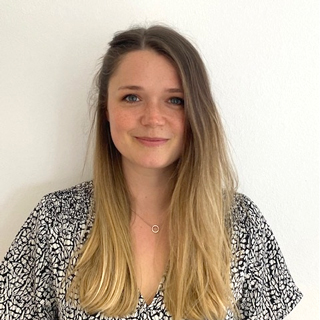 Having worked for NHS Supply Chain for a number of years, with the majority of that time in Customer Engagement, I would say no day is 'typical'. Everyday has new challenges and with that an opportunity to learn and develop. The two ICSs I work with are diverse by nature and structure.
The CRM team owns and manages the day-to-day customer relationships expertly and my involvement differs day to day and project to project depending on the support required. Work planning and accurate trust reporting is a key area of focus, and we spend a significant amount of time on this. We're always planning the next 12 months of activity, trying to understand trust priorities and looking for new areas to review. Over the last year we have really refined our reporting to maximise actual savings achieved and ensure we are not losing opportunities through poor implementation or slippage. The value this has added cannot be underestimated and has driven a workstream to build a national tool to ensure we can do this effectively and consistently across the customer engagement team.
The conversations I've been having with senior management at my trusts has changed over the last two years. The relationships with procurement directors and the finance community have gone from strength to strength, developing a partnership approach to rise to the challenges the current NHS landscape presents. Our previous work plans focused almost exclusively on cash releasing savings and compliance. While this must remain a point of focus the workplans and objectives we have in place are becoming more varied. Improved clinical outcomes, sustainability, cost avoidance, clinical and supply chain efficiencies, community impact, asset utilisation, ICS standardisation, improved clinical engagement, price management processes, stock resilience and driving improved data outputs are all common topics of conversations taking place. Being involved in strategic planning with the senior leadership teams at trust and ICS level is a key part of my day-to-day activity.
A significant part of my role is around how we can bring those conversations to life internally, ensuring the customer voice is at the heart of all our decision making, activity and strategy. This is the only way we can move towards being a business that is truly customer centric.
Escalations, ICS calls, monthly and quarterly business reviews, operational queries, Category Tower engagement, strategy conversations, pipeline management and CRM support and development all make up the majority of the rest of my day-to-day activity.
Delivering my customers visible value and enabling them to provide excellent patient care drives everything I do.
How has the pandemic affected your work?
Supporting our trusts through the pandemic and the many unprecedented challenges that presented is an experience which is very difficult to summarise succinctly.
Our role changed completely overnight and became far less commercial and more about getting much needed product to the right place at the right time. The structure of my working week changed completely to be able to accommodate activity which had to take place seven days a week and out of hours.
PPE distribution was a huge challenge at the start of the pandemic because of the geography of the region. The set up of the Enfield distribution centre run by our North Central London colleagues was absolutely key to providing suitable PPE provision to the region. My involvement in this was worlds away from my business as usual (BAU) role. Managing daily PPE demand submissions for the whole region seven days a week, supporting NHS England & Improvement Emergency Preparedness Resilience and Response (EPRR) Leads, managing London's ad hoc and emergency requests through the National Supply Disruption Response (NSDR) System, attending daily PPE calls, and supporting mutual aid quickly became my new BAU! Juggling this with my day-to-day role and supporting my own customers and team for over a year has changed so much in terms of how we work as a team, my operational understanding and knowledge and given me such insight into the region as a whole.
There were some really positive outcomes including closer working with our customer service colleagues (who were exceptional throughout), the collaboration it drove across the region and an improved understanding of trust challenges – especially in relation to supply chain and logistics. I had the opportunity to work with the entire London system and build relationships with every Senior Responsible Officer.
In terms of future planning what will be interesting to work through is the recovery phase and financial position of the NHS, in the long term this has potential to affect our work more than the pandemic itself.
Please give an example of a successful project you have recently been involved in and what was the value for the customer?
We currently have an active and engaged workstream made up of CRMs from across every region building a collaborative toolkit, we've had input and feedback from a number of them to help shape this. I've been working with this group over the last few months bringing together all the great work which is taking place nationally and using this to build a number of common documents to be used with collaboratives. This currently includes (but will not be limited to) project plans on a page, a ways of working template, terms of reference and process maps outlining each stage and review gates to be undertaken.
Through this we hope to reduce duplication of effort, give a comprehensive toolkit to maximise delivery of collaborative projects, to help manage customer expectations and provide a standardised approach nationally. We hope this will ensure, where collaborative projects are being undertaken, the customer experience is more consistent.
This is due to be launched by quarter two and we've utilised these documents in a trust setting as we have moved along and have had a constant supply of customer and national CRM feedback at the core of our development.
What motivates you?
Ultimately it is very simple – delivering my customers visible value and enabling them to provide excellent patient care drives everything I do.
Building a relationship to the stage where you achieve a real partnership approach and seeing the benefit that comes from that is hugely satisfying. The value we can drive through this (outside of improved revenue and savings delivery) includes sharing ideas, working together to leverage the best results, authentic open and honest communication, engagement in pilot schemes and feeding into national strategies, to name a few.
Working with trusts who have not historically been engaged with NHS Supply Chain and working to remove the perceived barriers of working with us is something which I have always found very satisfying. There is always a new problem to solve, challenge to overcome or improvements to be made.