A Day In The Life Of Idrees
What's your name and job title?
My name is Idrees Anwar. I'm the Lead Dietitian for NHS Supply Chain: Food.
What team do you work in at NHS Supply Chain?
I work within the Operations Team.  
What does your typical working day entail?
A typical working day for me is completely atypical. I have a really varied schedule, and although there are certain common goals to be working towards, it's not often that I will have the same two days. Generally speaking, I take the clinical requirements needed for hospitals and patients, and then translate this information to NHS Supply Chain: Food.
As a result, this allows us to understand the environment that hospitals are in, and what we need to work towards in order to aide hospitals to achieve their goals.
Over the course of a week I could be working on numerous projects at once. For example, we could be executing one of our award-winning Chefs Academy training events, which involve helping the NHS Supply Chain: Food Culinary Team to deliver cooking and nutritional information in a workshop format to NHS chefs from a variety of trusts. The Chefs Academy events require a lot of planning, from site visits to content creation, project management, before travelling to the event the day prior to the event to set up and prepare.
I might also be working with hospitals who are completing mini-competitions, part of the procurement process, ensuring that the clinical requirements for food and drink are met by suppliers. This involves giving support to our Buyers so that trusts have the confidence in NHS Supply Chain: Food and allow us to ensure the end result is best for them.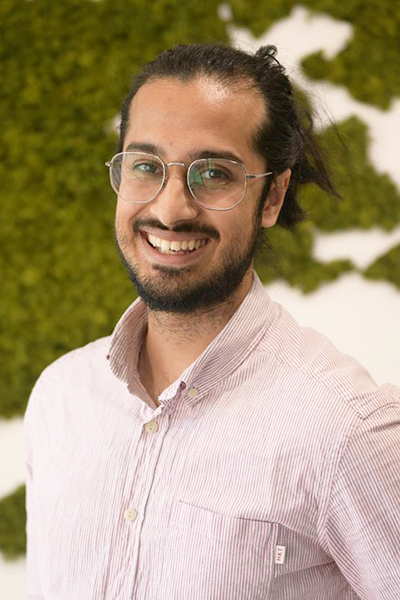 I could be involved in specialist dietetic sub-groups, working on initiatives to help execute the National standards for healthcare food and drink, as well as other dietetic involvement within my field.
As a healthcare professional within a procurement environment, my role is very varied from day to day. I will often collaborate on projects, to ensure that they are safe, and where needed evidenced-based, as well as being in line with clinical guidelines for the benefit of the trust.
Everyone eats, and being able to provide people with the opportunity and inspiration to lead a healthier and happier life is something I am proud to work towards.
Please give an example of a successful project you have recently been involved in, and what was the value for the customer?
In November 2022, I was proud to be part of one of NHS Supply Chain: Food's Food Forum events. I felt very privileged to be part of this face-to-face event, with an audience of people from trusts.
This was a day of education, showcasing what NHS Supply Chain: Food is able to do within trusts, and the value they can gain by utilising us.
The Culinary and Dietetic Teams from NHS Supply Chain: Food were heavily involved in the planning process, as well as the running of the day. Primarily revolved around the savings on offer, we were given time to present to the many trusts who were there to learn about the added value that can be brought to them through the Dietetic and Culinary Teams.
In this time, I was given the opportunity to present the current obesogenic environment we live in today. This is the promotion of excessive weight gain, producing obesity, and how hospitals are best placed to be "beacons of health". I took this opportunity to highlight and reinforce the difficulties that trusts may face, and also present how our services enable and help trusts to meet their goals.
How we help can vary, whether it is from training for NHS chefs, to improving the quality of the food provided to patients, staff and visitors, to aiding the health of our amazing NHS workforce, all the way through to consultancy advice on what trusts need to do in order to meet the standards set out to them (in the National standards for healthcare food and drink).
What motivates you?
I am motivated by being in such a unique position, promoting health and nutrition to the wider public. I am very fortunate and privileged to be able to be part of initiatives, which can make such a huge difference on improving the health and wellbeing of as many people as possible, which is my overall goal.
Everyone eats, and being able to provide people with the opportunity and inspiration to lead a healthier and happier life is something I am proud to work towards.
I am now part of specialist sub-groups with universities, to help educate Dietitians and Student Dietitians. Being able to share my knowledge and inspire my peers is a big part of my motivation in continuing to work towards my overall goal of promoting health and nutrition in the wider public.
What job did you do prior to joining NHS Supply Chain: Food? Which previous role did you enjoy the most and why?
Prior to joining NHS Supply Chain: Food I worked as a Clinical Dietitian, specialising in the area of Surgical and Gastroenterology. It is a role which I very much enjoyed, as I was lucky enough to work within a specialism which I very much wanted to pursue. I worked with an absolutely fantastic team, in fact three of us all started around at the same time, and we had our own group within the wider team. I really enjoyed the patient interaction and education within the specialism.
Finally… Tell us about yourself!
I'm a pretty chilled out and social individual, often going with the flow and seeing what each day brings. I enjoy a whole mixture of things from grinding and brewing my own coffee in all sorts of different ways, to going on hikes and camping. One of my dreams is to open up my own coffee shop one day – I love the idea of having a place with regular customers and providing them with something I love to drink!
Useful Links
NHS Supply Chain: Food

This category page includes links to frameworks, publications, videos, and monthly promotions.