Day in the Life of Linda Saunders
What's your name and job title?
Linda Saunders – Clinical Engagement and Implementation Manager for Ophthalmology.
What team do you work in at NHS Supply Chain?
I work in Tower 4: Orthopaedics, Trauma and Spine, and Ophthalmology. I joined the team in 2021 after working for many years as an Ophthalmic Theatre Sister.
What does your typical working day entail?
A typical day is full and varied from working on projects, meeting with suppliers and trusts to working with the Department of Health, NHS Supply Chain clinicians and professional bodies.
The main body of my work now is to work towards a fully integrated service for trusts and getting it right first time. To provide Spend Efficiency Reports, alternatives, appropriate rationalisation options and value reliability in documents for trusts and clinicians and use my clinical knowledge and experience to help guide and interpret this information to enable trusts to choose the right products for their patients. I also work alongside suppliers, whose contribution to this process is essential.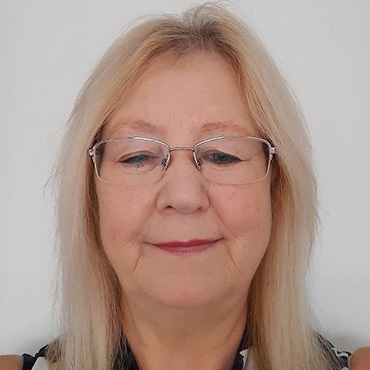 I have developed a classification for every single item on the Complete Ophthalmology Solutions 2 framework and applied that classification to every single line and used this as a basis for developing a Business Intelligence Analytics System. A special thank you needs to go here for Jemma Brace in our BI team, who has been incredibly patient and brilliant because, being new to this role, it has been a steep learning curve for me, as it is a bit different than scrubbing for a cataract operation! When this work is finished it will be a vital tool in which to tackle the challenges that face Ophthalmology.
Everything I do is based on how I can help put the patient foremost and aid clinicians, trusts and suppliers in that aim.
How has the pandemic affected your work?
During the first wave of COVID-19, I was working as an Ophthalmic Theatre Sister and I, like many others, volunteered to be redeployed. I worked on a critical care unit as elective surgery was stood down. This enabled resources to be diverted to meet the demand of COVID-19 cases and to try to maintain emergency and urgent care.
Now, in my role with Tower 4 of NHS Supply Chain, we face the challenges of returning to normal work but with the added strain of facing a massive backlog of elective work. During COVID-19 there were some excellent innovations in the way patients were triaged, referred, listed, operated on and post operative care in the community. These changes need building on to meet the upcoming challenges.
In Ophthalmology we were already preparing for an increase in the case load of cataract operations, due to the increase of an aging population, but this has been made much worse because of the COVID-19 backlog.
There is lots of guidance coming out of NHS England and NHS Improvement (NHSEI), Getting It Right First Time (GIRFT) and the Royal College of Ophthalmologists (RCO) to advise on how to proceed, but we are still facing shortages of raw material, workforce and difficulties in logistics. So, there are still plenty of challenges out there. The question is how we are best placed to use our expertise in leading and supporting answers to these challenges. How, can we support the ICS' in clinical governance and accountability? How will we be able to present our expertise to them for the betterment of patients living in their area?
One answer to these questions is working together for the greater good. This should be a gold standard thread that weaves its way through all aspects of the Ophthalmic team wherever your role sits. Use the people who have an area of expertise and knowledge, who work alongside industry, trusts and clinicians and who have proven to have made great savings for the NHS.
Please give an example of a successful project you have recently been involved in and what was the value for the customer?
I am working closely with the British and Eire Vitreoretinal Surgeons (BEAVRS) and industry to incorporate recommended standards above the normal statutory requirements to ensure the quality of liquid tamponades used in retinal surgery and ensure that the post operative complications with these products are reduced.
It has been a privilege working with the experts at BEAVRS who have provided minimum data requirements and enabled us to share these with manufacturers and suppliers. We had a fantastic response as they all share our joint aim of improving patient care. Our suppliers already meet all the minimum requirements, and this is just an opportunity, entirely voluntary, to raise the bar even higher in terms of safety.
It has been a great opportunity to self-regulate standards and show that we are all working together on behalf of patients. And with most things, due to advances in technology, production techniques and new evidence, this is evolving and changing as will the recommendations.
What motivates you?
A lifelong memory that I always carry with me is being a part of someone's life when they are literally crying with joy at being able to see again.
Losing your vision is a terrible thing, particularly if you're only able to read, sew, watch TV etc. because you are too infirm to get about. These patients are extremely vulnerable to falls and often live-in isolation. So, you can imagine the intense emotion these patients feel when they can see again.
I was an ophthalmic theatre sister for many years and provided support and care to patients with ophthalmic conditions and I hope that you can feel the power of emotion that goes with this subject.
Everything I do is based on how I can help put the patient foremost and aid clinicians, trusts and suppliers in that aim.