Our Enhanced New North West RDC is Coming Soon at Gorsey Point
Known as Gorsey Point, our new Regional Distribution Centre (RDC) for the North West will open throughout Summer 2023.
Customers currently serviced from Runcorn RDC will have their supplies transitioned to Gorsey Point – this will happen in stages, throughout the summer months and into early Autumn.
Designed to meet the needs of our network and customers both now and in the future, the new RDC is part of our transformation activity.
One of the key advantages is the new site's capacity – a significantly larger range of stocked products can be stored, leading to much greater efficiency and improved logistics.
Supplier impacts include:
Stock build for the new site will begin early in 2023 – depending on lead times, orders will commence in either January or March.
Orders will come from our new Oracle system, so they will be in the X12345678 format – suppliers must be able to process these order numbers.
Improved efficiency in terms of the capability and resilience of our logistics.
Drivers will have a smoother delivery process and significantly improved reception area.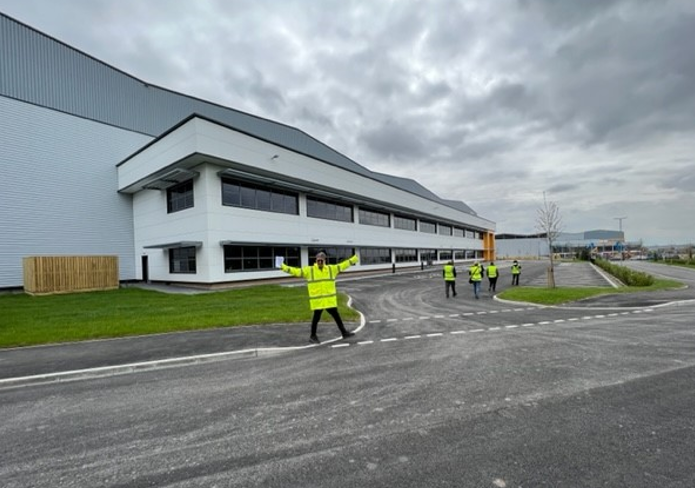 Frequently Asked Questions:
What is the reason for the change to Gorsey Point?
The new RDC is part of  NHS Supply Chain's transformation activity to support improved customer service. The Gorsey Point site has been designed to meet the future needs of NHS Supply Chain's network and its customers, with the capacity to accommodate a broader range of products, leading to efficiencies elsewhere in the network.
Are all Runcorn customers moving to Gorsey Point?
Yes, all customers previously served by Runcorn RDC will transfer in a phased process, with the existing Runcorn site expected to close in the Autumn.
What is the scale of Gorsey Point?
Gorsey Point will be able to hold substantially more products than the current Runcorn site, reducing the need for servicing from other depots and thereby strengthening NHS Supply Chain's service to customers, and ultimately patients.
How will this impact us as suppliers and how can we prepare to support the opening of the new RDC?
Inbound deliveries from suppliers for the stock build prior to the opening of the site will start in April 2023 and continue for a period of time.
For the vast majority of suppliers, this means we will start placing orders from late March. For products with longer lead time, orders will be placed in late January.
These orders will come from our new Oracle system, so will be in the X12345678 format – you need to be comfortable that your systems can process them. We have shared extensive information about this change over the last 18 months, and invited all suppliers to take a short online survey to assess and confirm their ability to work with the new PO format. Thank you to all our suppliers who completed this survey, and especially to those who then worked with us to test and ensure their system readiness. If this raises any concerns, please let us know at ChangeOrderNumbers@supplychain.nhs.uk
What do I have to do with respect to the new X12345678 order number format?
We need to know that your systems can process our orders when we send them through.
See our Useful Links section for a link to complete this short survey to confirm you understand the change and can continue to receive and process our orders (and all orders from the new Gorsey Point RDC).
What will happen next?
Your usual Inventory Team contact will share forecast data with you in the coming weeks.
Long lead time orders have been placed already, others will begin from mid-February, although the vast majority will be from the end of March.
Temperature control stock cannot be accepted until June – orders will be dated accordingly.
We will are sharing operational information as it is confirmed; we gave the address, GLN and delivery requirement details for the new site on our February Supplier Webinar, and will add them to this page shortly.
Monthly updates will continue to be provided via the monthly Supplier Webinar at noon on the first Wednesday of every month.