New pan-Asian recipes developed for NHS chefs
A new range of pan-Asian recipes for catering departments of NHS hospital trusts has been launched by the culinary team at NHS Supply Chain: Food in time for Chinese New Year on Friday 12 February. The recipes have been developed to suit an NHS retail environment feeding staff and visitors and include nutritional analysis.
The range of recipes, titled 'Bamboo', pick up on the rise in popularity of pan-Asian food.
According to research conducted by Mintel in late 2019, Chinese and Taiwanese food is the most popular ethnic cuisine in the UK to either dine in or order as a takeaway (55 percent of those asked had ordered it in the last three months, more than any other ethnic cuisine). Asian homecooked food is also identified in the Waitrose & Partners 'food and drink report 2021' as among the "10 lockdown food and drink trends that are here to stay".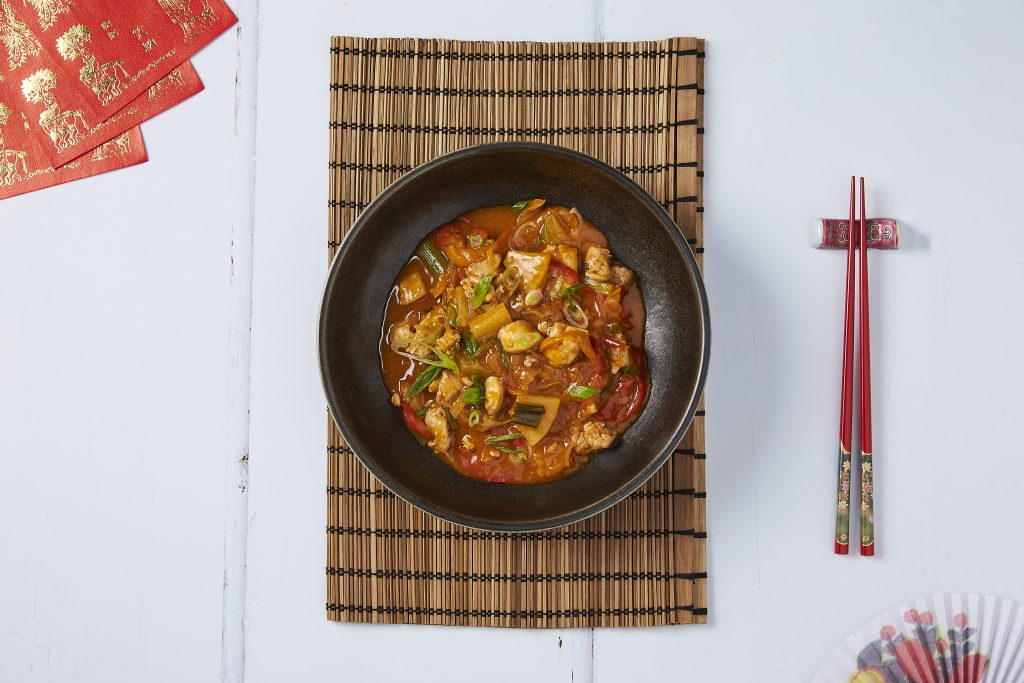 The Bamboo range includes 19 main dish recipes, two side dish recipes along with a sauce recipe. Main dishes range from Japanese donburi bowls, to Chinese curries, to simple noodle dishes and banh mi sandwiches. They include the very popular chicken katsu curry, as well as both a vegetarian and a burger version of the recipe.
Nutritional analysis for each recipe is produced by the in-house dietetic team at NHS Supply Chain: Food. By making this information readily available, NHS catering teams can make informed menu choices and encourage healthier eating.
The recipes are mapped to products available through NHS Supply Chain's multi-temperature distribution ordering, making it a simple process to discover a recipe that works and then order the ingredients. Recipes can also be scaled up or down using a tool provided to trusts.
Nick Vadis, Culinary Lead at NHS Supply Chain: Food and Vice President of the Craft Guild of Chefs, commented: "Now is a great time for NHS chefs to be reviewing their menus as we move into Spring, and the colourful recipes that make up our Bamboo range allow you to travel to South East Asia with your palette. We know there is a big demand for Asian food so we've developed these recipes especially for the NHS.
"It's important we support teams in NHS kitchens to be the best they can be, and by sharing these recipes, with nutritional analysis included, we hope to be providing added tools that create great food for staff and visitors in hospitals, and increase their sales."
Bamboo is the second of six ranges of recipes to be released by NHS Supply Chain: Food over twelve months. The first was a range of Indian recipes called Khana Khana which launched in November last year.
Media Enquiries:
Jo Travis
Corporate Communications Manager
07598 546 070
About NHS Supply Chain's role in the Covid-19 response
The Government has set up new PPE Dedicated Supply Channel which is a parallel supply chain to the normal NHS Supply Chain service. It has been set up by Government to meet the urgent volume requirements for core personal protective equipment (PPE) items, allowing NHS Supply Chain to focus on ensuring the supply of medical devices and clinical consumables to our NHS.
The Government has set up a dedicated unit to focus on securing supplies of PPE led by the government's commercial function. This unit is identifying PPE suppliers from across the globe to meet the increasing demand for a growing list of PPE products. NHS Supply Chain's PPE buying teams have been seconded to the unit which is led by the government.
NHS Supply Chain has expanded its operations to support the stand up of seven NHS Nightingale Hospitals set up across the UK, including NHS Nightingale London, Birmingham, North West (Manchester), Yorkshire and the Humber (Harrogate), Bristol, North East (Washington) and Exeter. Equipment and consumables supplied include ventilators, patient monitors and CT scanners.
About NHS Supply Chain
NHS Supply Chain manages the sourcing, delivery and supply of healthcare products, services and food for NHS trusts and healthcare organisations across England and Wales.
Managing more than 4.5 million orders per year, across 94,000 order points and 15,000 locations, NHS Supply Chain systems consolidate orders from over 800 suppliers, saving trusts time and money and removing duplication of overlapping contracts.
Lord Carter's report into efficiency and productivity in the NHS, published in 2015, identified unwarranted variation in procurement across the NHS, resulting in the need to improve operational efficiencies to transform a fragmented procurement landscape. To undertake this transformation the Department of Health and Social Care established the Procurement Transformation Programme (PTP) to deliver a new NHS Supply Chain.
The new NHS Supply Chain was designed to help the NHS deliver clinically assured, quality products at the best value, through a range of specialist buying functions. Its aim is to leverage the buying power of the NHS to negotiate the best deals from suppliers and deliver savings of £2.4 billion back into NHS frontline services by the end of the financial year 2022/23.
The new model consists of eleven specialist buying functions, known as Category Towers, delivering clinical consumables, capital medical equipment and non-medical products such as food and office solutions. Two enabling services for logistics and supporting technology and transactional services which underpin the model.
Key benefits the NHS Supply Chain will bring NHS trusts and suppliers include:
NHS Trusts
Savings channelled back to frontline services
Releasing more time for core clinical activities
Greater NHS clinical involvement in purchasing decision
More effective introduction of new products.
Suppliers
Lowering sales and marketing costs
Single route into the national market
A joined-up approach across the NHS
Clear route for innovative products.
On 1 April 2018, a new commercially astute management function of the new NHS Supply Chain called Supply Chain Coordination Limited (SCCL) went 'live'. The management function is responsible in driving strong commercial capability, providing a relentless approach to creating value, gain competitive advantage, become the strategic procurement partner of choice for the NHS, manage the delivery and performance of the Category Tower Service Providers and its enabling logistics and technology services whilst overseeing continuous improvement. SCCL is a limited company, wholly owned by the Secretary of State for Health and Social Care, SCCL is part of the NHS family. The management function is responsible for driving commercial objectives, managing the category towers and enabling services whilst overseeing continuous improvement.