New sustainable fleet servicing NHS trusts across England
NHS Supply Chain logistics provider, Unipart Logistics, is enhancing its fleet of sustainable vehicles across the UK with the aim of creating a long-term carbon neutral fleet.
The new environmentally friendly vehicles offer the lowest level of carbon emissions to date and are being rolled out for dedicated use within NHS Supply Chain.
The new fleet is operating with lower emissions, allowing a CO2 reduction of 2.1 tonnes per vehicle per year. Additionally, the engines are HVO ready and can be run on Hydro treated vegetable oil. A significant proportion of the manufacturing of the fleet has been undertaken in the UK.
The sustainable vehicles are the latest addition to NHS Supply Chain's transport fleet, supporting a 200 strong final mile fleet delivering to NHS trusts.
We are delighted to introduce our new sustainable fleet of vehicles which are delivering to NHS trusts. We are evolving our entire fleet as part of our sustainability and carbon reduction commitments within Unipart, and as a provider to the NHS Supply Chain. The additional benefits of increasing fuel efficiency and having an HVO ready fleet, as well as introducing other safety specifications as standard truly demonstrates the 'delivering value to the NHS' brand on the fleet is more than just a logo.

Claire Salmon, Category Tower Director, NHS Supply Chain: Logistics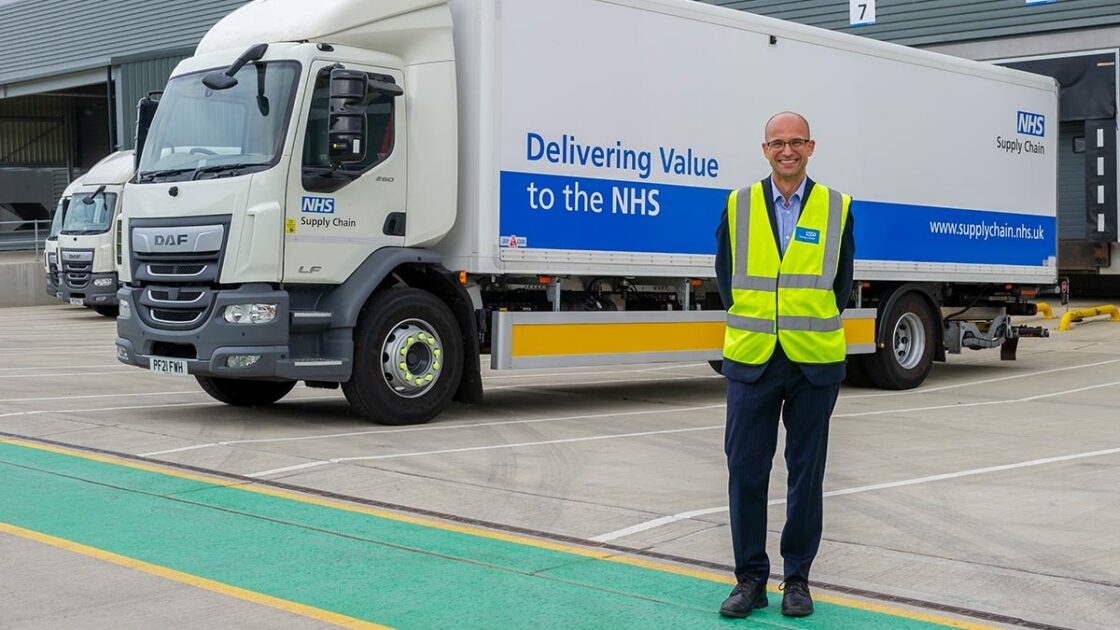 As NHS Supply Chain, we are trusted by our stakeholders to deliver clinically assured, value for money products that meet the needs of our NHS colleagues and patients.    

We deliver a critical service every day to the NHS and we have a responsibility to deliver this sustainably and with the upmost consideration to the impact on the environment.  These new fleet of vehicles is a small part of our overall plan to support the NHS mission to be carbon neutral by 2040.

Working with our suppliers, service providers and trusts is critical to optimising our impact both today and for the future.

Andrew New, CEO, NHS Supply Chain
Photo
Features Andrew New, CEO, NHS Supply Chain
About NHS Supply Chain
NHS Supply Chain manages the sourcing, delivery and supply of healthcare products, services and food for NHS trusts and healthcare organisations across England and Wales.
Managing more than 8 million orders per year, across 94,000 order points and under 17, 500 locations. NHS Supply Chain delivers over 28 million lines of picked goods to the NHS annually and our systems consolidate orders from over 930 suppliers, saving trusts time and money in removing duplication of overlapping contracts. 
NHS Supply Chain aims to deliver savings of £2.4 billion back into the NHS by 2023/2024, by leveraging the buying power of the NHS to drive savings and provide a standardised range of clinically assured, quality products at the best value through a range of specialist buying functions.
There are 11 specialist buying functions, known as Category Towers, delivering clinical consumables, capital medical equipment and non-medical products such as food and office solutions. Two enabling services for logistics and supporting technology underpin the model.
Working in partnership with NHS trusts, service providers, and stakeholders, NHS Supply Chain aims to:
Anchor the business on the needs of the NHS by supporting NHS trusts to deliver safe and excellent patient care and through continuing to build the services the NHS needs.
Further strengthen the resilience of the supply chain by continuing to invest in key tools and capacity that build resilience and performance, across the end to end supply chain.
Deliver clinically assured, safe products that support improved outcomes for patients and users.
Support the NHS objective of becoming the world's first net carbon zero national health system.
Ensure a high performing workforce and highly efficient organisation.
Oversight and operational management of NHS Supply Chain is delivered by the management function, Supply Chain Coordination Limited (SCCL). SCCL was incorporated on 25 July 2017 and is a company registered in England and Wales, company number 10881715. NHS Commissioning Board (NHS England and NHS Improvement [NHSEI]) are the sole shareholders of SCCL.
SCCL is a separate organisation to NHSEI and part of the NHS family.
About Unipart Logistics
Unipart Logistics is part of the Unipart Group, a private company established in 1987 delivering Logistics, Manufacturing and Consultancy services globally.
 Unipart Logistics provides supply chain logistics and consultancy services across the Automotive, Technology, Retail, Health and Utilities sectors, for some of the world's best-known companies including; NHS Supply Chain, Sky, Vodafone, Jaguar Land Rover, Three, Volkswagen, Waterstones and Rolls Royce.