NHS Supply Chain continues work with NHS Counter Fraud Authority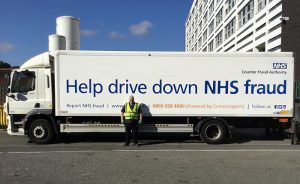 The NHS Counter Fraud Authority (NHSCFA) branded NHS Supply Chain trucks asking those that spot them to 'Help drive down fraud' will be travelling the lengths of the country as they deliver supplies to NHS trusts and organisations to inform those who suspect fraud how they can report it. The campaign, which is now in its second year, will run until April 2020.
Last year's campaign (2018-19) was successful in raising awareness of NHS fraud, encouraging those who suspect fraud to report it. The campaign saw the delivery of key messages around NHS fraud, raising awareness and encouraging collaborative working. Various social media campaigns supported the launch of the trucks in an effort to engage and maintain engagement with our audiences and stakeholders.
The campaign will continue to engage with NHS trusts and organisations up and down the country to highlight the need to report suspected fraudulent activities. Five wrapped trucks, which are involved in the campaign, will serve areas including Manchester, London, Kent and Cheshire.
"We are proud to continue to support the NHS Counter Fraud Authority's campaign to help drive down NHS fraud. Last year the trucks involved travelled nearly 300,000 miles around the country, helping ensure everyone who sees these vehicles will also see this important message," said James Turpin, Head of Logistics at NHS Supply Chain.
"I am delighted that we are continuing to collaborate with NHS Supply Chain to raise awareness of NHS fraud. The partnership has been very successful so far and it is exciting to have another year with NHS Supply Chain trucks delivering vital resources to NHS organisations and at the same time supporting the fight against fraud," said Susan Frith, CEO of NHSCFA.
In collaboration with NHS Supply Chain, the NHSCFA will launch a number of campaign initiatives and ideas throughout the year to highlight counter fraud work in the NHS and the continued fight against NHS fraud.
-ends-
Media Enquiries:
About NHS Supply Chain
All information in this press release is correct at the time of going to press.
NHS Supply Chain manages the sourcing, delivery and supply of healthcare products, services and food for NHS trusts and healthcare organisations across England and Wales.
Managing more than 4.5 million orders per year, across 94,000 order points and 15,000 locations, NHS Supply Chain systems consolidate orders from over 800 suppliers, saving trusts time and money and removing duplication of overlapping contracts.
Lord Carter's report into efficiency and productivity in the NHS, published in 2015, identified unwarranted variation in procurement across the NHS, resulting in the need to improve operational efficiencies to transform a fragmented procurement landscape. To undertake this transformation the Department of Health and Social Care established the Procurement Transformation Programme (PTP) to deliver a new NHS Supply Chain.
The new NHS Supply Chain was designed to help the NHS deliver clinically assured, quality products at the best value, through a range of specialist buying functions. Its aim is to leverage the buying power of the NHS to negotiate the best deals from suppliers and deliver savings of £2.4 billion back into NHS frontline services by the end of the financial year 2022/23.
The new model consists of eleven specialist buying functions, known as Category Towers, delivering clinical consumables, capital medical equipment and non-medical products such as food and office solutions. Three enabling services for logistics, supporting technology and transactional services underpin the model.
Key benefits the new NHS Supply Chain will bring NHS trusts and suppliers include:
NHS Trusts
Savings channelled back to frontline services
Releasing more time for core clinical activities
Greater NHS clinical involvement in purchasing decision
More effective introduction of new products.
Suppliers
Lowering sales and marketing costs
Single route into the national market
A joined-up approach across the NHS
Clear route for innovative products.
On 1 April 2018, a new commercially astute management function called Supply Chain Coordination Limited (SCCL) went 'live'. A limited company, wholly owned by the Secretary of State for Health and Social Care, SCCL is part of the NHS family. The management function is responsible for driving commercial objectives, managing the category towers and enabling services whilst overseeing continuous improvement.