NHS Supply Chain's proposals for the introduction of a consistent national uniform for the NHS receive overwhelming support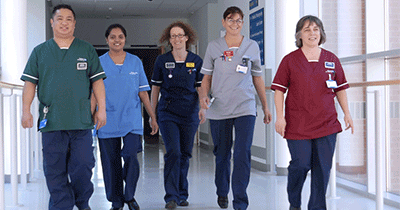 NHS Supply Chain has announced the overall results of their recent consultation about the potential introduction of a standardised national healthcare uniform for NHS staff working in clinical roles in England.
The organisation requested the views of healthcare professionals working in hospital and non-hospital settings across the country on whether a culturally sensitive, national approach to uniforms should be taken and if so, whether all NHS trusts should adopt it.
51,000 responses were received over a seven-week period to the end of May, with 82 percent of those in favour of the introduction of a consistent uniform across the NHS. Only one in 10 of respondents were against the idea.
More than half of the responses were from the nursing professions followed by Allied Health Professionals (AHPs) and midwives.
83 percent of those in favour of a national approach thought the implementation should be mandatory across the NHS, with 14 percent stating it should be an option for each individual trust.
Detailed analysis of the results is continuing, and a full consultation report will be published in July.
NHS Supply Chain's specialist Hotel Services buying function currently offers a uniform contract which provides a compliant framework from which NHS trusts specify the design, style and colours. This has led to significant variation of uniform between different NHS trusts, with many styles, colours, embroidery and rank identifiers which could potentially be reduced to one shared style for all staff groups differentiated by 15 to 20 colours.
Benefits could include:
Improved patient safety, supporting recommendations made in the 2013 Francis Inquiry.
Greater recognition of staff by patients and the public.
Improved view of professionalism in appearance by staff.
Development of a high performing, ethical and sustainable supply chain, with a single NHS brand across the patient care pathway, providing consistency across the whole of the NHS in England.
Offers the ability to plan for and react to increased uniform demand such as those experienced during the coronavirus pandemic.
The consultation document asked whether healthcare professionals working in hospital and non-hospital settings agreed with a national uniform approach and if so, whether they thought it should become mandatory, meaning all NHS organisations would be required to adopt it.
It also asked a set of questions about the garment style and features, to help identify the key aspects felt necessary for a uniform to be well designed and fit for purpose.
I'd like to say a huge thank you to the 50,798 people who came forward to share their views on our consultation on the potential creation of a fit for purpose, easy to wear, smart and comfortable uniform for the diverse and professional NHS workforce.

We're delighted there has been such overwhelming support from healthcare professionals in the NHS for our proposals. We're continuing our discussions with key stakeholders and will be publishing a detailed report about the consultation results in July.

We'll use the findings from this consultation to develop the design brief and take it to market. The design will evolve during the tender process and will include comprehensive wearer trials and feedback before a final design is agreed. We will continue to engage across the NHS to finalise design and colourways.

Kevin Chidlow, Tower Director for NHS Supply Chain: Hotel Services
Jo Travis
Corporate Communications Manager
07598 546 070
Notes to editors
NHS Scotland and NHS Wales introduced a nationally standardised uniform in 2010 and NHS Northern Ireland followed in 2011. NHS Wales currently has 154 product lines and NHS Scotland has 64, compared to 30,000 product lines in England.
The national uniform consultation document set out three options for NHS Supply Chain: Hotel Services' strategy:
Continue with the current strategy of uniform designs being set at local trust level
Source a standard uniform design, but allow trusts to opt in if they choose if the project was not fully adopted on a national basis
Source a standard uniform design which is implemented across the NHS in England for all trusts.
About NHS Supply Chain
NHS Supply Chain manages the sourcing, delivery and supply of healthcare products, services and food for NHS trusts and healthcare organisations across England and Wales.
Managing more than 4.5 million orders per year, across 94,000 order points and 15,000 locations, NHS Supply Chain systems consolidate orders from over 800 suppliers, saving trusts time and money and removing duplication of overlapping contracts.
Lord Carter's report into efficiency and productivity in the NHS, published in 2015, identified unwarranted variation in procurement across the NHS, resulting in the need to improve operational efficiencies to transform a fragmented procurement landscape. To undertake this transformation the Department of Health and Social Care established the Procurement Transformation Programme (PTP) to deliver a new NHS Supply Chain.
The new NHS Supply Chain was designed to help the NHS deliver clinically assured, quality products at the best value, through a range of specialist buying functions. Its aim is to leverage the buying power of the NHS to negotiate the best deals from suppliers and deliver savings of £2.4 billion back into NHS frontline services by the end of the financial year 2022/23.
The new model consists of eleven specialist buying functions, known as Category Towers, delivering clinical consumables, capital medical equipment and non-medical products such as food and office solutions. Two enabling services for logistics and supporting technology and transactional services which underpin the model.
Key benefits the NHS Supply Chain will bring NHS trusts and suppliers include:
NHS Trusts
Savings channelled back to frontline services
Releasing more time for core clinical activities
Greater NHS clinical involvement in purchasing decision
More effective introduction of new products.
Suppliers
Lowering sales and marketing costs
Single route into the national market
A joined-up approach across the NHS
Clear route for innovative products.
On 1 April 2018, a new commercially astute management function of the new NHS Supply Chain called Supply Chain Coordination Limited (SCCL) went 'live'. The management function is responsible in driving strong commercial capability, providing a relentless approach to creating value, gain competitive advantage, become the strategic procurement partner of choice for the NHS, manage the delivery and performance of the Category Tower Service Providers and its enabling logistics and technology services whilst overseeing continuous improvement. SCCL is a limited company, wholly owned by the Secretary of State for Health and Social Care, SCCL is part of the NHS family. For more information on our category service tower providers go to https://www.supplychain.nhs.uk/categories/.