Supplier Portal Upgrade – Customer Tracking
The Supplier Portal is a vital part of the communication process between suppliers and NHS Supply Chain for eDirect Orders.
The portal lets Customers see a supplier's acceptance of an order, along with any amendments or delays through to the despatch of their goods.
A field is available where suppliers can confirm the carrier or method of delivery using a 'drop down' function at the top of each Purchase Order page.
This function has always been available, however, we have improved your selection to reflect mergers between many commonly used national carriers and name changes.
A new feature means suppliers can now insert a tracking number alongside the carrier selected to help customers track their delivery.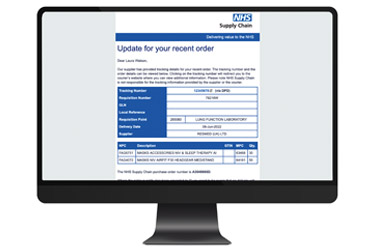 It is key that these fields are completed as accurately as possible as it will help to reduce the number of phone calls made between both our Customer Service teams and customers who wish to understand the progress of their order.
If a delivery is made in part shipments, please add all relevant shipping numbers once the final despatch is made and the order is considered complete.
For more information or for a refresh training session on the Supplier Portal contact your Non-Stock Inventory Controller or:
Supplier Relationship Management (SRM) Team