Medical Devices Regulations Updates Including Stand Still Period Extension (February 2023 Update)
On 21 October 2022 we received notification from the MHRA of their intention to extend the standstill for the implementation of the UK MDR.
Initially it was intended that the regulation would be implemented from the 1 July 2023 but as the new Medical Device regime is a substantial reform of the current framework, an extension of 12 months was proposed.
Once the extension has been passed by parliament, the UK MDR will be implemented on 1 July 2024.The transitional arrangements for the move to the UK CA for medical devices is proposed to be up to five years from that date, dependant on the type of classification.
Shortly after the MHRA notification, the Department for Business, Energy and Industrial Strategy (BEIS) announced its intention to extend the transition period for UK CA Marking of non-medical devices by two years, so the date of commencement for most products will be 1 January 2025.
The regulatory world is subject to change, especially with the proposal put forward by the EU to extend the transition period for medical devices and in vitro diagnostic medical devices for EU MDR as well.
Until it is legislated it is difficult to determine the impact on the UK, so multi-disciplined team across NHS Supply Chain and external parties are working together such as MHRA, DHSC to understand the implications of the changes.
We are again asking all our suppliers to inform us of the impacts on them as a result of the proposed extensions, and also any decisions they have taken about the availability of products to the UK market as a result of the recent announcements both in the UK and EU.
If you have further questions about any of the above, please contact us.
Regulatory Change Team
See our Useful Links section for more details, including:
Consultation on the future regulation of medical devices in the United Kingdom.
Medicines and Healthcare products Regulatory Agency on Gov.uk website.
Medical devices – transition period extension.
Businesses to be given UK product marking flexibility.
19 May 2022 Update – Medical Devices Regulation
As a result of the UK exiting the EU on 31 January 2020, the EU Medical Devices and In Vitro Diagnostic Medical Devices Regulations were not legislated in the UK. The UK Medical Devices Regulations 2002 was amended in 2019, 2020, and 2021.
On 16 September 2021, the Medicines and Healthcare products Regulatory Agency (MHRA) published its open consultation on the future regulation of medical devices including in-vitro diagnostic medical devices (IVDR) in the United Kingdom.
The 10-week consultation gave everyone the opportunity to draw on their own experiences and contribute to the improvement of the regulatory framework and therefore patient safety in the future.
Until we publish the consultation results, we are:
Ensuring compliance to UK MDR 2002 as amended in 2021
Putting plans in place for the implementation of the updated regulations which are due to come into effect on 1 July 2023.
Our Data Capture Returns remain a high priority to support our Core Tech Refresh (CTR) Programme and supply chain efficiencies. It also drives forward our dedication to data integrity
to ensure we store and distribute products in line with the manufacturer's labelled storage conditions.
Thank you to all suppliers who have responded to our requests. If you are yet to respond, please ensure that you provide the requested information.
For more information or further guidance please contact:
UK Conformity Assessment (UKCA) and UK Northern Ireland (UK NI)
From 1 January 2021, the UKCA mark was introduced in the UK. Manufacturers of medical devices can use either the UKCA marking or the CE marking on devices they place on the GB market until 30 June 2023. From 1 July 2023, a UKCA marking will be required to place a device on the Great Britain market.
A product is placed on the UK market when it is made available for the first time on the market. For instance, when it is first supplied for distribution, consumption, or use on the market during a commercial activity. Any device already placed on the UK market prior to 30 June 2023 can still be legally transacted by NHS Supply Chain.
Difference between UK and Northern Ireland market:
For the purposes of the UKCA marking, a UK Approved Body must be used in cases where third-party conformity assessment is required.
For the purposes of the Northern Ireland market, UK-based conformity assessment bodies are referred to as 'UK Notified Bodies'.
In addition to the CE marking, device manufacturers will also need to apply the UKNI indication if they choose to use a UK Notified Body (should any be designated in the future) for mandatory third-party conformity assessment. Device manufacturers must never apply the UKNI indication on its own it must always accompany a CE marking.
Currently, there are no UK Notified Bodies designated to undertake such assessments under the EU MDR or the EU IVDR.
For more information or further guidance on UK Conformity Assessment (UKCA) & UK Northern Ireland (UK NI) please contact:
SCCL Regulatory Compliance Manager and Responsible Persons
23 April 2021 Update – Latest From Steve Oldfield
See our Useful Links section for an overview of the latest important update from Steve Oldfield to suppliers to help ensure continuity of supply of medicines and medical products to the UK.
The update includes:
Government Secured Freight Capacity
New Import Controls
Medical Devices Regulation
Batch Testing of Medicines
New Continuity of Supply eXchange Platform for Suppliers.
12 October 2020 Update – Medical Devices: EU Regulations for MDR and IVDR Deferred Until 2021
As the Medical Device Regulation (MDR) has been delayed by the MHRA and with changes forthcoming from MHRA our Data Capture returns remain a high priority to support our Core Tech Refresh (CTR) project and supply chain efficiencies. Please ensure you are having these conversations with your buyers.
Our Category Tower Managers have been briefed and will be asking about progress to support this piece of work. All templates are with suppliers so please contact the data capture team through your data leads.
See our Useful Links section for details on getting ready for the new regulations.
For more information or further guidance please contact:
28 July 2020 Update – MDR News
The European Parliament and Council have approved a proposal to delay the full implementation of the Medical Device Regulation 2017/745 (MDR) for one year to 26 May 2021. This means that the full applicability of the MDR will fall outside of the transition period agreed with the EU.
The MHRA will provide guidance on this in due course in light of government decisions required on the future of UK regulation. Meanwhile NHS Supply Chain is continuing its work to ensure compliance when the regulation comes into effect. We still require suppliers to continue to provide high quality product information to enable compliance.
Thank you to all suppliers who have responded to our requests, if you have not yet responded please ensure that you provide the requested information. We are also continuing work with suppliers to provide Advanced Shipping Notices (ASNs) over the coming months. This will not only support the regulations, but also our moves to new systems and increased efficiencies for all, in line with best practice in supply chains.
3 December 2019 Update – Progressing With Our Medical Device Regulation Plans: MDR Update
NHS Supply Chain's MDR Programme continues to work with our supplier base in order to be compliant within the regulation timeframes and in line with NHS Supply Chain's previously published roadmap.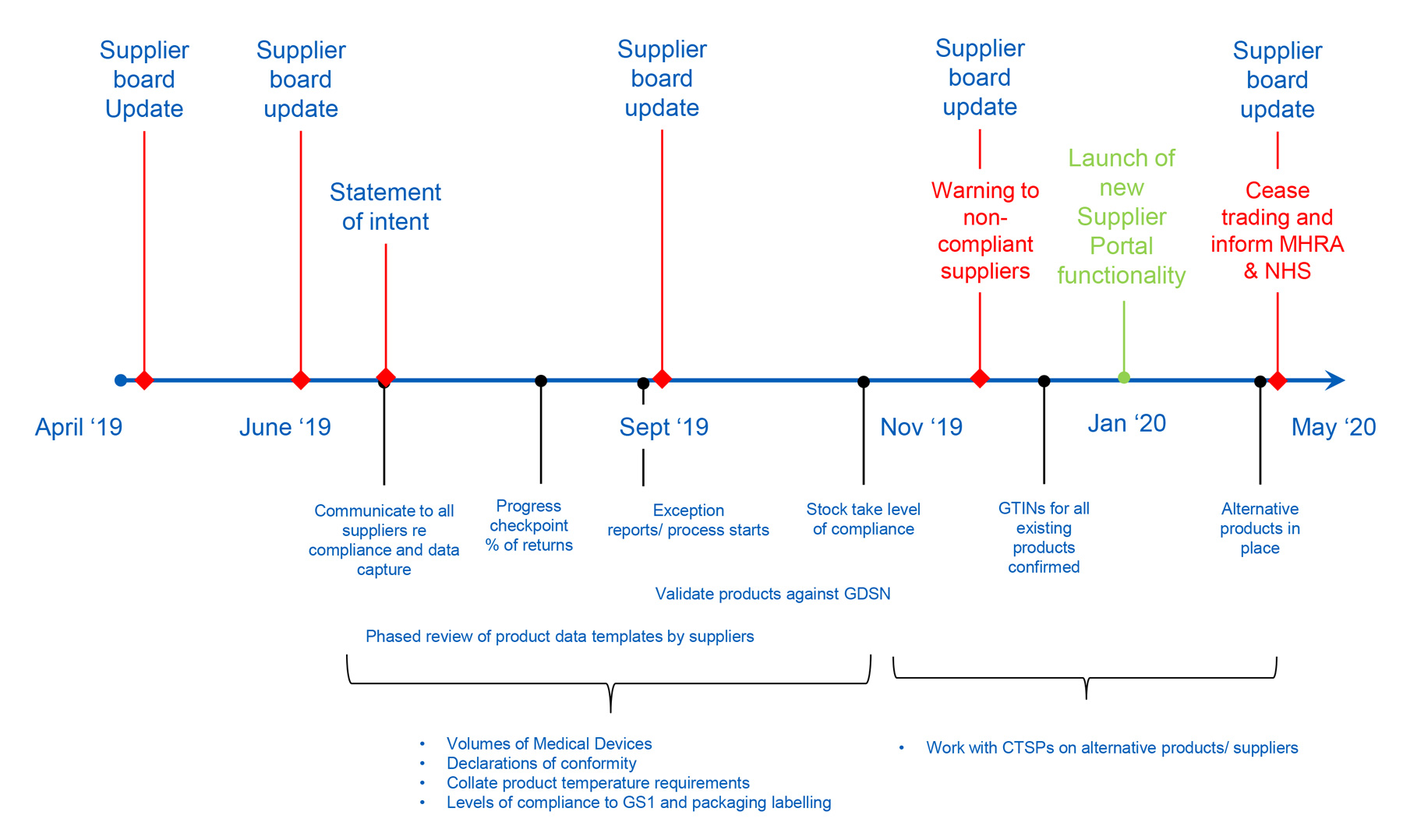 We have now received over 70% of returns from our top 80% of stocked suppliers (Phase 1) and we are working with them to ensure the information we have received is complete and correct.
Phase 2, which contained over 300 suppliers has seen over 40% of suppliers returning the information required so far.
Those suppliers who have not yet returned the data capture forms are now being urged to return their data capture sheets as soon as possible. If you have any questions please make contact with RegulatoryCompliance@supplychain.nhs.uk and the team will respond. You will start to see an increase in chasing from your regular Procurement contacts within NHS Supply Chain as well now, so please work to support returning this information.
We anticipate the final tranche of suppliers (Phase 3, eDirect only suppliers) to be sent their data capture forms imminently so if you have not received your data capture forms by the middle of December then please let us know.
The MDR Programme is also working alongside other critical initiatives within NHS Supply Chain including moving to Electronic Trading and our Core Technology Refresh Programme (CTRP)
Suppliers will be engaged by our Electronic Trading partner NetEDi in order to explore how best they are able to move onto Electronic Trading and also to provide Advance Shipping Notices (ASNs) as soon as possible.
Please continue to look out for future updates and invites to supplier webinars and also future editions of our Supplier Newsletter.
9 September 2019 Update – Supporting You on Being MDR and IVDR Compliant
On 5 September 2019 we held the second of our supplier webinars covering updates on our MDR (Medical Device Regulation) and IVDR (In Vitro Diagnostics Devices Regulations) compliance programme, as well as other projects that will have an impact on how we work with suppliers.
To date 168 Data Clarifications and Data Capture templates were sent to suppliers as part of phase one (covering those suppliers that provide 80% of the volume of products through our Stocked route) with a further 354 being sent as part of phase two (covering remaining volume of stock suppliers) in September.
Included within the data Clarifications and Capture template there is also important information we require to support the transition to new IT system(s).
Key information to note for completing the template:
Guidance to Suppliers is on the template itself as a separate tab
If you were one of the early phase one suppliers, additional information clarifying what is required has recently been sent out
If you are actively going through a tender process now or in the next few months, you may see some duplicate requests for specific information. Do respond to both requests as they are both required for different purposes
If you don't already have Global Trade Identification Number (GTIN) or UDI, contact GS1 UK via their website
Our Regulatory Compliance mailbox experienced an IT issue so if you sent anything prior to 16 August 2019 and have not received a response, please resend to RegulatoryCompliance@supplychain.nhs.uk
We will require Advanced Shipping Notices (ASNs) for all deliveries into our distribution centres for Stocked and Blue Diamond lines and for all of our eDirect orders as well. ASNs to contain product details including NPC, UDI, Batch, Lot and if applicable serial number.
We ask for prompt completion of the templates along with any communication with the data validation team sent to RegulatoryCompliance@supplychain.nhs.uk
See our Useful Links section for other related information and website(s).
5 June 2019 Update – Latest Details About MDR and IVDR Regulations
The new EU Medical Device Regulations (MDR) and In Vitro Diagnostics Devices Regulations come into force from 25 May 2020 and 25 May 2022 respectively.
Under the new regulations; prior to placing a device on the market, importers and distributors have to:
be able to demonstrate traceability of a product through NHS Supply Chain
ensure the manufacturer, the importer and the device itself meet the MDR requirements
ensure a Unique Device Identifier (UDI) has been assigned by the manufacturer
maintain the label conditions set by the manufacturer.for the storage and transportation of devices.
On 22 May 2019, NHS Supply Chain presented a road map on MDR compliance, data capture and data review to a group of suppliers at ABHI.
Over the coming weeks data sheets will be sent out to suppliers for review and population of missing data in line with MDR requirements. MDR milestones are: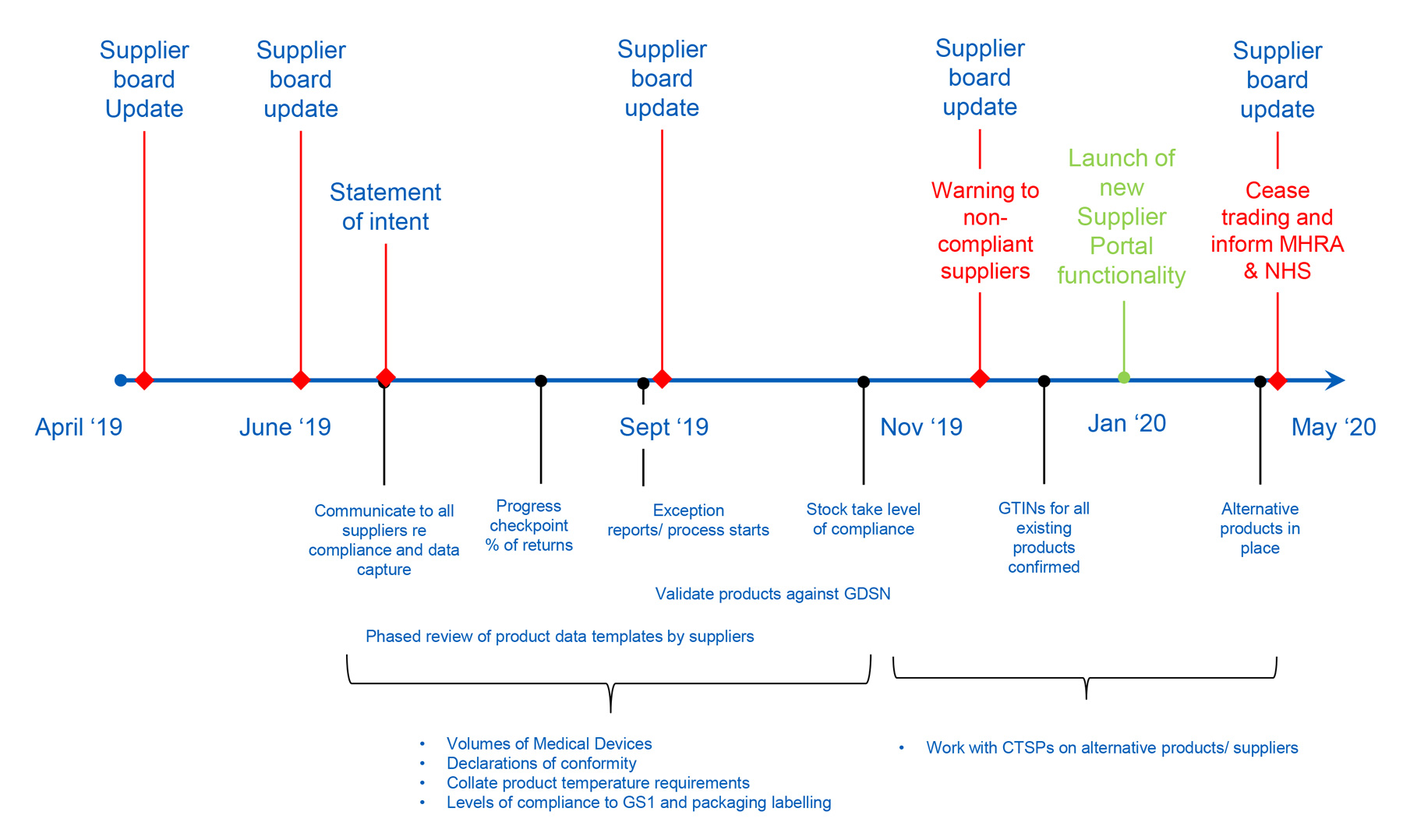 A project team is being set up to help support this project and more detailed instructions will be shared with the data sheets. In the meantime, if you have any immediate questions regarding MDR please contact:
26 April 2019 Update – Medical Device Regulation (MDR)
Previously, we stated our plans for confirming details for the products that our suppliers provide to the NHS Supply Chain. We are pressing ahead with a number of internal changes to ensure that NHS Supply Chain is compliant to the regulation.
We are now at the stage when we will need suppliers support to verify their product information. Direct communication will commence shortly with suppliers that provide products stocked in our warehouses, or products that are supplied directly to NHS Supply Chain for onward delivery to the customers (Blue Diamond).
The communication will consist of:
Road map of activities / key dates over the coming months including NHS Supply Chain expectations and requirements regarding product identification and labelling.
Full list of products and the current information we have for each product for the supplier to review and return.
The information we receive back will be used to update our records and enable NHS Supply Chain to maintain compliance to the Medical Device Regulation.