A Day in the Life of a National Clinical Engagement and Implementation Manager
What's your name and job title?
Simon Hall, National Clinical Engagement and Implementation Manager for NHS Supply Chain: Rehabilitation, Disabled Services, Women's Health and Associated Consumables.
I'm a registered nurse and have worked within the NHS since the 1990s. My background is predominantly in community nursing and long-term care. I have also worked in acute care specialising in urology, before becoming a lead for tissue viability, which led to working for the Department of Health as a tissue viability expert.
Prior to joining NHS Supply Chain in 2019, I was Deputy Head of Nursing at University Hospitals Bristol and Weston NHS Foundation Trust.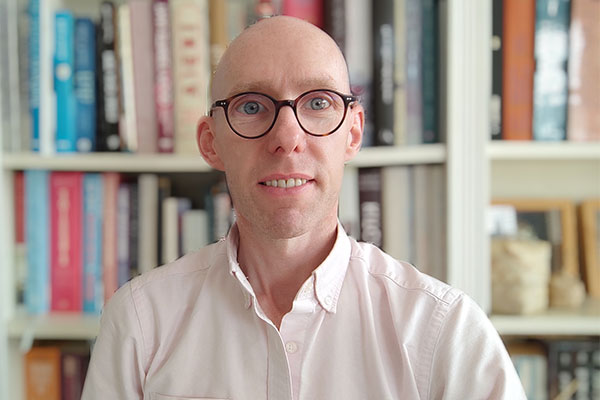 What team do you work in at NHS Supply Chain?
I work as part of the Clinical Engagement and Implementation Manager team in the Rehabilitation, Disabled Services, Women's Health and Associated Consumables tower, which is also called Tower 5. This team is comprised of registered health professionals, including nurses, paramedics and physiotherapists, geographically located around England.
I also support the work of the community partnership leads who focus on community services and supporting patient pathway in healthcare management.
What does your typical working day entail?
What is wonderful about this role is there is no such thing as a typical day. The team has overarching workplans on various clinical aspects. These include supporting care delivery, working in collaboration with NHS providers and understanding patient pathways. Our team aims to identify opportunities to enhance care and improve patient autonomy, while reducing the burden and cost to NHS services.
On a day to day basis these plans can take the shape of attending meetings with NHS providers and peers within NHS Supply Chain, as well as talking to stakeholders, such as specialist groups, clinical experts and suppliers. By seeking user experience, we are able to gain an understanding of a product's need and function.
Our work is designed to understand where regional practices can be aligned and shared, and also where specific variation is warranted, with clear understanding . For example, wear time and the use of catheters. Catheterisation peri-surgery would only require a catheter with a wear time of up to seven days, but for those individuals with long term catheters, a product that only lasts seven days could be very traumatic – with repeated insertions, increased risk of infection and increased workload to healthcare professionals. In this situation, catheters with a 12-week wear time would be much more suitable.
How has the pandemic affected your work?
The cessation of face to face meetings has impacted on the availability of patient groups and health professionals to advise and shape our work. For example, we carry out a lot of engagement work which we haven't been able to replicate entirely online.
Having said that, despite raising certain challenges, the pandemic has also driven some brilliant ideas and opportunities for delivering services differently and having the tools and equipment to do that efficiently.
I think Plato said: 'Necessity is the mother of all invention'. That's so relevant now – being forced to change has created avenues to facilitate a positive change in practice.
Please give an example of a successful project you have recently been involved in and what was the value for the customer?
Thinking of the pandemic and its impact, one project that we are currently working on is changing practice for patients: moving away from conventional compression bandaging, which can only be applied by a health professional with advanced training, to a re-useable alternative that a patient can apply themselves.
Whilst re-usable compression wraps are not necessarily better than bandages, for the right patient, at the right time, in the right setting, they can bring many benefits, including:
Reducing the workload for the health service
Promoting patient autonomy and self-care
Directly reducing face to face contacts, therefore reducing the risk of COVID-19 transmission while still maintaining a high-level of care
Reducing waste by switching to a re-useable product over a single use product that is typically renewed once or twice a week
What motivates you?
Patient outcomes. We know that NHS Supply Chain aims to deliver savings back to the NHS and to provide clinically assured products to health services to meet healthcare delivery. Without a good patient outcome, in my view, any expense on products is wasted money. As such, working with health services to understand practice and often challenging practice and need, leads to opportunities to change care delivery, change product use, affect change to patient pathway to optimise patient experience and outcome.
Working in partnership with the NHS to solve care challenges and evolve care delivery is hugely satisfying. Sharing good practice with other NHS providers can only be a positive in supporting and sustaining a world class health service, in an age where expectation on health has never been higher. With the population living longer with greater co-morbidity and increasing pressures placed on health services, anything that can be done to support delivery can only be a good thing.